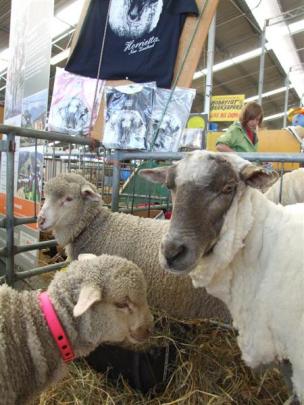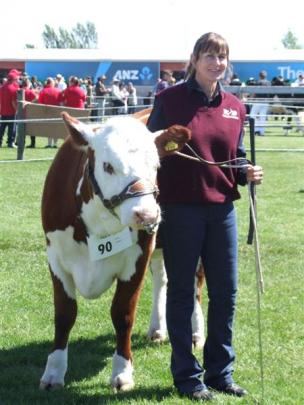 The country came to the city last week as thousands of people flocked to the 150th Canterbury A and P Show. Agribusiness reporter Sally Rae caught up with some of the exhibitors and personalities at the show.
When Woodbury Lilly was named supreme champion animal at the Canterbury A and P Show three years ago, it was a "magical" experience for Clydesdale breeders Jim and Deborah Cook.
The Cook family, from Cust, in Canterbury, are regular exhibitors at the show and took four horses to this year's event.
Mrs Cook recalled that when Lilly was in the ring being judged she noticed the mare had a real presence about her.
While she had thought their horse might have a chance, being named supreme champion over all other livestock was "just unbelievable". It was also valuable promotion for the Clydesdale breed.
Mrs Cook described being at the show as like a "working holiday", but it was definitely not a holiday, she said, laughing.
She was up at 5am on the day the horses were judged, plaiting and preparing the Woodbury Clydesdales quartet, ensuring they looked "spick and span".
The couple had both always loved Clydesdales and decided that one day they would like to have one. But it was not until later that they discovered Mrs Cook's grandfather, from East Eyreton, was a great competition ploughman, working a team of Clydesdales, and Mr Cook's grandfather, from Woodbury, also ploughed with a team, so it was "in the blood", she said.
They just wished that their grandparents were still around to see something that they loved doing being continued.
They started with a stallion called Angus, who was a "bit of a trickster", and then foundation mares Coldstream Honey and Donnybrook Vivienne.
Numbers had grown to "far too many", Mrs Cook said. There were probably about 20 horses on their property.
They own 4.8ha and lease a further 8ha, and while they would like a farm, they had not won Lotto yet, she said.
As well as breeding and showing their horses, they also did some ploughing.
They attended a competition in North Canterbury several years ago, celebrating 100 years, where Mrs Cook's grandfather had once won a prize.
Being involved with Clydesdales was like stepping back in time to the days when life was much simpler.
In a world where lifestyles were "so fast and furious", there was something about the gentle giants that was "really grounding".
"These horses broke in the country, they produced the crops.
I just think that's amazing," she said.
Clydesdales had kind temperaments, they were "great thinkers" and they were "your mates, really".
"They'll do anything for you if you're good to them."
Another Canterbury family with an association with Clydesdales is the Hawkinses.
While Jaime Hawkins was busy in the ring with the horses, her father John and brother Sam were busy with horsepower of a much different variety.
The Hawkins family are fourth-generation Canterbury sawmillers and they were involved with a steam display, a special feature of the show to mark the 150th anniversary. It included a working threshing mill, sawmill, chaff cutter and binder.
The saw-bench was built up for exhibition purposes in the 1960s, while the traction engine powering it had been owned by the Hawkins family since 1942.
The 1909 Burrell traction engine was involved in logging and sawmilling until 1962 and then intermittently until the late 1970s. It was "part of our family", John Hawkins said.
In fact, they took it back to England in 1996 to the works where it was made and were welcomed with a mayoral reception.
And when John's father, Bob, died in September, they milled the timber, made the casket and then the traction engine took him to his grave.
Bob Hawkins had left school when he was 12 to drive the traction engine, when his father got sick.
He established Stoneyhurst Timbers in South Canterbury when he was 19. The business, which is now based at Belfast, has grown to employ about 30 staff.
Manufacturing in New Zealand was difficult now "no matter what you do", John Hawkins said.
The company exported 50%-60% to 12 and 14 countries.
While it was "tough", Mr Hawkins was not complaining.
He was enjoying himself at the show, reacquainting himself with old friends and giving the public a taste of yesteryear.
The phone did not get answered for three days and it was "perfect".
People appreciated the display and he likened it to milking a cow and getting milk, or shearing a sheep and getting wool. Taking a log and then cutting it to get timber was a process that was not always understood.
Mr Hawkins, who is a member of the Southbrook Traction Engine Club, reckoned there were about 300 traction engines in New Zealand. Of that figure, probably between 70 and 80 were in "going order and out regularly". The Hawkins family owned "a dozen or so".
"You get attached to them.
Another comes along ... a bit like people with vintage cars," he said.
Also getting steamed up at the show were members of the Christchurch Historic Machinery Club.
The stationary engine display showcased a variety of engines that were used in the days before electricity.
One of the oldest was an 1890 Priestman oil engine.
For club member Albert Buckley, of Belfast, who is also involved with the Canterbury Steam Preservation Society, it was an interesting hobby.
Mr Buckley (72) has been collecting engines for more than 20 years and now has about 30.
He liked "old things" - "that's why I keep my wife" - and he spent hours working on his engines. He also enjoyed the comradeship the hobby brought, although he wished more young people would get involved.
Receiving a pet lamb as a gift led to Phillippa Sanders establishing her own black and coloured sheep flock.
While that first lamb was a wether - so obviously not suitable for breeding - she acquired more pet lambs.
She now has about 12 ewes "and a few oddments", but planned to cut back numbers having recently shifted from Herbert to Waimate.
While showing sheep was something new to her, she had showed horses for about 30 years and the basics of showing were the same - the animals required good feeding and good conformation.
Nancy Bennett, from Gawler in South Australia, said it was a "real privilege" to be asked to judge at the show with her husband Allan.
She was judging the black and coloured fleece wool, while her husband was judging black and coloured sheep.
They have been involved with black and coloured sheep for about 40 years.
Both teachers, and both from farming backgrounds, they discovered there was a need for coloured sheep among the handcraft industry.
They bought a block of land and thought the sheep would be good lawn-mowers. Their interest in sheep grew and also their knowledge.
They now have about 500 sheep and the farm is managed by Mrs Bennett's brother. Their wool is exported all over the world.
Their main problem was in processing which was becoming very difficult in Australia as mills and scours close down.
While in New Zealand, they were looking at options for processing their wool for yarn.
The numbers of black and coloured sheep were decreasing in Australia but demand was still strong from the handcraft industry, she said.
The quality of fleeces at Christchurch was "beautiful".
Classes and criteria were different so she had to get used to that.
Jodie Gibson, of Middlemarch, formed her Dry Creek Suffolk sheep stud a few years ago when the Gibson family was living in the Hakataramea Valley.
Her brother Will already had a black and coloured sheep stud - later adding a Hereford stud - and her parents, Anton and Liz, had a Santa Gertrudis cattle stud, so she thought she might as well start her own.
A pupil at St Hilda's Collegiate, Jodie (17) started with six sheep and now had "quite a few".
Her aim was to breed good stud rams that she could sell to other studs.
The Gibson family had a truck-load of cattle and a trailer-load of sheep at the show.
She had learnt a lot from her parents and her father was "pretty much stud manager".
One of the younger exhibitors was Jared Rutten (9), of Invercargill, who was proudly showing his calf Sapphire and his second-prize ribbon.
He has been showing for four years and while Sapphire was a "wee bit jumpy", she was also a proficient eater of anything from cheese balls to apples.
"I just like the way they react when you scratch them," he said.
He particularly enjoyed winning ribbons and prize money.
At one show, he won $45 which he spent on a blow-up axe and a spray gun "that sprays stuff".
In the sheep section, show-goers also had the opportunity to meet Shrek's northern cousin, "Horietta" the hermit sheep.
Horietta, originally named Horace, was captured from Big Ben Station in the Rakaia Gorge last November.
The hermit sheep, who had evaded capture for about seven years, was thought to be a wether like Shrek, but was later found to be a ewe.
The merino-cross ewe was shorn last December, with her fleece yielding nearly 14kg.
She now had her own line of merchandise and was raising money for the Westpac rescue helicopter and search and rescue dogs, minder Bev Tilson said.
Her wool had gone all over the world and there were already orders coming in for her second-shear wool. Horietta produced twin lambs this spring, sired by a merino ram called Johnny Depp.