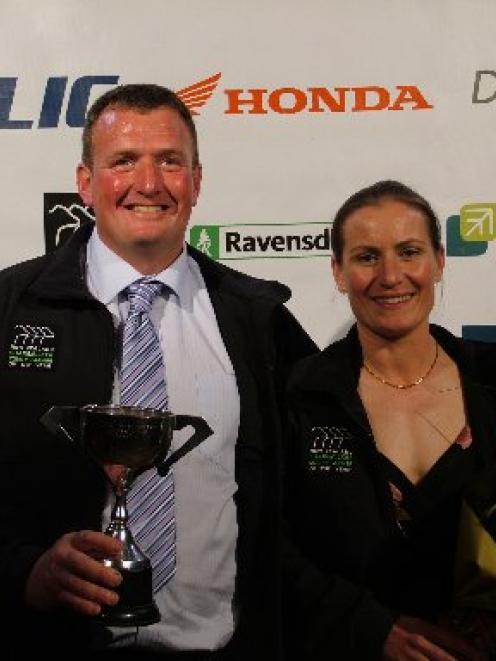 It was cattle that brought the 2012 Otago Sharemilker/Equity Farmer of the Year winners James and Helen Hartshorne together.
Mr Hartshorne, originally from Shrewsbury in Shropshire, was showing Holstein-Friesians at the Royal Welsh Show in 1999, while his future bride, from Wales, was exhibiting Guernseys.
The couple are in their third season 50% sharemilking 540 cows for Hennie Amtink on 175ha at Tapanui.
Mr Hartshorne won a scholarship to New Zealand in the mid-1990s to spend six months at Telford and six months at Taratahi Agricultural Training Centre.
He saw what New Zealand had to offer and, after returned home where he both milked and showed cattle, he could see the opportunities were greater here.
In 2000, the couple travelled to New Zealand with two backpacks and, apart from holidays, have never left.
Initially, they were based in Canterbury - where Mr Hartshorne also worked on a pig farm for two years - and then Balclutha, before moving to West Otago.
The couple worked as a team - "we're a tight unit" - and both were involved in all aspects of the business. Both are also keen on multisport and have done the Coast to Coast.
The couple, who have a young son, enjoyed living in Tapanui, with Mr Hartshorne describing it as an "amazing community".
"Everyone helps each other out," he said.
It was the third time they had entered the dairy industry awards and, for them, it was all about the people they met.
While it was "awesome" to win, everyone was a winner for entering. "Winning, it's the icing on the cake," he said.
The couple were passionate about their work and, while they would like their own block of land at some stage, life was "just about enjoying what we're doing", he said.
Owning their own farm was "not the be all and end all" and family was most important to them.
Mr Hartshorne paid tribute to everyone involved in the "big team effort" that resulted in their award.
The 36 finalists in the 2012 New Zealand Dairy Industry Awards will compete for more than $140,000 in cash and prizes at the national awards in Auckland on May 12.