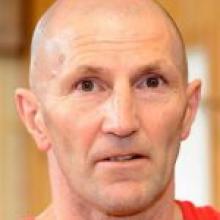 Managing the New Zealand shearing team on its recent UK tour was a proud occasion for veteran South Otago shearer Bruce Walker.
Dion King and Rowland Smith, both from the North Island, ended the tour with a series-winning victory over Wales.
The triumph came at the Corwen Shears in North Wales last month, giving the pair a 3-1 series win and an overall tour result of five wins and four defeats, after a 2-1 series win over England and single-test losses to the UK and to Scotland.
Mr Walker, who has been shearing for 37 years, said it was a "pleasure and honour" to be named as manager for the team, a position which also involved judging duties.
The tour began at the Three Counties Show in Malvern, Worcestershire, which New Zealand lost, followed by losses at the Royal Highland Show in Edinburgh and the Lochearnhead Shears, north of Glasgow.
At Lochearnhead, they were shearing Scottish blackface sheep, a horned breed that was "very toey" to shear. The UK shearers had an advantage, being used to shearing them.
The team's first victory was at the Lakeland Shears in Cockermouth, Cumbria, and that was followed by successes at the Great Yorkshire Show, Cothi Shears in Wales and Lampeter Shears in Wales. A loss at the Royal Welsh Show was followed by victory at the Corwen Shears.
Different breeds of sheep, specific to the various areas, were used in the competitions and the home teams definitely had an advantage, Mr Walker said, likening it to "playing on your home ground at rugby".
The competitions attracted excellent crowds and, at the Royal Welsh Show, he estimated there could have been as many as 2500 spectators.
Mr King and Mr Smith were working between competitions and the competitions also attracted other New Zealand entrants.
Wool and lamb prices had lifted in the UK and farmers had enjoyed "quite a good year", similar to their New Zealand counterparts, he said.
With increased returns for New Zealand sheep farmers, Mr Walker expected that farmers would focus more on wool preparation.
Over the past 10 years, they had not been getting good money for their wool and quality had dropped off.
"They've got their tails up at the moment, that rubs off on how they are treating the wool," he said.
After nearly four decades shearing, Mr Walker still enjoyed the profession, which had taken him all over the world, and he had no plans for retirement.
New Zealand's top shearers are preparing for a qualifying series, starting at the Canterbury Show in November and ending at the Southern Shears in Gore, to select New Zealand's machine shearing representatives to compete at the 15th world shearing and wool-handling championships.
Mr Walker expected open shearing competitions in the South to be well supported, as shearers would want to qualify for the championships, which will be held in conjunction with the Golden Shears, in Masterton, in March.