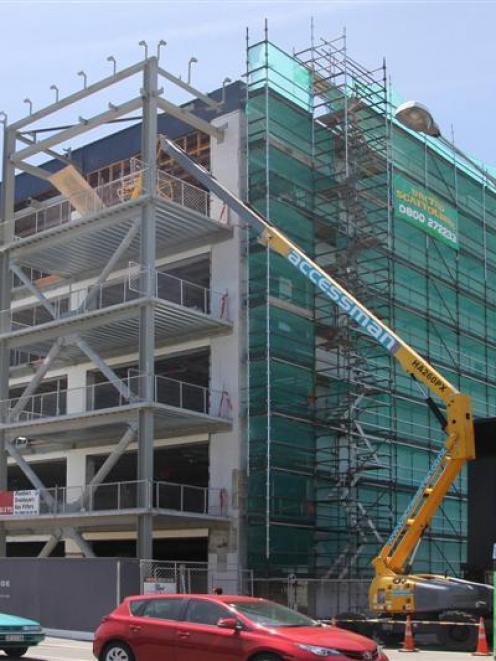 Nationally, new residential building consents have hit a six-and-a-half-year high for March, but numbers remain almost 30% lower than a decade ago.
There were 1999 new dwellings consents issued for March, of which 1813 were houses, 110 retirement units and 76 apartments - led by 604 consents for the Canterbury rebuild, Statistics New Zealand (SNZ) reported yesterday.
The unadjusted national value of March building work was $1.22 billion; $800 million for homes and $422 million commercial, while Otago's share of the total was just 3.1%, or $38 million, but almost double the value of the previous year.
ASB economist Christina Leung expects stronger house-building demand in Auckland and the Canterbury earthquake rebuild to be ''the key drivers of construction growth over the next couple of years''.
''With the annual total of dwelling consents issued in Auckland still below the 9000 houses we estimate will be required each year to keep up with population growth over the next couple of years, a further ramp-up in house-building activity is likely,'' Ms Leung said.
The Reserve Bank introduced its loan to value ratio (LVR) restrictions on banks' lending to people with less than a 20% deposit last October, but relented under pressure from the building sector and exempted new builds.
Ms Leung noted that while LVR did not directly affect the dwelling consents, it had initially created uncertainty for home-builders, where construction cost overruns could have increased their borrowing.
''But that specific exemption for new homes has moderated that influence,'' she said.
Under the LVR, banks can have no more than 10% of their respective, overall lending portfolios exposed to borrowers with a less than 20% deposit.
Earlier this week, the Reserve Bank highlighted its LVR rates during the past six months to March were, on average, sitting at 5.6%, having plunged from about 25% last September.
Ms Leung expected the Reserve Bank to raise the official cash rate, for a third time next month, with a pause followed by four more increases to 4.5% by the end of 2015.
Housing Minister Nick Smith welcomed the dwelling numbers boost, especially for Christchurch and Auckland.
''This news comes on the back of the Housing Accord I signed earlier this month with [Christchurch] Mayor Lianne Dalziel. It makes me confident that we're on the right track to restore the city's housing stock to pre-earthquake levels and ease the pressure on its rental and temporary accommodation markets,'' Dr Smith said.
Registered Master Builders Association chief executive Warwick Quinn expects continued growth during 2014 and still believes a 10% lift on 2013 levels, to about 23,500 new residential consents, was achievable.
''However, there are some headwinds ahead with the Reserve Bank likely to continue to raise the official cash rate and the usual slowdown around election time,'' he said.
Westpac economist Michael Gordon said the 8.3% increase of new dwellings was boosted by above average apartment sales of 186; of which 59% were retirement units, but excluding apartments, there was still a 1.3% rise, which was a six-year high.
''The building industry is well positioned for strong growth in quake-related activity in Canterbury this year, and to a lesser degree, a lift from depressed levels in the Auckland market,'' Mr Gordon said.
The value of commercial building consents rose 13% to $4.4 billion in the year ended March, while home values gained 32% to $6.9 billion. The value of all building consents rose 23% to $13.1 billion, BusinessDesk reported.