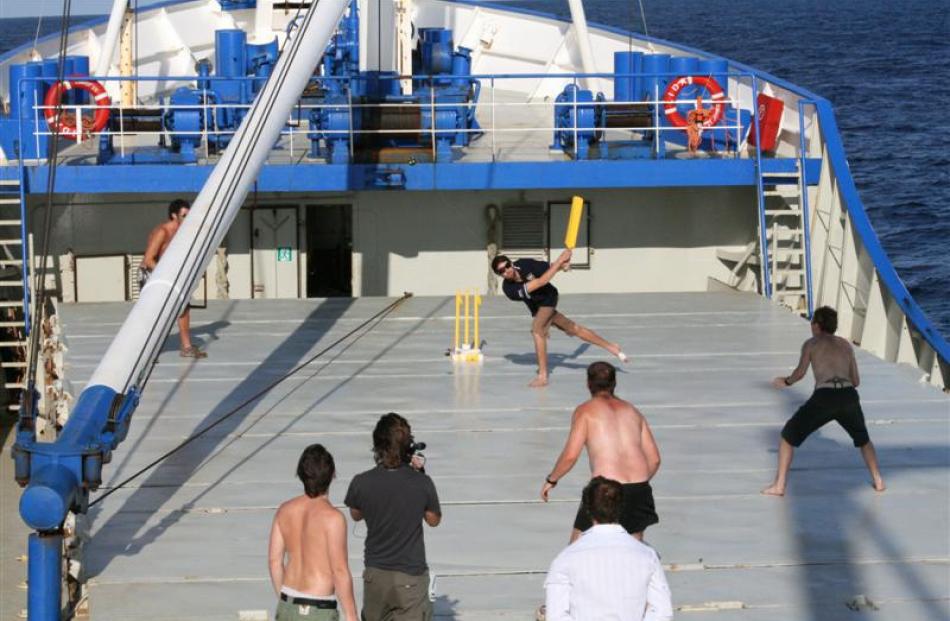 It seems a simple story of mateship - a thirsty Kiwi in London, missing his favourite drop, rescued by the sight of a Speight's Alehouse steaming up the Thames on the back of a cargo ship. But there's more to this tale beneath the marketing froth. Chris Morris investigates.
Slurping a bottle of Speight's in the shadow of London's Tower Bridge must have been a satisfying moment for Dannevirke farmer turned city accountant Tim Ellingham.
After all, it was his desperate plea for a delivery of cold Speight's beer that got the wheels turning on one of New Zealand's most remarkable marketing campaigns: the Speight's Great Beer Delivery.
And, just over a year since the arrival of the 1000-ton MV Lida in London on October 8, 2007, the hype continues.
The small Cardrona Hotel-style Alehouse has come home, replaced by the larger - but also temporary - Southerner pub, in the heart of London. Another 60,000 pints have passed under the bridge, and plans for the first fully-fledged Speight's Alehouse outside New Zealand are being drawn up for next year.
The marketing gurus behind the campaign will also be raising a few jars, after picking up a stack of medals, merits and a nomination at marketing awards around the world in the past 12 months.
How did they do it?
Well, getting a pub on a boat and sailing it across the world's oceans to London is no mean feat. But it also seems a small dollop of Southern Man ingenuity can come in handy when it comes to some of the story's key facts.
In other words, "She'll be right, mate".
It began, of course, with Tim's email, which explained in emotive terms how "tough" it was missing Speight's while working in a London office.
"Not only have I traded-in the fresh air, open spaces and the sunshine of home for a dirty old office job, I've also had to forego the sheer joy of cold Speight's after a hard day's work."
Speight's seized on the concept with glee.
"Never fear lads," the marketing gurus declared. "We'll get a ship. We'll get a crew. We'll get a pub. And we'll get you your beer."
Except, of course, the beer was already there.
"Ever been to the Walkabout?" Kiwi ex-pat in London Shane Dennis said, in a message posted on the popular UK website metro.co.uk last year. "They do a 2-for-1 special on Speight's there every Thursday."
And it can't have been that hard to find before the Great Beer Delivery. After all, Tim Ellingham himself was already drinking the stuff.
"You could get Speight's at the Walkabout pub chain over here, so whenever we'd be there to watch rugby we'd be drinking Speight's," he conceded in an email to the Otago Daily Times last week.
"It made us feel better about being at a dodgy Australian pub."
And he wouldn't be alone. The Walkabout is an Antipodean-themed pub chain with 49 venues across England, Scotland and Wales, including 11 in London, catering to masses of young New Zealand, Australian and South African travellers.
London's cavernous Shepherd's Bush Walkabout is perhaps the best known, and a drink at one of the chain's venues is almost obligatory for many young New Zealanders at some point on their travels - even if not all would admit it.
And, in not one, but six, of the London Walkabouts, row upon row of Speight's bottles take pride of place inside a glass cabinet just behind the cash register.
The bottles have been there for years. Indeed, the chance to drink a cold Speight's on the far side of the planet was too good for this reporter to pass up during a visit to London - and that was in 2003.
Then there are the bottle stores and boutique beer bars, some of which also imported Speight's. And for those fancying a night in, a home-delivered Speight's could find its way to your door after a quick visit to a website.
"Great advertising for a Speight's pub, though," Mr Dennis' message concluded. "Make up an advert as if it's a news story, even though it makes Kiwis in the UK look stupid. Cheers, Speight's!!!".
Speight's, of course, has a slightly different spin on the idea.
Speight's marketing manager Sean O'Donnell, of Auckland, conceded the beer was already in London, but said the company wasn't "actively exporting" to the UK before the Great Beer Delivery. There were only "a few niche distributors importing a small volume", he said.
"There were some outlets selling Speight's . . . [but] there was by no means a large amount of distribution of Speight's. I lived in London for nearly three years and went to the Walkabout about twice for rugby.
"I had Speight's at a mate's house once," he said.
But it remains a different story from the one presented in the marketing campaign.
The novel campaign presented desperate Kiwis in London "missing their Speight's" and awaiting the "salvation" of the Great Beer Delivery.
"A mate would never leave a mate stranded without Speight's but there are so many desperate Kiwis in the UK that a pub by boat is really the only thing for it," one Speight's media release read.
The theme continued just last week, with an advertisement in the Otago Daily Times reminiscing about last year's beer run for "a mate in London who was missing his Speight's".
And certainly Tim Ellingham wasn't alone in wanting some free beer - there were all those emails, right? The ones from hundreds of homesick Kiwis in the UK, pleading for Speight's to deliver some beer to go with their other Kiwi creature comforts, the pineapple lumps, jaffas and buzzy bees.
In April 2007, announcing the beer delivery project, Speight's said simply hundreds of emails had been received "in the past year".
The best of them was Mr Ellingham's, who "issued the call for Speight's in the first place", the company's story went.
Except, really, Speight's did.
The company ran a campaign through UK websites popular with Kiwi ex-pats, encouraging them to email Speight's and explain why they were missing the beer.
Even if, like Tim, they were never that far away from it.
Asked if there had been a competition organised by Speight's, Mr Ellingham told the ODT: "Yes, that's correct. Lots of people wrote in for the competition and confirmed the need for Speight's in London.
"My email was in response to the competition in the UK. I sent through the email in late November 2006 and heard back from Speight's just before Christmas saying they loved my email and would send some beer.
"Then we kept in touch and they got hold of my mate James, sent some more beer, and out of all this came the GBD!"
Asked about this, Mr O'Donnell said the Speight's initiative was "not really a competition" but an advertisement which sought to gauge demand for the pub promotion in London before committing to the Great Beer Delivery.
Emails were sent to Kiwi ex-pats and adverts placed on the tntmagazine.com and UK-oriented New Zealand Herald websites, encouraging them to write in saying why they missed their Speight's, Mr O'Donnell said.
"He [Tim] did respond to that email originally. From there we built up a repertoire of guys over there."
Within a week, the company had received 800 emails responding to its adverts, he said.
However, because the idea stemmed from previous unsolicited emails received from ex-pats abroad, the campaign could be said to come from "real consumers".
"In terms of `was it a calculated marketing campaign?', it wasn't . . . The idea to do it started with emails from our website from guys doing exactly that, desperate for Speight's in London. We didn't ask them to do any-thing - they just responded," he said.
The rest, as they say, is history.
The marketers of Speight's swung into gear, the crew of MV Lida was picked and the pub sailed, arrived safely, and a marketing legend was born.
But just how crucial was the story to the media coverage and the company's whole campaign?
As Wellington's Dominion Post newspaper noted, several months after the ship's arrival in London, Speight's had succeeded in marketing its beer "wrapped in a story that demonstrates what the brand is all about".
To put it another way, it helped to float the boat.
"We took a big risk," Mr O'Donnell said. "We spent very little money communicating. We spent all our money on actually doing the idea and we relied on the media to follow it and people to get engaged."
Mr O'Donnell, who was in London on the day to witness the pub's arrival, was surprised by the spectacle.
Thousands of Kiwis - some dangling banners from Tower bridge - lined the waterfront to watch the ship come in, just hours after the All Blacks had lost their 2007 Rugby World Cup quarterfinal to France.
In the months after, thousands more signed up to the company's mailing list, which now boasts up to 5000 "Speight's Mates", he said.
"There's so many great marketing ideas . . . but what blew me away was word of mouth."
The judges agreed, and the silverware rolled in - at the 2008 Cannes Lion advertising festival in June, Speight's picked up two gold medals, including one for best use of media, event and field marketing, and a bronze medal for best integrated promotional campaign.
Five more awards, two merits and a nomination followed from awards ceremonies in Auckland, Miami, London, New York and Beverley Hills, in the United States, this year.
Mr O'Donnell said the marketing push aimed to leverage the brand's well-known Southern Man and classic Kiwi pub traditions to "jolt" consumers while introducing Speight's to the UK in an innovative way.
"The Southern Man is always understated, but we wanted to create an idea that changed people's ideas."
And Mr Ellingham's email was so compelling, he became part of the push, Mr O'Donnell said.
"He [Tim Ellingham] was definitely a character who we thought was a great fit with our brand and was passionate about the brand."
The real measure of success, however, was to be found back in New Zealand, where the campaign was really directed, he said. An invasion of kiwiana in London may have inspired - and made for some good television adverts - but success or failure would always come on the home front.
"At the end of the day we were focused on selling Speight's in New Zealand. That was by using an ad that included all our brand values and our brand attributes," he said.
And the bottom line for Lion Nathan NZ, the owners of Speight's, was unveiled with the company's sales figures for the financial year to September 2008.
Sales were up 1.5%.

The journey
• Speight's unveils Great Beer Delivery on April 16, 2007.
• About 2000 applicants sign up for spots on the ship. About 1000 interviewed, 50 shortlisted and a crew of four - later expanded to five - selected, accompanying Tim Ellingham's friend, James Livingstone, on the trip.
• MV Lida departs Dunedin on July 24, 2007, calling at Samoa, Panama, Bahamas and New York, before arriving in London on October 8, after 70-day, 25,000km trip.
• The Alehouse - the company's 19th licensed Alehouse and the first outside New Zealand - is installed at London's Canary Wharf.
• The Alehouse shifts to new home above London's Temple underground station at end of October, 2007.
• The travelling Alehouse serves its last pint on February 6 this year, replaced by larger Southerner pub, also in central London.
• Travelling Alehouse returns to New Zealand to become a hosting venue at Auckland's Eden Park.
Total cost of promotion not revealed, but "about the same as a traditional TV campaign", Speight's reps say. Alehouse construction cost $350,000.
• Speight's campaign wins eight marketing awards, two merits and a nomination at ceremonies in Cannes, Auckland, Miami, London, New York and Beverly Hills between May and October this year.
• Speight's sales volumes up 6.5% for first half of 2008 financial year, as overall sales in "mainstream category" drops 1%, new company figures show. Overall, Lion Nathan NZ sales up 1.5% for the financial year ending September 2008.
• Speight's expected to announce plans for a permanent London Alehouse by early next year.