Dunedin-based business Design and Garden Landscapes recently received a swag of awards at Landscaping New Zealand's Landscapes of Distinction awards. Business reporter Sally Rae speaks to the company's founder and director Wayne Butson about the path to success.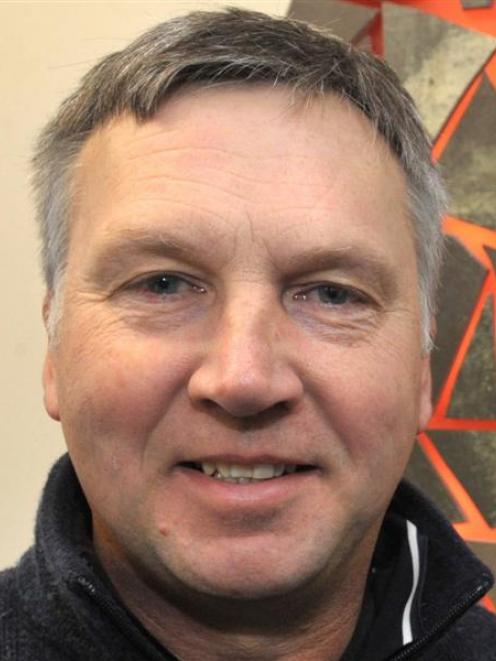 When Design and Garden Landscapes completed its work on the Thom garden at Doctors Point, director Wayne Butson was delighted with the result.
Perched on the edge of the estuary, and complementing what was already an award-winning house, it was what he described as a special garden.
''Sometimes you get the scope to do something that really comes together well. You don't always have the scope to do that.
''I knew it was a good garden. I loved the plantings and overall design and the location of the house. It had all the elements,'' he said.
What Mr Butson did not expect was for his business to win the landscape of the year national award at Landscaping New Zealand's biennial Landscapes of Distinction awards, courtesy of that garden.
Mr Butson, his wife Ella and their staff had gone to the awards function in Wellington for a ''fun time'' as he was standing down as president of Landscaping New Zealand after a two-year term.
Judges had visited 26 gardens from Whangarei to Wanaka, ranging from tropical to alpine, and the Thoms' ''naturalistic'' garden, which combined native and exotic plantings.
Mr Butson was thrilled with the company's success, which also included medals for work on two other gardens, particularly as it was acknowledgement for the work of his team, he said.
It was the second time the business has won the title; it previously won in 2010 for the Kunac garden on the Taieri. Design and Garden Landscapes, with its staff of seven, has come a long way since the business was established by Mr and Mrs Butson in 1991.
Originally from Pukerau, Mr Butson worked at Pukerau Nursery during his school holidays and, after leaving school, he was offered a job at the nursery. The nursery also won awards in this year's Landscapes of Distinction awards.
He later studied horticulture at Lincoln and then, after meeting his future wife, he moved to Dunedin.
After working for other businesses, Mr Butson decided he wanted go into business himself - a big decision for a young man in his 20s.
''I wanted to be a master of my own destiny and wanted to do my own thing,'' he said.
With a background in horticulture, rather than building, it was not long before he realised he needed to take on staff with other skills.
After two years in business, he employed a builder and builders have been part of the business since.
Combining the skills of tradespeople from the building and construction industry, with his background in horticulture and plants, had been ''a pretty good combination'', he said.
He started with one truck, working from home, mostly doing small work. Then came more design work and the projects got bigger.
''Like anything, you start from small beginnings. We're still a small business but we're growing and want to continue growing.
''We want to move forward ... and keep doing really good design and good construction,'' he said.
The work was predominantly residential, although they were looking to do some more commercial work, and it was mostly around Dunedin and the surrounding areas. They did a lot of work in rural areas, particularly on lifestyle properties.
All the team were passionate about what they did and were often ''throwing ideas around'', Mr Butson said.
He and landscape architect Emma Taylor, who joined the team in November, gained inspiration from all sorts of sources.
It was about coming up with different ideas and design elements to do the same functions, he said.
Design happened from the influence of other elements and they were always combining and merging ideas from something else that sparked an image or material or combination of planting groups, he said.
Then it was about problem solving and how to build it.
''You can have the most amazing design inspiration ideas ... if you can't build them, it's useless. It's got to be practical,'' he said.
People were very aware of the value of investing in their ''outdoors'' and were increasingly wanting outdoor rooms.
Living in the South, with long nights and great twilights, there was much more capacity to spend time outside and people wanted to extend their outdoor living.
Outdoor fireplaces were popular, as was outdoor heating, and lighting was becoming quite a big part of their business.
A lot of clients wanted their outdoor areas to look like a magazine cover but did not necessarily want to do the work, he said.
More people were interested in their own vegetable gardens and most of their plans had a raised garden bed, as people were getting more aware of having healthy food, he said.
People were also becoming more award of having environmentally friendly products and Design and Garden Landscapes were stocking a new product called StoneSet, porous paving which collected rainwater that could be stored for further use.
Typically, a garden of the size of the Thom garden would take three months to build, but they also did work that might take a week.
''We do all sorts of things from a nice little patio ... to three months' hard work,'' he said.
It was a very creative business to be in and he got ''a kick out'' of standing back at the end of a job and seeing what had been achieved.
He had enjoyed his tenure as president of Landscaping New Zealand and ''trying to push'' the landscaping industry within New Zealand, especially in the South. It was about promoting excellence, he said.
But it would also be nice to step back from that and focus again on his own business, he said.
Mr Butson was incredibly grateful to have such a great team around him.
''I've always said, if you can, surround yourself with people that are better than you are ... that's what I've done,'' he said.
There were a lot of very good horticulturists, designers and contractors in the South - ''people need to realise we're punching above our weight down here'' - and they could hold their own in the country and win awards.
A year ago, the business moved to former bus depot premises in St Andrew St which had proved a good move, as it was in one location and easily accessible for clients.