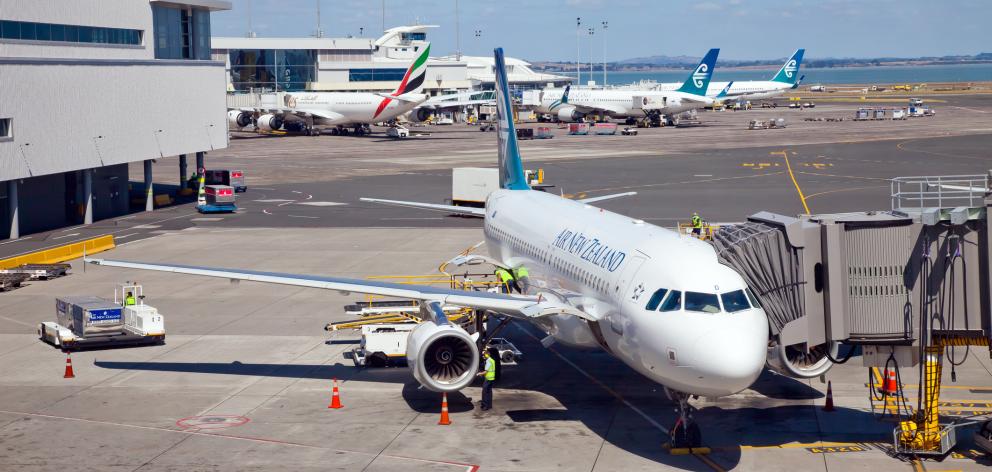 It was important New Zealand's tourism sector adjusted to ensure the country could sustain the growth and maintain the quality of its tourism product, Auckland Airport chairman Sir Henry van der Heyden said yesterday.
Releasing the company's half-year result, Sir Henry said Auckland Airport was investing more than $1 million every working day on its core airport infrastructure.
The investment covered many projects, with more than 42 under way, each valued at more than $1 million.
"This investment is essential given the substantial growth in the number of passengers and also the number of airlines servicing Auckland."
The number of international airlines at Auckland Airport had increased by 50% in only 18 months, he said.
In the six months to December, the total number of passengers using the airport increased by 12.4% to 9.4 million. Domestic passengers were up 11.7% to 4.3 million, international passengers (excluding transit passengers) were up 11.9% to 4.8 million and international transit passengers were up 28.6% to 353,978.
The growth was now flowing throughout New Zealand and to that end, the airport company had continued to play an important sect or leadership role to ensure there was sufficient capacity to allow tourism to continue to sustainably grow over the next decade, Sir Henry said.
The company reported operating earnings for the six months ended December of $235.9 million, up 10% on the previous corresponding period. Revenue was up 10.8% to $310.9 million and expenses were up 11.8% to $75 million.
Auckland Airport's interim dividend increased 18% to 10c per share, imputed to 28%.The reported profit after tax was up 22% to $141.8 million from $115.8 million. The underlying profit, after abnormal items of $18.3 million were deducted, was $123.5 million, up 19%.
Sir Henry said revenue growth was, in part, due to ongoing strong growth in aeronautical and investment property revenues. The increase in expenses was, in part, due to new airline route marketing, operational resources and asset management and maintenance.
The total share of the underlying profit from associates was $7.6 million for the first six months, up 11.8%.
The profit share from Queenstown Airport remained at $1.5 million and the share from the Novotel hotel, in which the company increased its shareholding to 50% after balance date, was up 25% to $1 million. T
he profit share from North Queensland Airports was up 13.5% to $5.1 million.Auckland Airport was reviewing its 24.55% investment in North Queensland Airports. The review would ensure the asset portfolio continued to match strategic objectives, Sir Henry said.
Forsyth Barr broker Damian Foster said the reported profit beat expectations but was largely driven by lower-quality items such as lower interest and depreciation.
The operating profit forecast miss was largely a function of lower-than-expected retail income. While management commentary suggested passenger spend rates increased in the period by 0.9%, despite construction-related disruption, retail income per passenger declined.
"This means there was a reduction in retail yield. Higher sales of lower [-yield] food and beverages, up 18%, may have contributed — though we suspect the minimum annual guarantees built into the new duty-free concessions were very supportive to retail income in the prior period."
This financial year would be another of strong earnings growth, he said.
The outlook for 2018 was substantially slower  growth, reflecting the regulatory price reset, meaning a reduction in regulatory returns.
Other factors included slower passenger growth given the New Zealand aviation market was now in the reducing part of the cycle, and the capital expenditure bulge ahead which would lift the company's depreciation and interest burden.
Forsyth Barr retained an underperform rating.
Auckland Airport shares last traded at $6.90, down 0.6c.
At a glance
• Operating profit up 10% to $235.9 million
• Dividend up 18% to 10c per share
• The tourism sector needs to keep up with visitor growth
• Passengers spent less in first-half