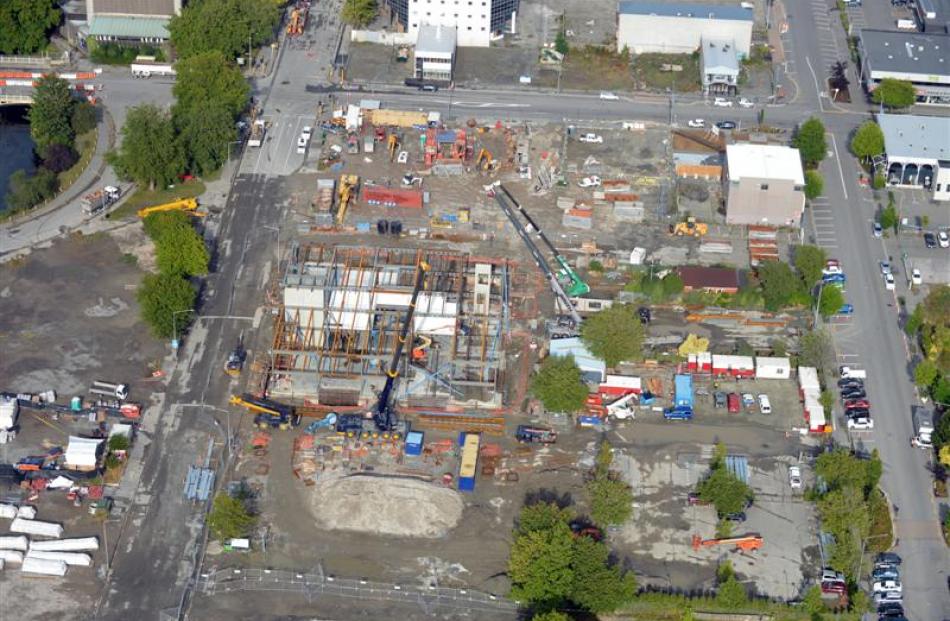 Fletcher Building has delivered an increased after-tax profit, bettering analysts' expectations.
The result was underpinned by a gain of more than 30% from New Zealand earnings.
It appears the long-awaited construction boost to the economy, through the Christchurch rebuild and the Auckland housing shortage, is gaining momentum.
However, Fletcher shares subsequently took a surprise hammering after the announcement.
While total revenue for Fletcher in its six months trading to December was down 3% at $4.38 billion, earnings before interest and tax (Ebit) were up 2% to $262 million and cashflow was up 58% from $129 million to to $204 million.
Analysts had forecast a slight decline in after-tax profits between 4% to 8%, but Fletcher booked a 1.3% increase from last year's $144 million, up to $146 million.
However, Craigs Investment Partners broker Peter McIntyre said in response to the ''reasonably good'' result there was a subsequent ''aggressive sell-off'' and ''hammering'' of Fletcher shares, trading down 52c to $8.80, with a heavy volume of more than 3.2 million shares worth $18 million sold by about noon yesterday.
He said the shares had enjoyed a ''strong run up'' in value before the result, and there would have been some profit taking by some shareholders yesterday.
Fletcher will repeat its 17c dividend; with the stock closing yesterday at $8.87, having closed on Tuesday at $9.32.
While costs savings of up to $75 million were announced by Fletcher earlier, yesterday's result contained few details, other than the strategic review was under way. Fletcher chief executive Mark Adamson said the result was driven by improved trading conditions in New Zealand, with earnings up 31%, but that was offset by weak construction markets in Australia and further restructuring costs.
He reiterated earlier guidance, unchanged, that for the full year Ebit was expected to be in a range of $560 million to $610 million.
''The pace of new residential construction in New Zealand has improved substantially over the past six months in both Canterbury and Auckland, and this has positively impacted those businesses exposed to this sector.
''In addition, we have seen strong momentum in rebuilding activity in Canterbury,'' he said.
However, Mr Adamson said that in contrast, Australia reflected ''weak market conditions'', with most businesses experiencing volume declines, and overall Australian operating earnings declining by 12%.
Similarly, while revenues were ahead in Southeast Asia, they were flat in North America and down in China and in Europe.
Forsyth Barr broker Peter Young said the result was ''above our estimate of $136 million'', although this reflected better-than-expected tax and interest costs during the period.
''The underlying Ebit was in line with our expectations, highlighting an improving backdrop in New Zealand and weak market conditions in Australia,'' Mr Young said.
Mr McIntyre said the Australian operations would have been a disappointment. He was confident the Reserve Bank of Australia would ease interest rates in coming months, which would ''create a tail-wind and a boost to Fletchers''.
Overall, Fletcher's construction division's Ebit for the period were $37 million, or 48% higher than the previous year, led by the ''significant'' lift in residential house sales and increasing earthquake recovery work around Canterbury, Mr Adamson said.
Fletcher, as lead contractor in Christchurch, now has more than 1100 accredited contractors; having done more than 30,000 home repairs and 47,000 emergency repairs.
The last of a forecast 100,000 home repairs is expected to be completed by 2015.
Mr Adamson said while Fletcher's construction backlog was down from $1.2 billion to $1.19 billion, the company was preferred contractor for a delayed $550 million project and it won a separate prison contract, worth just under $300 million.
Mr Young said ''management expects continued activity gains in New Zealand given the improvement in residential consents, but sees no improvement in Australian trading through the second half''. Fletcher's full-year guidance for delivering Ebit of $560 million to $610 million was consistent with Forsyth Barr's estimate, after restructuring and impairment charges, of Fletcher booking $596 million Ebit, he said.