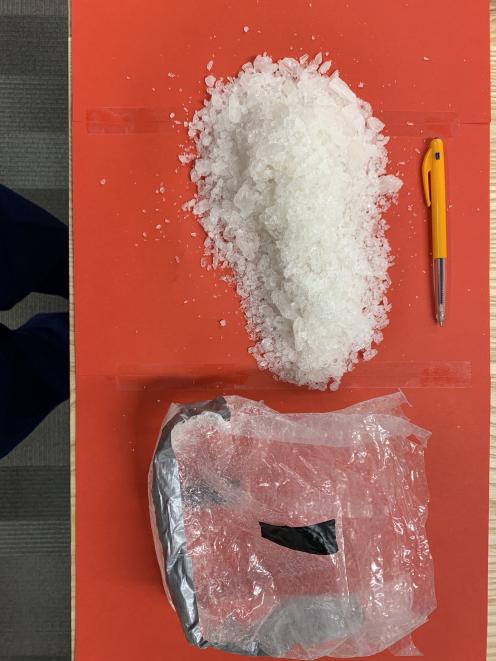 A former gang member now living in the South is pleading for the public to help police fight what he says is the growing scourge of methamphetamine in the region.
The man came forward yesterday after news broke of a raid in Queenstown netting more than $200,000 worth of methamphetamine and more than $30,000 in cash.
A 36-year-old man is in custody, charged with possession of methamphetamine for supply, and a 33-year-old man is facing drugs charges after police executed two warrants in Cromwell the same day.
The former gang member spoke on condition of strict anonymity because he feared violent reprisals if identified.
He came forward to issue a plea for anyone with knowledge of the meth trade to contact police.
The Otago Daily Times has verified his identity as a former patched gang member.
"I don't think the public know how huge meth actually is here,'' he said.
Detective Senior Sergeant Malcolm Inglis said earlier this week the supply of the drug, also known as meth or P, had been "escalating'' in the region this year, driven by gangs and other organised crime groups.
The man said most major gangs in New Zealand were now active in the drug trade in the South, including the Mongrel Mob, Head Hunters, Killa Beez, King Cobras and others, while yet another would soon arrive in the region.
In his view, the situation was particularly bad in Central Otago.
"The gangs are shocking. They're flooding the market in Central Otago, they are ruining families ... it's the kids that are suffering.
"It's taking food out of kids' cupboards.''
He echoed the earlier comments of Det Sgt Inglis, who said meth was a growing problem in Queenstown, Cromwell, Alexandra and other areas.
"Central Otago's a good target, not only because of the international airport [in nearby Queenstown], but there's a lot of money there to be made for these gangs.''
The man issued a heartfelt appeal for anyone in the community who knew anything about the meth trade to contact police.
"More people in the community need to get on the phones, call the authorities, do it anonymously.''
• Dunedin police (03) 471-4800, Crimestoppers 0800-555-111.