In Big Ideas for Small Houses, Catherine Foster looks at a range of small houses around New Zealand and the strategies the owners used to get a toehold in the tight housing market. Built from shipping containers, this home was awarded eight stars by the New Zealand Green Building Council.
Like many a child, Brenda Kelly played houses - but even as a 12-year-old her games were more than mere imaginative play. "I remember loving the idea of being able to live in my own small space, and I spent hours drawing plans and pictures and working out how everything could go together. It wouldn't leave me alone."
Fast-forward a few years to when Kelly was looking to build her first home and she discovered how versatile shipping containers could be. It seemed like a serendipitous link back to those childhood games. "They're like the perfect building block. They're immensely strong so need minimal foundations and that's a critical consideration on very steep sites and they're earthquake, hurricane and fire resistant. I decided to explore whether it really was feasible to make homes from them."
This exploration became IQ Container Homes, the show home of which (Kelly's own home) is the first container home to be awarded eight stars by the New Zealand Green Building Council on the internationally recognised Homestar energy scale. Earned through incorporating environmentally friendly materials and sustainable features such as solar heating, rainwater harvesting and vermiculture, this rating guarantees that the home will be warmer, drier and cheaper to run than a conventional home built to meet the standard required by the current New Zealand Building Code.
Like all innovations, achieving this level of excellence, especially while using a non-standard method of construction, was not straightforward. Not only was it necessary to devise a series of standardised floor plans, but it was also essential to produce a product that the council could sign off on in stages in order that finance could be attained.
"This was a real challenge. Modular building is still in its infancy in New Zealand, and container homes are modular homes, but the result is that we build homes under quality-controlled conditions that arrive on site fully consented."
Kelly's own home is a triumph of ingenuity - it is difficult to believe that two containers, linked together to form an L, could produce a structure as light-filled, spacious and spirited as this one. Crisp white joinery against a staunch dark exterior hints that an unremarkable road frontage may give way to surprises, but it is not until stepping through the front door that the sheer delight of what Kelly has achieved makes itself clear. The interior cannot be described as anything but compact, but bounded almost entirely along the rear with a combination of floor-to-ceiling glazed sliders and generous windows, it is airy and pleasant. The larger structure contains a living area, a fully equipped kitchen, a bathroom and a bedroom, and the smaller structure - set at right angles to the first and accessed internally or via the enclosed deck - contains a secondary bedroom that doubles as an office.
Without a doubt the transformational element is the large covered and enclosed deck that connects the two structures and completes the rectangle. Seemingly untethered above a majestically bush-clad West Coast valley far below - "the views were what made me want this site for years before I could afford it" - this area nearly doubles the footprint (to 88sq m). Cost-effectively acting as a de facto passageway between the rooms, it also does away with the need to use the hall. Although only lightly enclosed beneath a translucent roof, semi-permanent plastic walls and glass balustrades, it is robust enough to provide year-round living in all but the wildest westerlies.
Every space-saving trick has been utilised - whether as simple as mirrored wardrobe doors at the foot of the double bed creating an illusion of space, or paying extra for complex multipurpose furniture specially designed to maximise the functionality of every corner, such as a bed that folds into a desk.
"If it's not dual purpose, it doesn't have a purpose in one of my homes."
Kelly may use this as a sales pitch but it's nevertheless a core precept.
"Containers are only 2.4m wide - 2.2m when lined and insulated - and the bigger of the two you see here is only 6m long, so there is no space to waste. That's why it's so important to have storage wherever possible - there's no room for clutter, either visual or physical."
Not visible to the naked eye are the qualities that earned it that coveted energy rating. From designing to allow for a near waste-free construction process with eco-friendly products, to rainwater recycling, a 2kW solar power system and a vermiculture waste system, every feature is as multifunctional as the spaces themselves. All work together to minimise the environmental impact of the building, reduce long-term running costs and provide a warm, healthy home.
Kelly admits that building even a small home to this quality is "affordable rather than cheap". She also points out that converting shipping containers into accommodation is not a DIY job.
"There are many hoops to jump through at every stage of the process, but that is what my business is set up to do. We aim to make compact homes that are a delight to live in - and that have a long lifetime of affordable living ahead of them. I couldn't give up on the idea of living in a small space where you have everything you need but nothing you don't - and living in a container home like this you don't have to."
IQ Container House 
Size: 45m2 plus 33m2 covered deck
Location: Parau, Auckland.
Owner-designer: Brenda Kelly for IQ Container Homes.
Site: 2425sq m
Builder: Factory-built under owner's supervision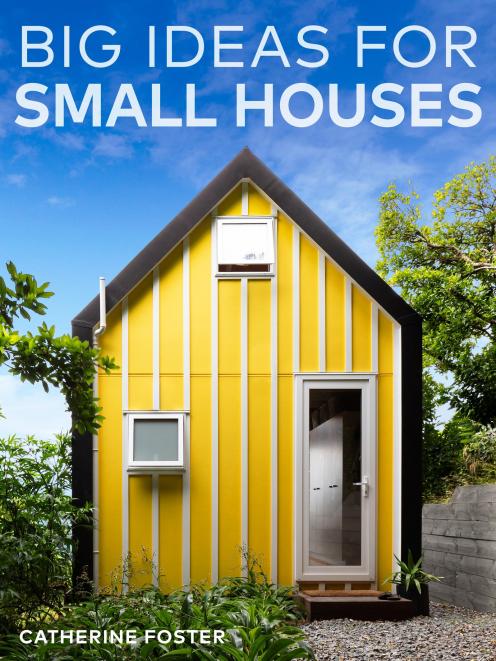 COSTS
Land $200,000
Build (including deck) $190,000
Fees and compliance*  $40,250
Earthworks, driveway and foundations $40,000
Wastewater system $13,800
Total $484,050
*including drawings and plans, professional fees, resource consent, building consent and council fees. 
Strategy: Convert shipping containers into units of accommodation under quality-controlled conditions, enabling staged financing and a light environmental footprint.
Win a copy
The Otago Daily Times has three copies of Big Ideas for Small Houses, by Catherine Foster, courtesy of Penguin NZ, to give away. To enter the draw, email playtime@odt.co.nz with your name and day-time phone number in the body of the email and ''Big Ideas'' in the subject line by Tuesday, October 15.