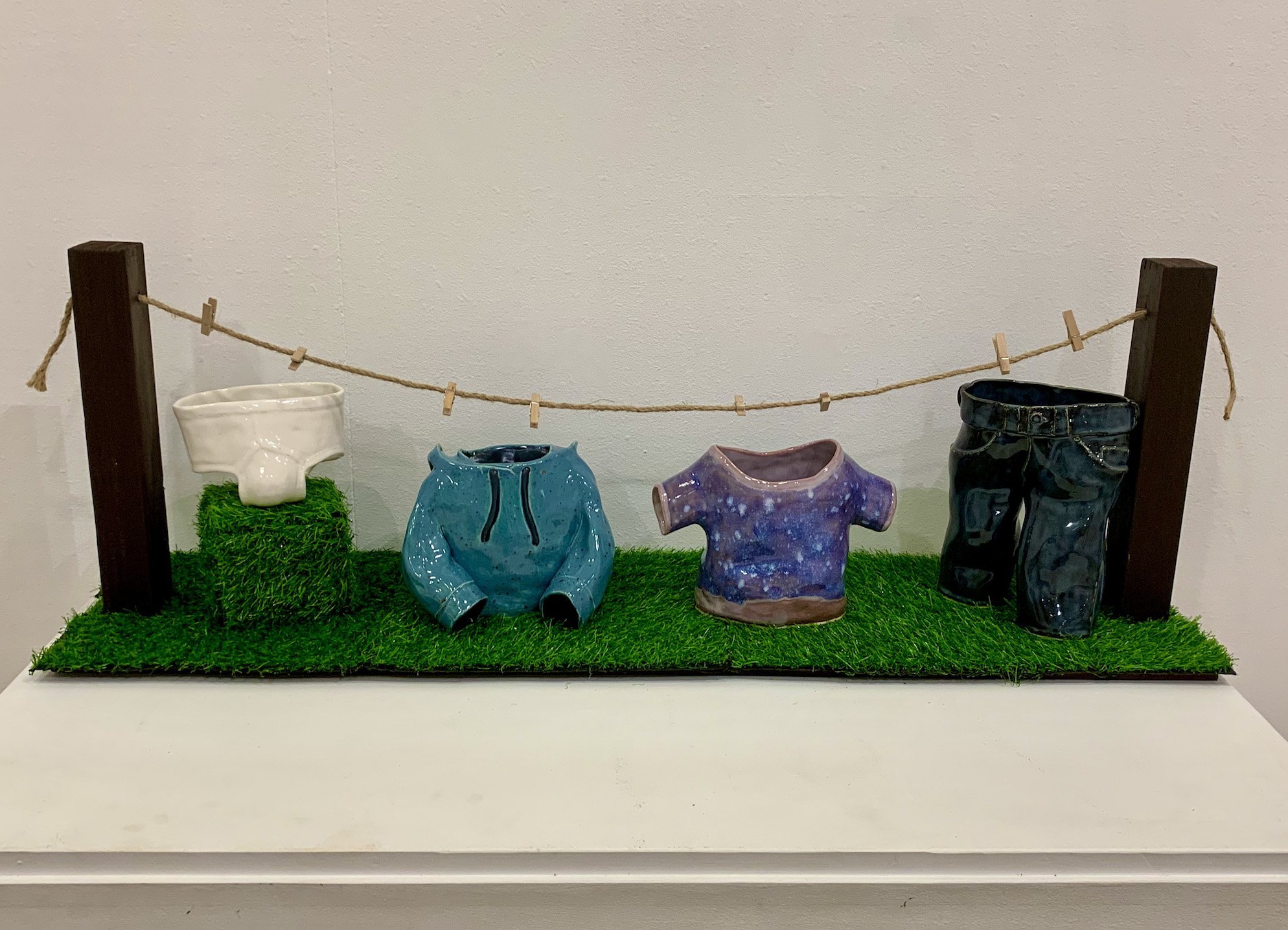 "Clay By Design", Alexandra Pottery Club
(Central Stories Museum and Gallery, Alexandra)
"Clay By Design" features beautiful works by more than a dozen of the Alexandra Pottery Club's ceramic artists, incorporating multiple creative processes with electric kilns, pit firing, and Raku firing. The latter involves taking the piece from the kiln while still incredibly hot, rather than allowing it to cool slowly, and placing it inside combustible materials; by depriving the piece of oxygen, chemical reactions with the glazes produce spectacular and unpredictable colour effects. Kathi McLean's Raku works are stunning in a mosaic of colour — greens and golds, glowing cerulean blues deepening to the shades of a mysterious night. Her vessels appear almost like ancient artefacts, the jewels of a lost land.
There are works of seemingly every shade, glaze, pattern, and function on display, from Jenny Knowles's bright and cheerful cyclist circling her sunlight-splashed bowl in Oh, Sunny Day, to Barbara Moffatt's intricate, handcrafted clay Cottage, and Lisa Barkman's dramatic, atmospheric and highly textural One Sgraffito Plate. Marie Jarvis's charming and incredibly skilful Washing Line Sculpture — Four Piece adds a touch of whimsy, very popular with viewers, and perfectly detailed down to the tiny stitches on the pair of "drying" jeans. Her Fairy Tealight is an enchanting little adjacent piece, a tiny tower waiting for a flickering flame and its magical inhabitant. With something for everyone, the exhibition is certainly worth a visit as soon as possible.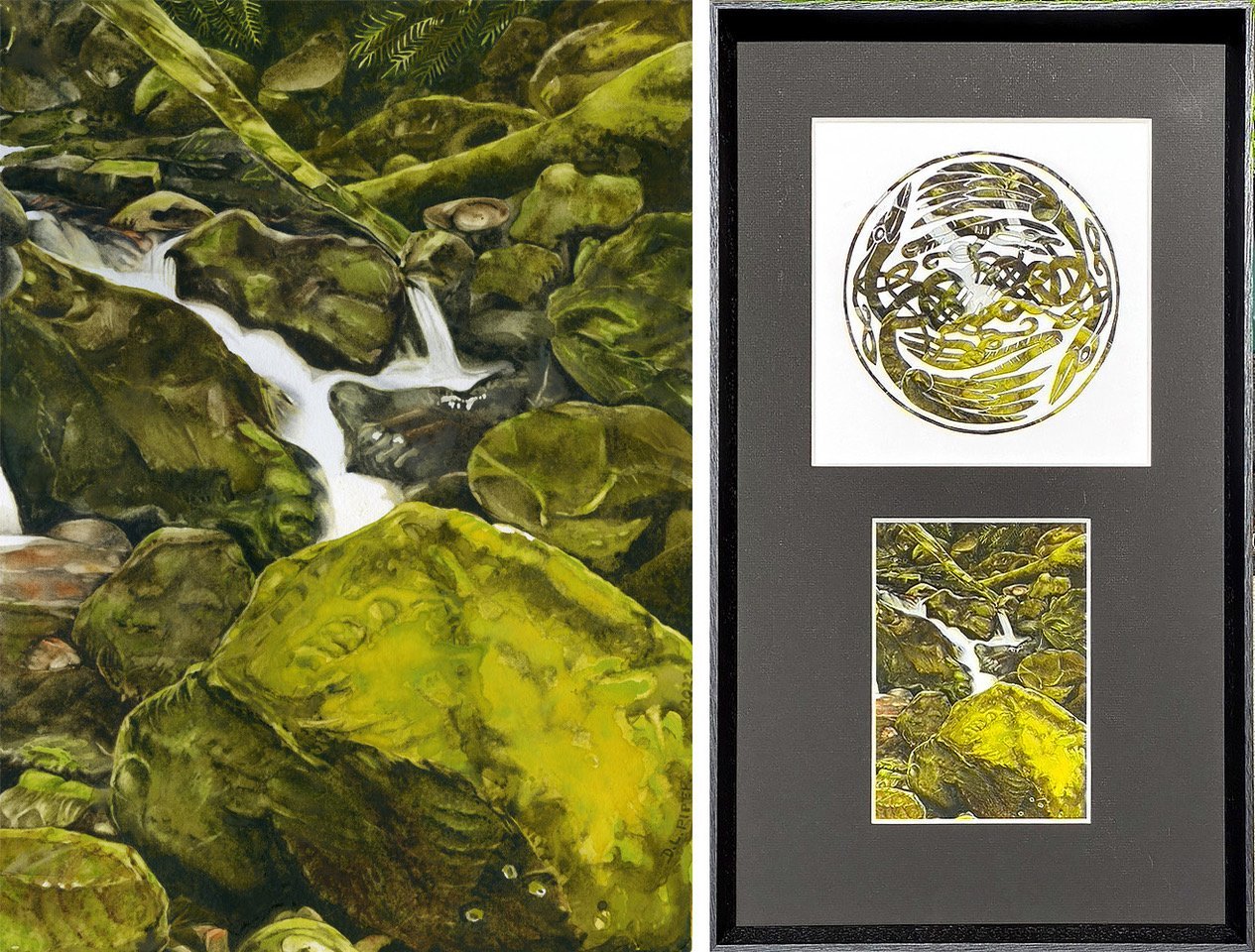 "Weaving Celtic Art into Te Tai Poutini", Dorothy Piper
(Eade Gallery, Clyde)
The latest collection of Central Otago artist Dorothy Piper combines her experiences living on the West Coast with her Celtic heritage. Her solo show is a glorious exploration of nature, philosophy, mythology, and a very personal sort of magic — both in the hand of the artist and the mind of the viewer. Each exhibit involves an original watercolour — a masterclass in blending and shading, the scenes lush and verdant — with an adjacent companion piece that features two high-quality Giclee prints of the original. One of the prints becomes a two-dimensional sculpture, cut with extreme precision into intricate Celtic patterns and symbolism, emerging as an entirely new entity of its own.
Piper's watercolours are stunning. The scenes explode with detail, coming alive in their frames. You can almost smell the scents of the forest, hear the crunch of branches underfoot, expect the tomtit to move on his perch and ruffle his feathers. Every flicker of light on a leaf, each blade of grass, the layers of fallen natural debris on the forest floor — it's all depicted with loving attention to the way in which tones shift, shadows move, and the sun can make the most seemingly insignificant feature glow. There's an inherent drama to many of the works, but also intimacy, love, hope, a profound connection to both the physical environment and the spiritual world. The Celtic symbolism of protection, harmony, and respect for the land creates a sense of timelessness and soul-deep peace.
"Happenstance: Tales From New Land", Deborah Moss
(Gallery Thirty Three, Wanaka)
Abstract painter Deborah Moss' new collection records an incredibly personal, unique time and sense of place for the artist. However, the works can prompt all of us to reflect on the concepts of serendipity, unexpected connections, and the true meaning of home. Moss lives and works on a property that her family discovered by chance, a fortuitous turn of events that led them home. Recently, they expanded their land into neighbouring forest and bush, and Moss' studio space shifted, literally opening new horizons, sights, and sounds. Each canvas captures the feel of anticipation, excitement and contentment, a painter glorying in the new, yet also feeling instinctively that they've found their place in life.
In Woods, Not Words, thick strokes of profuse colour create the feeling of movement and the mysteries of winding paths, a reminder of walking through the forest, feeling both profound peace and that little sense of magic inherent in the middle of the quiet woods. Dancing in the Deluge is a joyful piece, conveying the simple joys in being outside in the rain, seeing drops "dance" across the surface of water, smelling the scents of damp woodland. Happenstance is a reminder that the smallest decisions can change our lives in huge ways, a hope that all of us are stepping down the path towards where we're meant to be and enjoying the journey along the way.
By Laura Elliott