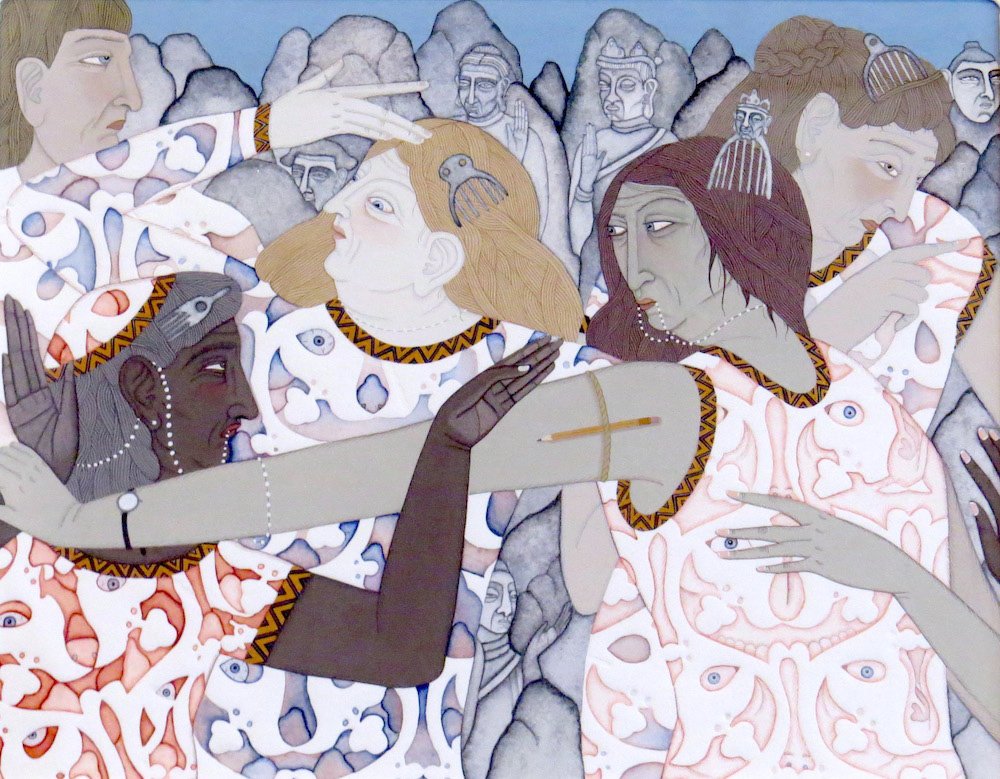 "Woolgathering", Kushana Bush (Brett McDowell Gallery)
Kushana Bush has developed an intriguing personal art style, producing vaguely sinister tableaux in which groups of figures take part in arcane ritualistic behaviour. There are clear east Asian and subcontinental touchstones in the artist's images, but her influences range widely, with shades of such artists as England's Stanley Spencer and New Zealand's Jeffrey Harris also adding to the mix.
The emphasis in many of these works is on the compositional elements of the groups, with individual figures interacting in rhythmic patterns across the ground. Colours are muted and perspective is deliberately reduced, giving the images a frieze-like feel. The motif of the mask, which Bush has used previously, takes on a more pivotal role in these pieces, created at a time when the use of masks in public places has become a regular feature of daily life.
The paintings, rendered in gouache and watercolour, are enhanced by gauffrage, a method of embossing blank areas of the paper on which the images are presented to add further patterning elements to the design. This addition, a feature most commonly found in east Asian art, is an homage to the late Marilynn Webb, who taught Bush the technique. The works were made in collaboration with Christchurch printmaker Kate Unger.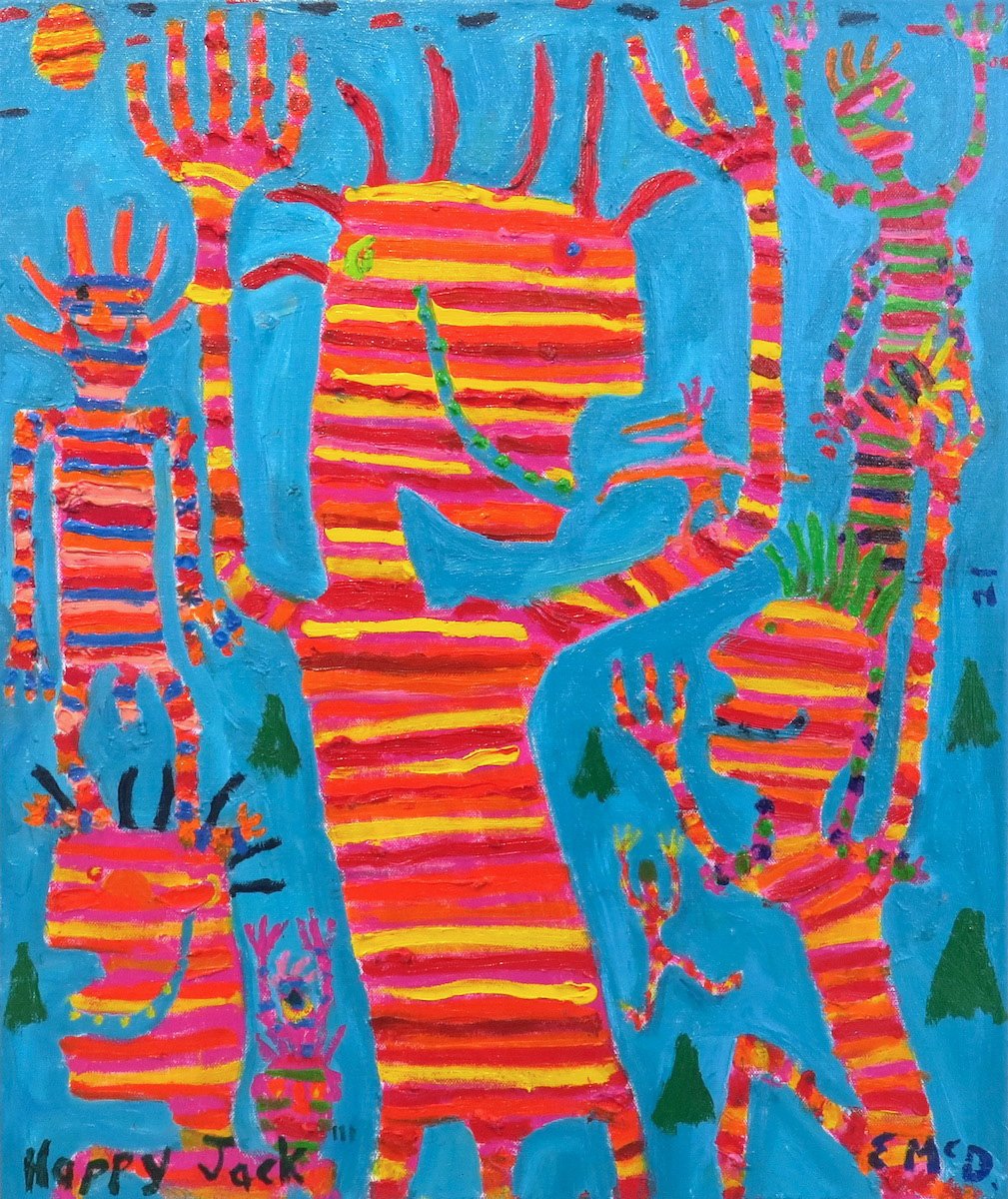 "Stripeyism", Ewan McDougall (Gallery De Novo)
Ewan McDougall returns to De Novo with "Stripeyism".
The artist's trademark gurning stick figures, as the exhibition's title suggests, are manifested in a new style by McDougall, now appearing in multicoloured horizontal stripes. The style developed after the artist added stripes to the background of one of his paintings, and got to wondering what it would be like if the stripes were internal to the figures, rather than external.
Whether the use of stripes is a temporary or permanent move on McDougall's part, it adds a different dimension to his work. Astonishingly, the figures, rarely quiet or calm in the past, now seem to spring into even more vivid action. These are psychedelic stickmen, tanked up on life, spreading their glee across an unsuspecting terrain. In works like Get Lined Up and In the Line Up, there is an immense feeling of pent-up energy ready to burst from the canvas in unexpected ways. In several of the pieces, such as Bluey II, the energy manifests in the form of mutated people, with extra legs, heads, or even genitals waltzing across the surface. This reaches its extreme with Bonzer Cracker Shag!, a work in which it's as if someone tipped LSD into the party punchbowl as the morphing figures completely lose any inhibition.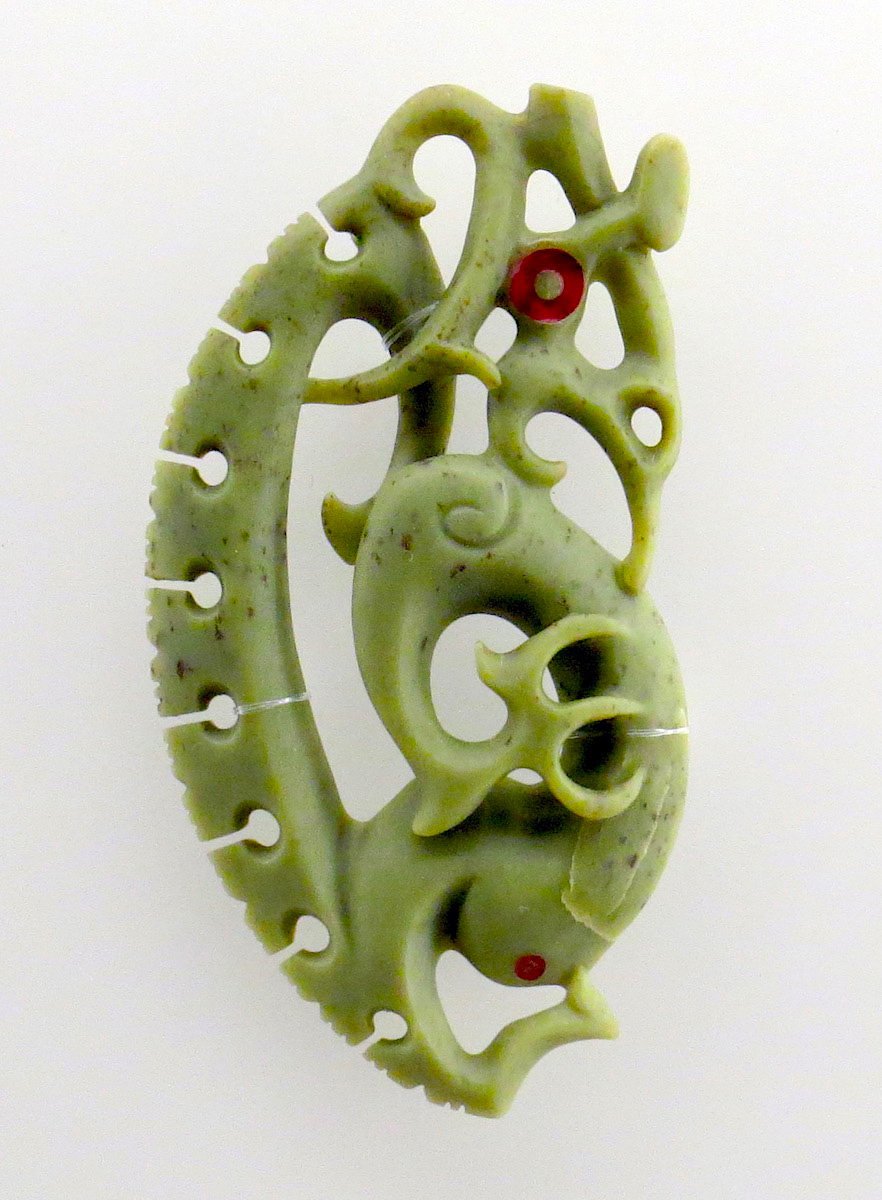 "Kura Pounamu: Our Treasured Stone" (Tuhura Otago Museum)
Otago Museum — now officially Tuhura Otago Museum — is hosting a major exhibition of the history, culture, and art of one of our greatest natural taonga, pounamu.
In the exhibition, many aspects of pounamu are covered, from its origins (both geological and mythological), through its traditional usage and carving to its use in present-day art. The exhibition is well curated, with the viewer being guided through displays which are accompanied by considerable amounts of information, in the form of panels and also video and audio displays.
Pounamu, is, of course, of immense significance to Maori, and especially so in the south which is and was the primary source of the stone. The exhibition deals with its prized nature, mana, and mauri in a series of displays of pre-European artefacts. Emphasis is placed on such traditional forms as hei tiki and "status weapons" such as mere.
We are taken from the pre-colonial to early colonial days, when the twin taonga of pounamu and gold were combined in jewellery, and on to present day uses of the stone in fine art, represented by the work of such carvers as Lewis Tamihana Gardiner, Whiu Waata, and Michael Couper.
The exhibition is a major opportunity to see fine carving and also learn more about a national treasure.