'Landing", Robert Scott (Moray Gallery)
Space exploration has been much in the news recently, with the landing on Mars of the
Curiosity
rover and the death of Neil Armstrong. Perfect timing then, for Robert Scott's exhibition "Landing", with its science-fictional themes.
Scott, better known for his musical career with the Clean and the Bats, has a long fascination with both comic art and early photographic studies of Otago. Both have influenced this exhibition. Half the works relate directly to space travel, with ships and astronauts on or above the surfaces of alien planets. The other half are of more recognisable terrain, largely inspired by historic photographs of Otago Harbour. The two halves are brought together by the artifice of marking "landing sites" on several of the Otago scenes.
All the pieces are effectively painted in a folk-influenced naive art style. The colours are clear and strong, and the compositions are often complemented by the deliberately roughly shaped board upon which the works are created. The heavy, heady, cloudy skies are particularly nicely rendered. Notable among the pieces are a series of very small cameos, each containing a simple feature or figure. All the pieces are created with a friendly and joyful whimsy which makes them most attractive.
---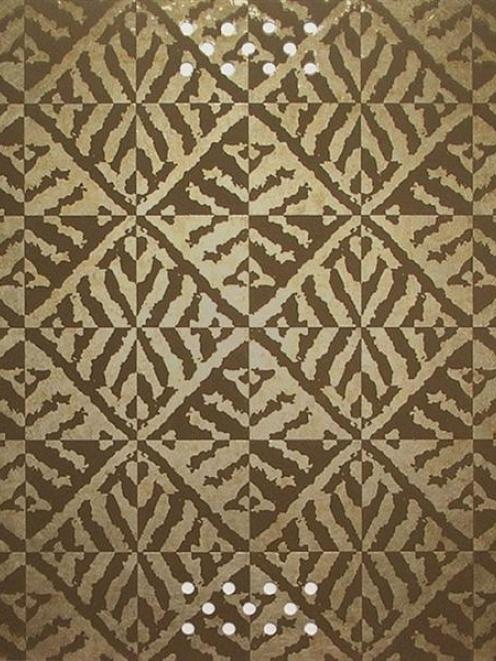 "Picture This" (Hocken Library)
The Hocken's "Picture this" allows the public an opportunity to see many of the new works which have been purchased by the library over the past few years.
Concentrating on recent work which falls under the loose categorisation of modern art, the works have no basic thematic link, and cover a wide range of disciplines and subjects. Works from established New Zealand artists and their emerging contemporaries sit alongside each other, as do works from recent Frances Hodgkins fellows. By presenting such a wide array of works, viewers get some insight into both current art trends in New Zealand and also the library's own acquisition policies.
Despite its lack of overall theme, several threads do recur; the workspace/gallery as art is a common feature of Ann Shelton's photographic study, Gary McMillan's understated painting, and a conceptual piece by Billy Apple. The workspace also features in one of Marion Maguire's excellent cross-cultural artefacts, and a further cross-cultural theme is present in one of the exhibition's central pieces, Greg Semu's marvellous Polynesian reworking of Leonardo's Last Supper.
A standout piece for this reviewer was Joanna Langford's mixed-media Baltic wanderer, its gently thrumming soundtrack and glacially changing images creating a space for quiet contemplation.
---
"Hau Hau flags", Laurence Aberhart (Brett McDowell Gallery)
Perhaps best known for his studies of architecture and lonely grave markers, Laurence Aberhart's small exhibition at the Brett McDowell Gallery may come as a surprise. The subject - the remnants of banners from the New Zealand Wars - is, however, of abiding interest to the photographer, and one which obliquely ties in with the artist's better-known images.
The pieces are not new; they date from a study of the flags which the photographer made in the 1980s. They are, however, important both archivally and as an insight into Aberhart's work.
Historian Margaret Orbell brought the subject of early Maori flags to Aberhart's attention. The flags, often poorly stored in archives around New Zealand, were in some cases in danger of being lost forever. Many had been destroyed over the years, seen as being of little value despite being imbued with both history and something of the mana and mauri of the people they represented.
It is perhaps not surprising that, having seen how ephemeral these significant items had become, Aberhart's work led him to record other endangered facets of New Zealand's cultural landscape.
Aberhart's images of the flags and ceremonial poles, using large-format camera and traditional photographic techniques, is an impressive lasting record of a disappearing facet of our history.
---