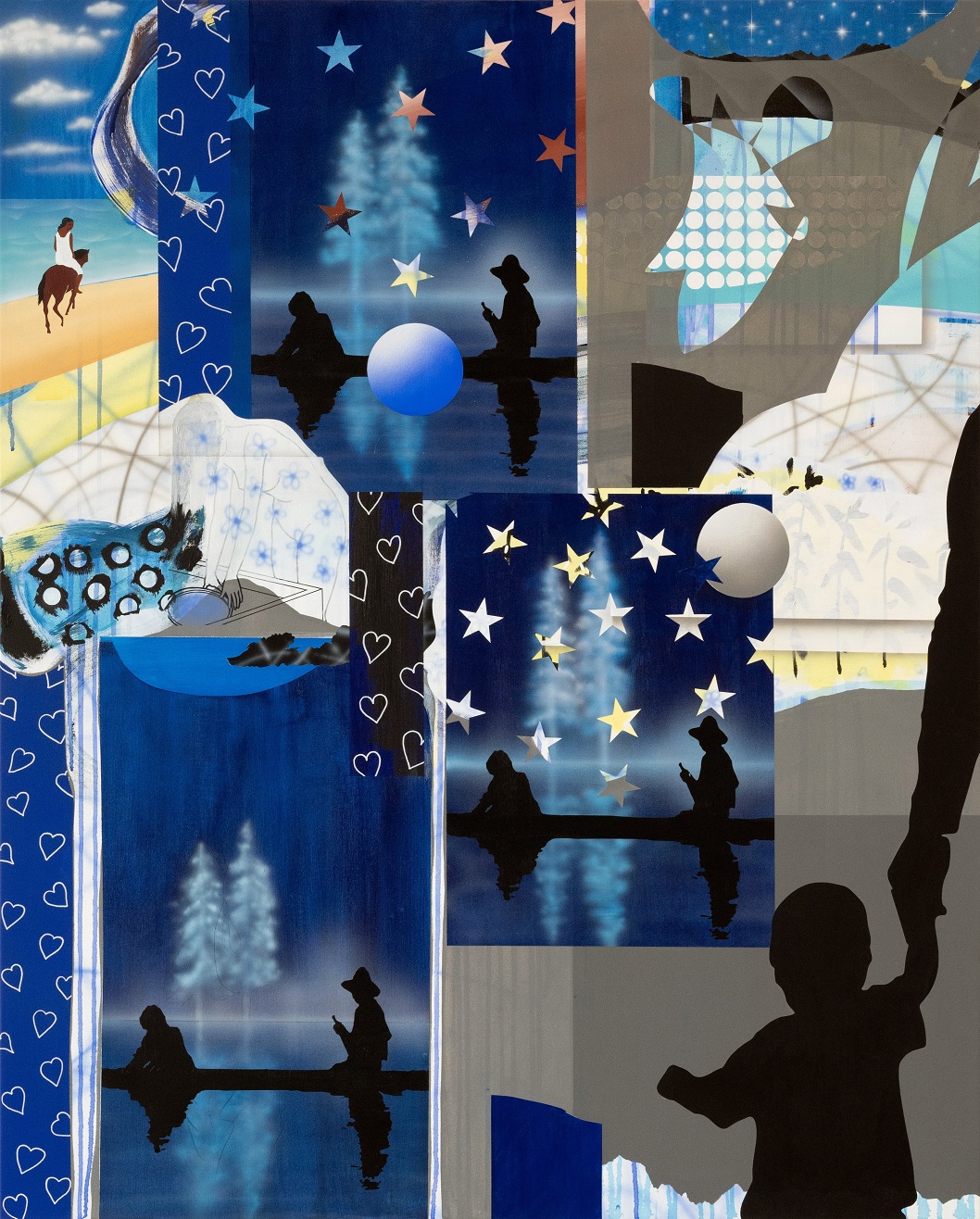 "Voyager", Marc Blake
(Broker Galleries, Queenstown)
Marc Blake's "Voyager" is a fascinating exploration of a personal and universal journey. The collection evokes a crossing of both physical and emotional distance, as we travel through land, seas, and experiences that bear the invisible footsteps of millions before us. Blake uses the repeating imagery of two travellers in a long, low vessel. They could be any gender, any age; they could be you or me, our ancestors or our descendants. In one painting, Memory, the bowed posture of the front figure takes on a new significance with the addition of a small moonlit halo over their companion's head, perhaps suggesting that on this particular voyage, they're accompanied only by their memories, a ghost of the past.
Blake adopts multiple layers of dimension, symbolism and structure, and a masterful use of negative space as shadows resolve into repeated profiles, facing one another. With worlds between them, they seem to represent an endless conversation, a distance that will never be crossed — or a pending embrace, the shared journey of lovers. The inclusion of digital animation in the exhibition, via a video exhibit, draws us directly into the boat with the travellers, or under the night sky with the lovers, depending on where your eyes choose to focus. Water ripples and flows under the otherwise static image, creating a sense of infinite time and place — and ultimately, peace.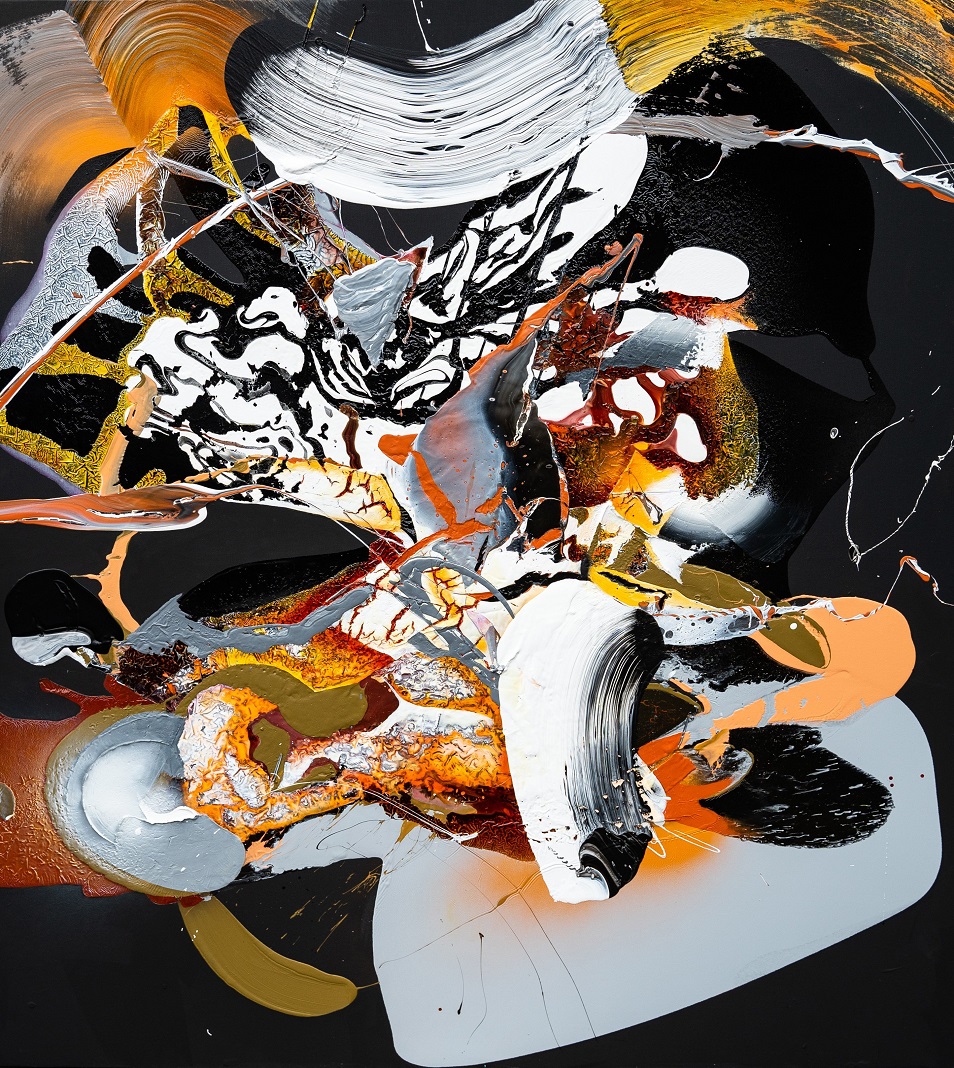 "Constellations", Cristina Popovici
(Gallery Thirty Three, Wanaka)
Cristina Popovici's work is always an exciting study in immediacy and energy — abstract compositions that seem to live and thrive on the canvas in perpetual motion, rather than a static scene. Each piece juxtaposes fast slashing strokes and sweeps of a palette knife against the slower, more thoughtful drip of paint, allowing tones to pool and blend together. Popovici frequently utilises pattern, employing leaf-like veins that flutter out like butterfly wings, and a beautifully intricate maze of lines like tributary markings on a map. Often seeming to be lit with an inner glow, fragments of the work glow like gold and gemstones, countless little textural details and treasures to be found.
Her latest show "Constellations" focuses on dreaming, the different reality and plane we seem to inhabit once we close our eyes and drift off to sleep. Our minds can go to places both dark and lively, bring home the voices of those we've lost, act as an adventure or an escape. Popovici's collection suggests the sensations and layers of the astral plane, the calm and the chaos, with the idea being that each viewer will connect to a different work — like the jazzy, dramatic "Meteoric Symphony", in which different tones of black create multi-faceted negative space, and your eyes sink into what feels like eternal, boundless space.
"Patterns of Land", Marg Hamilton:
(Eade Gallery, Clyde)
Under a shimmering golden sun, the landscape stretches in a tapestry of stylised lines and vibrant patterns, fields laid out like a patchwork quilt of colourful design. Taking inspiration from her walks in Alexandra, Marg Hamilton works with inks and shellac to capture the spirit and culture of the wider New Zealand landscape. By painting onto boards, the underlying grain and texture adds dimension to the layered, linear compositions, and gives the sense of art both arising from and intimately connected to the natural world. The care and precision of the design grid gives a sophisticated finish, but in close detail, the individual lines and shading also lend an intimacy, a visual map of the creative process.
In Hamilton's "Layers" series, painted on the vertical plane, the eye naturally traces up or down from sky through earth, with each section evoking mountain peaks, harvest fields, life teeming beneath the waters, and the earth's foundations in molten rock. With its brighter colour palette, the jewel-toned "Summer Paddocks" series is redolent of the transitional seasons. Patterned tones suggest the golden hues of a Central Otago autumn, the falling leaves and cool lake waters, while an underlying golden glow hints at the unique light and emerging flora of spring. Hamilton is a visual storyteller, setting the scene and leaving the viewer to continue the tale.
By Laura Elliott