James Dignan takes a look at the latest exhibitions around Dunedin.
"Every Painting is a Way of Saying Goodbye" (Temple Gallery)
The Temple Gallery's current exhibition is a group show of work by women artists from both Otago and wider New Zealand.
The works are of fine quality, and range in style from three-dimensional and minimalist abstracts to precise portraiture and photographic still life.
The images are predominantly introspective, yet edgy.
What passions they display are concealed or withheld, yet still lie beneath the surface.
Even in the work of artists better known for the dynamic violence of their images (such as Diana Smillie), there is wary quiet.
The works seem to be lying in wait for the viewer and, to use the oldest cliché in art, the portraits' eyes seem to follow you around the room.
Perhaps this air is best exemplified by Sarah Dolby's untitled painting.
This piece, Dolby's only new exhibited work of 2009, depicts a doll-like portrait; in this it is like her previous work.
The sitter, however, is imbued with an uneasiness unlike the artist's earlier subjects, enhanced by the cryptic symbolism of embroidery and cards behind her.
Other fine pieces on display include an excellent portrait by Heather Straka, museum display-like studies by Michaela Cox and a seemingly three-dimensional op art work by Charlotte Adams.
"Islands and Islets", Maria Mackay (Gallery on Blueskin)
Chromaffin cell, by Maria Mackay.
The similarity between greatly-enlarged microscope photographs of cells and satellite pictures of atolls has been used to good effect by Maria Mackay in her exhibition at Waitati.
The artist's first solo exhibition, and her first exhibited works of any form for several years, comprises numerous brightly coloured works.
Taking magnified images from a biochemistry text as her inspiration, and triggered by the knowledge that some of the body's cells are designated as "islets", the artist has produced an array of strong, semi-abstract images.
The paintings can be split into two basic groups.
Early works, based on skin cells, simply use the bubble-like packing of cells to create abstract images representing oceans and traditional Chinese elements.
In each of these, subtly nuanced hues have been used to create visual tone poems.
The later pictures, which could be aerial views of Polynesian islands, are bright reinterpretations of the interior structures of cells surrounded by a blue-green sea.
By using robust commercial decorating acrylic, the artist has been able to create broad opaque areas of consistent colour to depict individual parts of these organic lands.
The resultant vibrant paintings thus come across as impressive and intriguing posterised maps.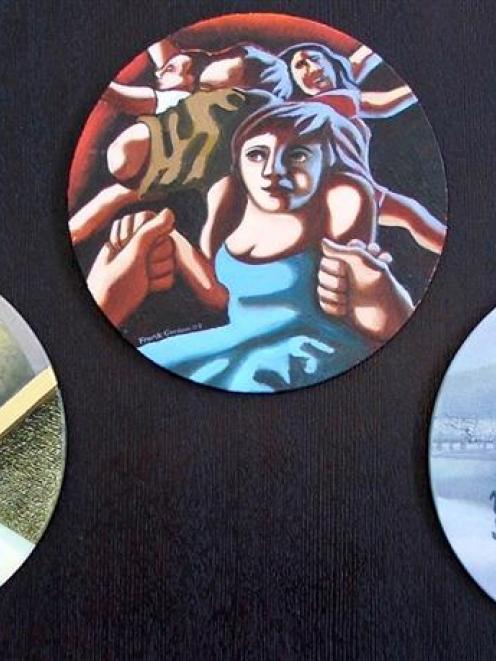 "Dreaming of a Round Christmas" (Gallery De Novo)
Dealer galleries often mark the Christmas season with shows displaying works held in stock from a wide range of different artists.
In recent years, there has been a new and intriguing trend towards more specific, themed invitationals.
The current display at De Novo is one such exhibition, with 28 artists between them producing almost 80 identically-sized round works.
In general, the display works very well, and it is intriguing to see how the artists have tackled the constraints of a small circular canvas.
In some cases, they have presented what appear to be simply round details taken from larger works, but many of the works deliberately use the shape of the board to good effect.
Some of the more interesting pieces are from artists not known for small work or for two-dimensional art.
In this respect, Chris Meder's "flat sculptures" are notable.
Other artists have produced fine vignettes, among them the quiet landscapes of Jill Perrott and Don Moorhead, the architectural studies of Paul Lindsay, a seagull sentinel by Phillip Edwards and quiet abstracts by Mark Sharma.
Many of the south's better-known artists are well-represented, with good work from the likes of Frank Gordon, Graham Tait, Lynn Taylor, and Ewan McDougall.