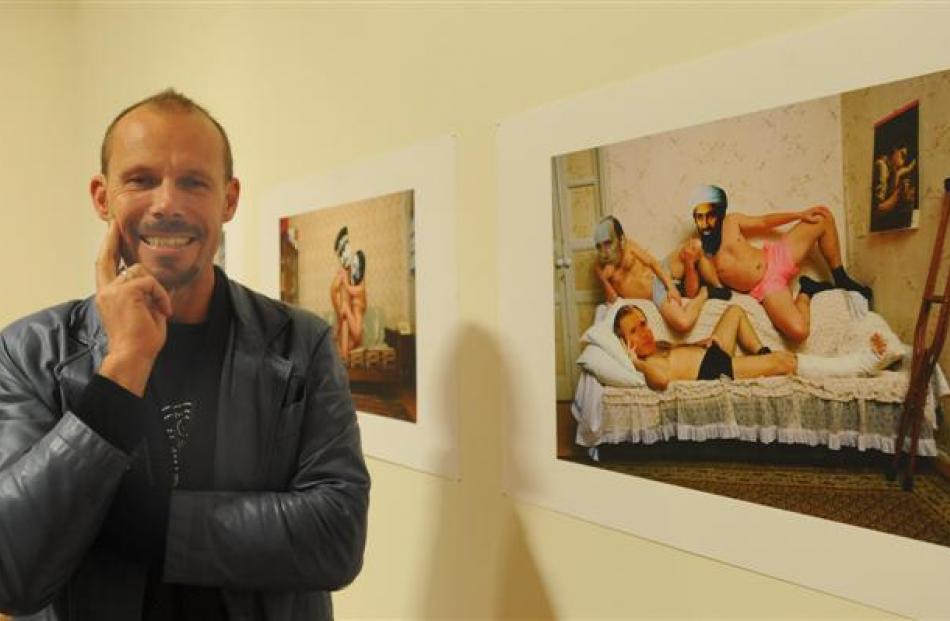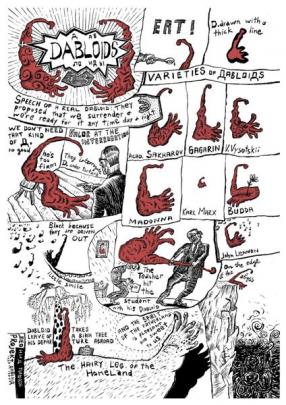 There's more to Russia than vodka and borscht, as a new Dunedin Public Art Gallery exhibition shows.
Nigel Benson talks to "I Was Russia" curator Marcus Williams.
The Russians are coming!
Actually, they're already here. And they have come to challenge our stereotypes of Russian life.
An exhibition of works by some of the most significant Russian avant-garde artists of the late 20th century has opened at the Dunedin Public Art Gallery.
"I was Russia" features contemporary work by six artists and artist groups since the Iron Curtain was pulled back in the 1980s by "glasnost".
The exhibition was curated by Auckland Unitec associate professor Marcus Williams and Novosibirsk State Academy of Architecture and Fine Arts professor Konstantin Skotnikov and brings together for the first time in New Zealand contemporary works by some of the most influential figures in Russian art today.
The exhibition has been a personal journey, Prof Williams reveals as he takes me around the show.
"My grandfather, Bill Jermyn, was a communist. He went to Moscow several times during the Cold War.
"They were into recruiting back then and would pay for flights for any important members of communist parties to visit Moscow."
Years later, Prof Williams met Siberian artist Konstantin Skotnikov during a residency in St Petersburg.
"We just clicked and decided to do something together as artists," Prof Williams says. "Art should build bridges and make things better for people."
The collaboration will only be seen in New Zealand at the Dunedin Public Art Gallery.
"I was Russia" showcases the work of internationally renowned artists Alexander and Olga Florensky, Oleg Kulik, Leonid Tichkov, Dmitry Bulnegin, the Factory of Found Clothing art collective and the celebrated Blue Nose Group.
Many of the works address perspectives of Soviet Russia.
"The work comments on the opening-up of Russia to the West and the complete powerlessness of the little people as they went from a monarchical federation to totalitarianism," Prof Williams says.
"They play with stereotypes of Russia, like the exporting of sex-trade workers. They deliberately exploit their own grand history.
'These guys are playing with how the West sees the Russian archetypes. It's also about how Russia sees itself. They're critiquing the way the West views Russia."
The Blue Nose Group hails from Siberia, which is not necessarily the first place you think of when you're contemplating funny countries.
"They're professional buffoons. They're the clowns of the art world. Their work is based on the tradition of the `skomorokh' in the tsarist court, who were like the European jesters.
"They were an itinerant Russian clown and the only ones who could get away with critiquing royalty," Prof Williams says.
"Under [Russian prime minister Vladimir] Putin's iron rule, freedom of speech is not all that it could be in Russia today."
The group consists of Siberian artists Viacheslav Mizin, Alexander Shaburov and "I was Russia" co-curator Konstantin Skotnikov.
New Zealand and the West have a jaundiced view of Russia, Williams says.
"We have an embedded collective consciousness [about Russia] that we can't help. We tend to think of the history of Soviet Russia through a highly-filtered mechanism.
"But, it's not true. What we have received has been largely negative. What we don't hear is that every child receives musical tuition for free.
"Every Soviet city has a culture house of learning. Art is available to everybody. There are hundreds of museums in St Petersburg. There are probably more museums in St Petersburg than just about anywhere else it the world," Prof Williams says.
"There is a Russian orthodoxy that is spiritually Russian."
Performance artist and sculptor Oleg Kulik is known for his performances as a dog.
In 1995 he appeared as "Reservoir Dog", in which he took on the role of a guard dog obstructing the audience from entering a Zurich art gallery on opening night of "Signs and Wonder", an exhibition of works by high-profile artists such as Cindy Sherman and Damien Hirst.
The Factory of Found Clothing is a St Petersburg artist collective which battles the prevailing consumerism of the new Russia.
It produces and sells reconstituted clothes made by young working-class volunteers from regional Russia. Each dress has a story to tell.
Husband-and-wife artists Alexander and Olga Florensky have worked on allegories of Russian archetypes since the 1990s.
Their Russian Trophy is a slideshow which catalogues an imaginary military museum, replete with weapons, flags, war paintings and aerial surveillance equipment.
Meanwhile, Leonid Tichkov's Dabloid series presents an analogue about the human condition with his celebrated (in Russia!) Dabloid cartoon strip.
"We mould our Dabloid and our Dabloid moulds us," Tichkov explains. "The Dabloid is the double, the alter ego, a reference to the self which is not the self .
"Through the Dabloid we can better understand our confusion and ourselves."
See it . . .
"I was Russia" is on at the Dunedin Public Art Gallery until September 6.
. . . and more
Another Russian art exhibition opens at the gallery on Saturday and runs until September 20.
"Russian Art in New Zealand" has been developed by Dunedin Russian art expert Peter Stupples and brings together Russian art in New Zealand private and public collections.
The exhibition includes a cluster of major works by early 20th-century Russian avant-garde painter Natalia Goncharova, on loan from Te Papa Tongarewa, and Soviet-era practitioners.