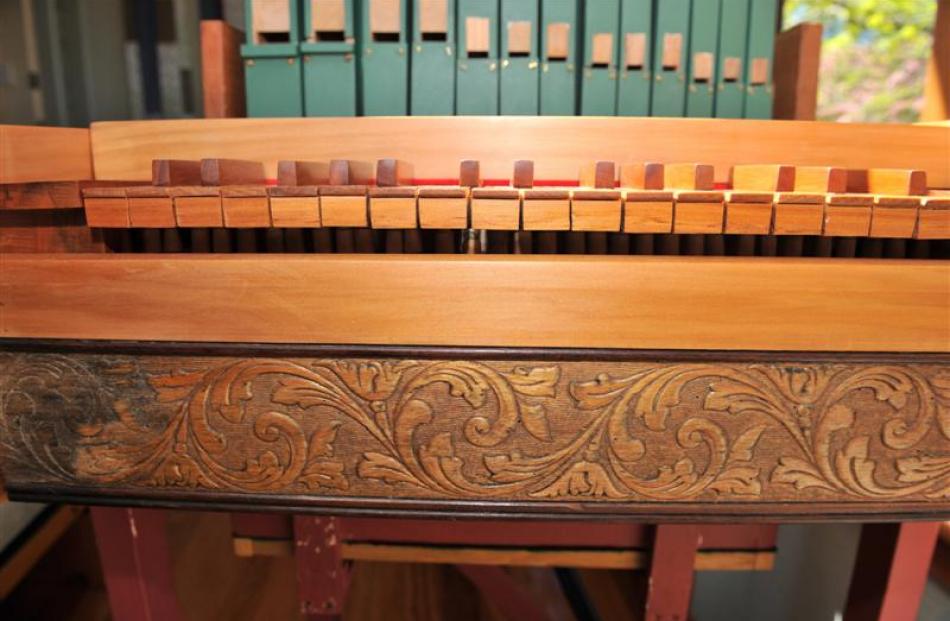 Few musicians build their own musical instruments, but Alan Edwards has built not only a spinet, but also an organ. Charmian Smith talks to the Dunedin musician.
To be able to bridge the centuries and bring what some people might think was old and dusty and show it is as life-enhancing as anything today is one of the delights of early music, according to Alan Edwards.
A member of the Rare Byrds early music consort, as well as the City of Dunedin Choir and choirmaster and organist at St John's, Roslyn, Mr Edwards built a spinet after he retired as law librarian at the University of Otago in 2008.
The spinet, a keyboard instrument in the harpsichord family, came as a kitset but he decided to build an organ from scratch. Compared to several thousand dollars for the spinet kitset, the cost of materials for the organ, - the recycled timber, felt, leather, springs and guide pins - was less than $150.
It took him about three years to build, working on and off, Mr Edwards says.
It is a positive organ that can be dismantled from its stand and the bellows disconnected for transporting. Such organs were used in the medieval, Renaissance and baroque periods.
"It is capable of two, three or four parts and is designed to blend with other instruments, either to carry a melody line and perhaps a bassline, or to accompany singers or viols or recorders, or a combination. They are not in themselves a solo instrument. They are a continuo instrument in baroque terms," he says.
With 32 keys and pipes, it is capable of two and a-half octaves, from C an octave below middle C to the G an octave and a-half above. The keyboard can be slipped one semitone to the left to allow it to accompany instruments tuned to the pitch used in early music, the pitch believed to have been used by Bach, Mr Edwards says.
One of the tricky things is scaling then regulating and voicing the pipes.
"If you built them all the same width and depth, the treble ones would be screamingly loud and the bass ones would be too quiet, so each pipe had to be individually made to the right dimensions."
There are traditional scaling measurements used by organ builders indicating the graduations of dimensions partly to give the right pitches and also so the power and quality of tone from pipe to pipe is a smooth progression from bass up to treble, he says.
Regulating and voicing the pipes involved making innumerable fine adjustments to the components around the mouth of each pipe such as the height and thickness of the lip and depth of the windway. Even removing a few specks of wood with fine sandpaper could make all the difference between sound and no sound. Each pipe has an adjustable leather-covered stopper in the top which can adjust the pitch.
As the organ is designed as an accompanying instrument, Mr Edwards plans to use it with other musicians.
"Playing in an ensemble is the great joy of early music - bringing it to life together as a group, then performing it to a standard that's good enough to interest listeners and communicate music. That's what music is all about, communicating," he says.
Although it has had a couple of small outings so far, the organ will give its first concert with the Rare Byrds in "Proud Fire or Sacred Fear: Songs and instrumental music by Henry Purcell" a house concert at Seacliff on December 1.
---
The composer
• HENRY PURCELL (c1659-1695), one of the greatest English composers, came from a musical family and assimilated French and Italian musical influences, but is generally regarded as having transcended these to arrive at a distinctively English style.
He flourished in the atmosphere of musical renewal that accompanied the restoration of the monarchy after the grim Puritan regime of Oliver Cromwell. As organist at Westminster Abbey he composed a significant body of sacred music. He also served as organist of the Chapel Royal under three different monarchs, and wrote numerous odes and anthems for royal birthdays, coronations and funerals. Purcell was also a prolific composer for the revitalised English stage, writing music for adaptations of Shakespeare's plays by Shadwell and Dryden, and also composing for his own productions. He was a pioneer of early English opera, composing landmark works such as Dido and Aeneas, King Arthur and The Fairy Queen.
His music spans an extraordinary range from sacred to secular, from low comedy to high tragedy. His songs and arias often feature wonderfully dramatic characters, ranging from the flirtatious Dorinda of The Tempest, to the melancholy heroine of Dido and Aeneas, to the malevolent Cold Genius from King Arthur.
The concert
• Rare Byrds present Purcell songs and arias in their Christmas concert, "Proud Fire or Sacred Fear: Songs and instrumental music by Henry Purcell", in a converted church at Seacliff at 3pm on December 1. The concert will be accompanied by a 17th-century afternoon tea.
Tickets are $15/$20 and bookings are essential. Inquiries to Jonathan Cweorth on 021 453 191 or email ignatius@dunedinblog.co.nz.
---