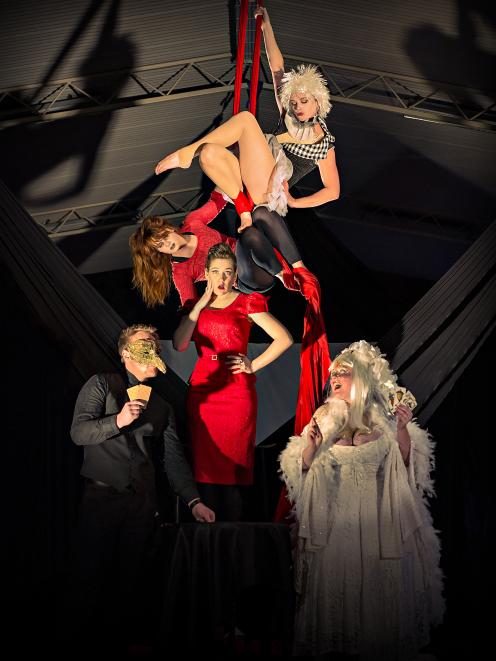 A spectacular show involving cabaret dancers, aerial silk dancers, fire performers, bands and singers, a pop-up art exhibition and market with fortune-tellers is on this weekend at Sammy's.
Le Cirque des Voleurs (Circle of thieves) is a rock 'n' roll circus with a dark twist, according to Laura Archer, of GloryBox collective, which is producing the show.
It's about a white-collar criminal who poisons herself to escape the consequences of what she has done and finds herself in purgatory.
And what a place purgatory is! There are cabaret dancers, aerial silk dancers tying themselves in knots, fire performers, and bands of angels and devils vying for her soul.
These are Tahu and the Takahes and Fu King in disguise, performing cover versions of Dunedin music.
The show involves about 50 people, of whom around 20 are performers and the rest backstage as stagehands, costumiers, mask-makers, lighting and technical hands.
Dunedin director Jonathan Cweorth has the job of co-ordinating everything and tying all the acts together.
There is a great diversity of artistic talent in Dunedin and these events encourage people to form connections and networks that are fertile ground for new projects, he says.
GloryBox, a group of five collaborative artists, aims to give people opportunities to perform.
They might not have performed before, or for a long time, or might find other groups intimidating, Archer said.
Registered as a trust last year, GloryBox has facilitated several shows and fundraisers and hopes to expand its horizons to include mentoring programmes, workshops and community-based events.