Saffron is always eager to help but things don't always go according to plan.
Saffron: So Quite Excellent
is the third in Victoria M. Azaro's series for girls aged about 5 to 8. Because her mother is tired out from coping with baby Star Anise, Saffron helps with little sister Sage and the housework.
Unfortunately, her bed-making methods fail to meet with approval from Mum or Sage, emptying the dishwasher results in a flooded kitchen and meeting their dad at the airport ends with a security alert.
Illustrated by the author, this is a fun wee book about family life that will make kids laugh - and every mother wince.
---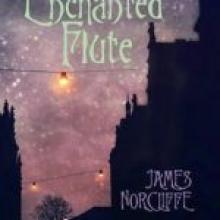 Prize-winning New Zealand writer James Norcliffe takes what he calls the slightly smutty legend of Pan's pursuit of Syrinx and turns it into an adventure story for teens.
The story starts when Becky's mother buys her a secondhand flute at a pawnshop. The girl finds it plays beautifully but the downside is, no matter how hard she tries, Becky can only play one tune, Syrinx by Claude Debussy. Scarier is being drawn to a big house to play for an old man in a wheelchair, who gets younger with each recital and finally leaps from his chair and trots along on goat-like legs.
With her classmate Johnny, Becky is locked in the big house. The pair decide to escape through a window but when they jump out, it is into an unfamiliar landscape. It is Arcadia, with other legends and a few modern touches, the twist being Pan's return to reprise the ancient battle. Described as "part Grimm's fairy tale, part classical mythology, part outdoor adventure", The Enchanted Flute is an original and well-paced story from the 2012 University of Otago College of Education/Creative New Zealand Children's Writer in Residence.
---
Life on the spaceship Súperia, far in the future, is rather boring for Daren Sáner after his adventures in
The Four Powers of Daren Sáner
, so when his friends suggest stealing a space-pod to check out some mysterious orbs converging on their home, he quickly agrees. Their exploit is disastrous, as they bring back a mysterious plague. Daren recovers but his friends do not, remaining unconscious as the disease infects more people on board. Daren has to return to the past, thousands of years earlier, to identify the plague and how to deal with it. At the same time, he puts himself and his friends in mortal danger as they try to save their spaceship.
The Vitality Code builds on Michael Oehley's earlier Súperia story but it is not necessary to have read The Four Powers of Daren Sáner to enjoy its sequel by a New Zealand-trained doctor who somehow finds time to write exciting yarns for the 12 to 16 age group.
---