CHURCHILL & SON
Josh Ireland
John Murray
REVIEWED BY MIKE HOULAHAN
Every few years a new author comes along and fossicks through the Churchill family dirty linen to see what tawdry details remain.
Josh Ireland is the latest historian on the conveyor belt, and he has found scandal aplenty to fill Churchill & Son.
However, this is no mere pot-boiler of reheated gossip; journalist and historian Josh Ireland has penned an insightful and intimate account of family history in particular which widely considers the dynamic of the father-son relationship... particularly famous fathers and their sons.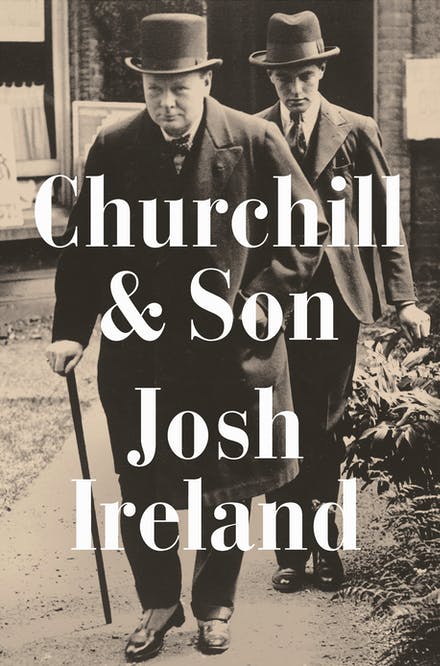 Ireland deftly contrasts the cruel abandonment and neglect Winston felt at the hands of his father Randolph with the sometimes overwhelming hands-on involvement Winston tried to have with the son he named for his father, and invites the reader to wonder if Winston's approach was any sort of improvement.
Winston's life as a wartime leader and Nobel Prize winner is book-ended by a Chancellor of the Exchequer father who threw away his political career in a blaze of inglory, and a son who was a failed politician and who, near the end of his mere 57 years, was daily scandalising society while downing two bottles of whisky and smoking five packets of cigarettes.
While the two had flaming rows, Winston never ceased indulging a son who failed to live up to the high hopes invested in him.
Winston was a prominent man for his son's entire life, and Ireland tells a tale of a respectful child who aspired to be dutiful but always seemed to miss his mark.
From early days Randolph accrued a negative reputation as something that happened to you rather than being someone you met, and he could not back down from a lifestyle his body could not withstand or his bank account afford.
Churchill's foremost general, Chief of Imperial General Staff Alanbrooke, said of his leader: "God knows where we would be without him, but God knows where we shall go with him."
With Churchill needing Randolph by his side but also fighting ferociously with his son seemingly every time they met, a similar sentiment occurs as Ireland recounts the war years, in which the family feuds were often as bitter as any on the frontline.
Randolph's follies, which included hitting one of his sisters, are not glossed over, but Ireland manages in sometimes very challenging circumstances to make him a sympathetic character who his father, in some strange way, needed alongside him as he faced down Hitler.
As an account of the history behind the well-known historical accounts, this is a valuable and also very entertainingly well written tale of a family feud like many others, but one which was conducted in an arena like no other.
Mike Houlahan is the Otago Daily Times political reporter