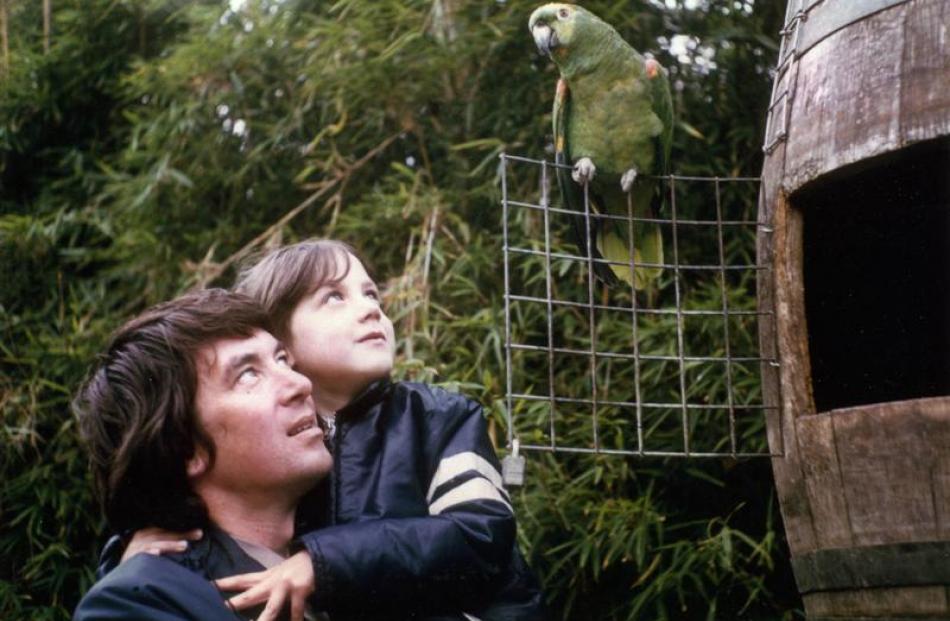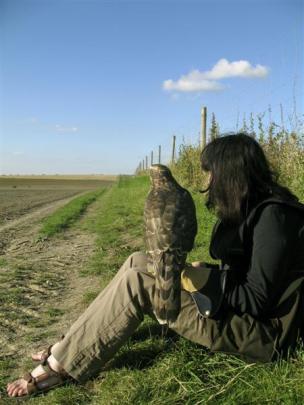 As a child, Helen Macdonald attempted to sleep with her arms behind her back, as a bird would with folded wings. Little wonder then that she has penned an award winning book about her attempts to train a hawk, writes Shane Gilchrist.
Helen Macdonald has a keen eye for irony. And though that is obvious in her award winning book H is for Hawk, a nuanced memoir of grief, falconry, nature (and human nature) that has seen her soar to literary heights in the United Kingdom, her depiction of such moments arrives off the page, too.
For example: she lives in Newmarket, England. Just outside Cambridge, it is the home of British racing. All good, except she is allergic to horses.
''I drive around town and there are strings of horses crossing the road,'' Macdonald says.
''I'll just start sneezing. But I've lived here a couple of years now and I love it.''
Macdonald also notes the ''great irony'' of the success of H is for Hawk (it has sold more than 135,000 copies in the United Kingdom, won the Costa Book of the Year and the 20,000 Samuel Johnson Prize) is that she has not indulged in bird watching or falconry since the book's release in July 2014.
Mid spring in England might be a time when goshawks come out to play, but she concedes she has been unable to do the same.
''I've just been so busy,'' Macdonald explains via phone as she prepares to pack her suitcase for a series of engagements in Australia and New Zealand that includes two public talks next week at the Dunedin Writers and Readers Festival.
''It's all been a bit of a wonderful shock,'' she says of the critical and commercial success of H is for Hawk.
''I would have thought that by now I would be reconciled to what has happened, but I am still a bit bewildered.''
H is for Hawk is a complex book: a visceral depiction of grief (and subsequent depression) following the sudden death of her father in 2007; a potted history and explanation of the sport of falconry; a rumination on nature and humanity; as well as a biography of English writer T.
H. White, best known for his series of Arthurian novels, The Once and Future King (more on White later).
One article, in The Guardian, described H is for Hawk as a ''misery memoir'', prompting a backlash from some commentators who claimed that to be a patronising term for such a complex book. Yet Macdonald takes the reviewer's point.
''It was very funny,'' she laughs.
''Some people got quite angry about that. But, in some ways, it is a memoir about misery.
''I was in a very miserable state after my dad died and I trained a hawk as a way of dealing with it, which I wouldn't generally recommend.''
Macdonald's warning is rooted in deep knowledge. Her passion for birds began at a young age; at the age of 6, she attempted to sleep with her arms behind her back, like a bird's folded wings; by the time she was 12, she had a kestrel.
''That was a bit young really. I was a terribly precocious child. Honestly, I don't know how my parents put up with me,'' she reflects.
''I just loved birds of prey. And when I discovered there was a thing called falconry, I thought that's what I wanted to do. Credit to my parents, they only twice suggested I might want to become a lawyer.
''I was very lucky to have parents who recognised I had this love for the natural world. I don't think many parents would let their child have a kestrel in the house.''
All respect to the kestrel, but goshawks are an entirely different proposition.
A pitbull in feathers, nature personified, a ''big, fierce bird'' that can stand up to 60cm, a goshawk is regarded as the birdwatcher's ''dark grail - a creature of the deep woods'', Macdonald notes. Aggressive and shy, the goshawk is thus famously difficult to tame.
Macdonald decided to get one in 2007, several weeks after the death of her father, following a heart attack.
Her dad's death came at a time when Macdonald was relatively ''untethered'': she had no children, no long term partner, her short term contract as an academic in the history and philosophy of science department at Cambridge University was coming to an end.
''If I had people around me, I think getting a hawk would have been a big commitment, because they are very time consuming,'' she says.
She paid 800 for a female, named her Mabel, and set about training her.
''Training a hawk is a massive distraction. You have to turn all your attention to this creature that is alternately frightening and frightened,'' Macdonald says, adding it took about six weeks of intense work before Mabel was flying free at the end of September, 2007.
However, although Mabel was flying, Macdonald had become emotionally tethered to the bird.
''I was turning into a hawk ... solitary, self possessed, free from grief, and numb to the hurts of human life,'' she writes in an early chapter.
Asked to expand on this anthropomorphic inclination, Macdonald reflects: ''When I was running around the countryside watching Mabel fly and do all the things hawks do ... I became this weird feral creature that didn't feel any emotions. But the grief was still there, buried underneath. It started to bleed through.
''I got to a point where I had deep depression. While I was flying the hawk I didn't notice it, but then I'd come home and just feel terrible. I couldn't function normally and would literally hide from people knocking on my door.
''I realised I had got to a very bad place and needed to get back into the world. It sounds overblown now, but that's what happened.''
Later in H is for Hawk, she concludes, ''the wild is not a panacea for the human soul ... too much in the air can corrode it to nothing''. Thus her path back to a healthier self involved re establishing contact with friends and family.
''My biggest regret of that year was not spending much time with my mum and brother, who were both suffering as much. I've spoken to them about it and they both said they knew I'd get a hawk, that they knew what I was like.''
Notably, Macdonald did not begin writing H is for Hawk until 2012, five years after the death of her dad. A Fleet St photojournalist, he had gone to Battersea, London, to take photos after a storm when he suffered a heart attack.
Later, Macdonald saw her father's final image. It was, she writes, ''blurred, taken from a low angle, far too low; an empty London street.''
Macdonald has another story to tell. And though she has told it before, she is fairly sure no one has printed it, which is somewhat surprising given it has a lot to do with a key thrust of her book: observation.
''About 10 years ago, I was at my mum and dad's house and Dad had brought back this field guide to the nymphal stages of grasshoppers.
''I laughed and questioned why he'd need such a book. He looked a bit hurt before opening it and showing me these paintings of these insects. Dad said, `just look at them, Helen'. And they were beautiful. I felt rather shame faced.
''Dad always thought the world was full of extraordinary things and that one of our jobs on Earth was to glory in such things. One of the deepest lessons he taught me was loving the different things in the world.''
Macdonald describes her dad and herself as ''total anoraks'', although she is not sure New Zealand readers are aware of the term, so she adds: ''It's about glorying in being total geeks, really.''
Another point she makes, both in her book and this interview, is how we interact with nature. Often, and unconsciously, we use nature as a mirror for our needs instead of seeing the natural world as it really is, ''which is gloriously not us''.
''Nature is used to prove who we are all the time. One of the things about falconry is that it stops you from regarding the landscape as a painting. You see it as a place full of living things, perhaps with no human history at all.
''Many of the animals we see in the English landscape are not native, but they've been here so long we've forgotten they aren't,'' Macdonald says.
''And that's the thing with people, too. At the moment we are caught up in huge political arguments about immigration and I find it deeply sad.
''I think it's important to note than when you are writing about nature, you are also writing about human politics in one way or another. The questions you are asking are always informed by the country you live in.
''I also think there is a plea to love things that are different from us.
''When you're a kid, you think everyone is like you. Then you grow up and realise that's not the case.''
Which brings us to the parallel story of English author T. H. White, whose Arthurian novels, The Once and Future King, include more than a passing reference to birds of prey.
White also penned other books, including The Goshawk. First published in 1951, several years before his first book on King Arthur, it depicts White's attempts to train such a bird and, as such, touches on themes of metaphysical battles and spiritual contests.
Macdonald had the book as a child. She loved it, but did not like how White treated his hawk.
''I thought I understood his goshawk but not him. I didn't like him. I didn't know why he was so cruel to this hawk. He was a tragic figure: he didn't have any tools to look after things, including himself.''
Later in life, Macdonald wanted to know what made White tick. She embarked on an extensive research mission, unearthing his unpublished works, poring over pages and journals White had written.
She discovered he had been raised by seemingly unloving parents, was a repressed homosexual, became an English teacher but left that profession at the age of 30, when he retreated to the countryside and began his attempt to train a goshawk
''I could see where he had cried on a page and I wanted to get his story into my book. Of course, you can never really know another person, but he sort of haunted me as I wrote this book,'' Macdonald says of a man who, like her, attempted to escape emotional entrapment via a hawk.
She knows, too, the feeling of being an outsider. As a child she was bullied because of her love of fierce birds. Then, many years later, as the process of training Mabel was drawing to a close, she realised she had become something akin to a court jester.
''People were more interested in the hawk than me. I'd become this weird hawk lady, dressed in rags. I felt very strange.''
Now, however, she is being celebrated. H is for Hawk has turned her into a literary sensation and the success of her work has helped revive the nature book genre in the United Kingdom, some commentators claim.
''It's astonishing, the impact of Helen Macdonald's book,'' Patrick Barkham, an emerging young star of nature writing, commented in another article in The Guardian.
''I know of nature books that are being released this year on the last Thursday in July, when Helen's book was released. It's now seen as the new magical date in publishing.''
According to The Guardian article, Macdonald's book is often mentioned in the same breath as that of Robert Macfarlane, ''the poster boy for the new nature writing movement'', whose works (including The Wild Places and The Old Ways) have sold more than 300,000 copies in the UK.
So what next for Macdonald?
The question prompts a burst of laughter.
''Oh, goodness. That's the $64,000 question.
''At the moment, I'm busy touring the book. I've just been to Canada and America and am about to go to Australia and New Zealand, and I can't wait. I've got some more events until winter, but then I'm going to lock myself away and become a hermit again.
''I have another book to write, a non fiction nature book. I do think nature is the most important subject in the world. We live in really desperate times in regards the environment.
''I am hoping to get another hawk and train it next year when things calm down. But I don't think it'll be a goshawk.
''Falconry is an extraordinary thing. There are so few ways we can interact with wild animals. It's a very precious thing. I think I'll always be a falconer inside.''
---
At the festival
• H is for Hawk, I is for Inspire, J is for Join us! Friday, May 8, 8.30pm 9.30pm, Toitu Otago Settlers Museum, ticketdirect.co.nz ($25/$22).
Be inspired by Helen Macdonald's personal tale of taming a formidable bird of prey, the goshawk, after the sudden death of her father. Chairman is writer and literary salon host Damian Barr. Supported by the British Council and the Auckland Writers Festival.
• Lightning Talks, Saturday, May 9, 11.30am 12.30pm, Regent Theatre, ticketdirect.co.nz ($18/$15). Non fiction publisher Robbie Burton (2014 New Zealand Publisher of the Year) introduces an electric line up of international guests.
Featuring Nick Davies, Natalie Haynes, Zia Haider Rahman and Helen Macdonald. Supported by Potton & Burton Publishing and the Auckland Writers Festival.
H is for Hawk, by Helen Macdonald, is published by Vintage ($26.99).
---