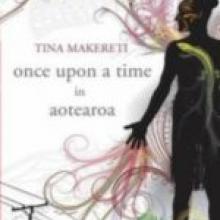 Cushla McKinney reviews
Once Upon a Time in Aotearoa, Dear Husband
and
Past Perfect.
ONCE UPON A TIME IN AOTEAROA
Tina Makereti
Huia, $30,pbk
Tina Makereti has already proven her versatility as a writer, last year winning both the non-fiction section of the Royal Society's Manhire Prize for creative science writing and the English-language category of the Pikihuia awards for Maori writers.
Her newly-published short-story collection Once Upon a Time in Aotearoa proves this success is well deserved.
The 13 stories range from a relatively conventional description of the creation of Hine (albeit one in which Tane is much more man than god) to the tale of a woman who is convinced her boyfriend is an alien who has taken possession of her soul.
Although the settings and characters are unmistakably of this country, they are suffused with a magic realism that lends the stories a mythic quality.
Thus it is not surprising to find that "Topknot", which begins as a seemingly straightforward depiction of a teenage girl hiding her pregnancy from friends and family, unfolds into a contemporary retelling of the birth of Maui.
Nor in "Shapeshifter" is it surprising to hear Pania, trapped within the statue erected in her honour, passing comment on her appropriation and commodification in the name of tourism:
"Jeez, you'd think they'd have a bit more class. I must've been felt up by half the country."
In the same way that the gods and ancestors are ever present in te ao Maori, Makereti's New Zealand is one watched over by the mountains and the moon, and the old ways coexist with the new.
It is a country where gods and goddesses walk among us; love, hope and redemption are powerful forces - and where "there are more than two kinds of people in the world after all".

Joyce Carol Oates
Harper Collins, $26.99, pbk
In direct contrast, the characters in Joyce Carol Oates' new collection Dear Husband live lives of quiet desperation.
Trapped by past events, relationships, duty or love, people batter themselves against the walls of their lives likes moths against a lighted window.
Oates writes with an intensity that draws the reader into her characters' world, and she does not pull her punches.
Real life is not a fairy-tale, and bad things happen, particularly within the claustrophobic confines of family.
In "Vigilante" and "Cutty Sark", for example, the passions generated between mothers and their adolescent sons spill over into violence and self-destruction.
Or in "Panic", a man is unable to forgive his wife for choosing to save their infant daughter rather than protect him.
Particularly disturbing are the title story (based on real events) and "The Heart Sutra", in which we watch helplessly as women contemplate infanticide.
Although I am still haunted by them, I was so drawn into their world I could not put the book down.
On the other hand, Oates also possesses a quite wicked black humour.
"Suicide by Fitness Centre" was worth it for the title alone, while in "Dear Joyce Carol", the author takes an ironic dig at both herself and at literary fandom in extremis.
I recommend Dear Husband to anybody who has ever wondered why people bother with short stories, as well as those who already appreciate the form.
But be prepared. This collection is powerful, disturbing, and heartbreaking.
 You will be thinking about it long after you have put it down.


Karen Zelas
Wily, $29.95, pbk
When I finished Past Perfect by Karen Zelas, I was left in something of a quandary.
On the one hand, I'm not sure the world needs yet another novel about a woman going through a mid-life crisis.
In this respect, the story's protagonist, Sue Spencer, checks all of the conventional boxes.
Breast-cancer scare, tick. Straying husband, tick.
Career sacrificed for motherhood, tick. Wayward teenage son, tick. Elderly parent with Alzheimer's, tick.
Her chosen path of self-discovery involves researching her family genealogy, starting with her great-great-great-grandmother Brigitte Dujardin, who arrived at Akaroa in 1840 as a 17-year-old bride.
She follows the trail to France and back, finding revelations, temptations and resolutions on the way.
On the other hand, Zelas avoids the more obvious cliches.
Although Sue's story is interleaved with extracts of Brigitte's letters home to her mother, she doesn't conveniently stumble over this correspondence, which provides a snapshot of the physical, political, social and personal challenges facing the French settlers.
The letters provide information Sue must find for herself while condensing her own research in an accessible form for the reader.
Nor does her life parallel Brigitte's, a conceit I particularly dislike.
The writing is also better than average.
Some metaphors left me slightly startled (lovemaking like "trying to catch an eel . . .[that] slipped away into the murky depths and all you had in your grasp was slime"), but others lingered in my mind.
Of Sue's father's passing, for example, we are told "The pause had grown into silence and the silence into death ... [t]he edentulous mouth hung open."
On balance, though, I was left feeling that Past Perfect didn't quite live up to the promise of its title.
Dr McKinney is a Dunedin scientist.