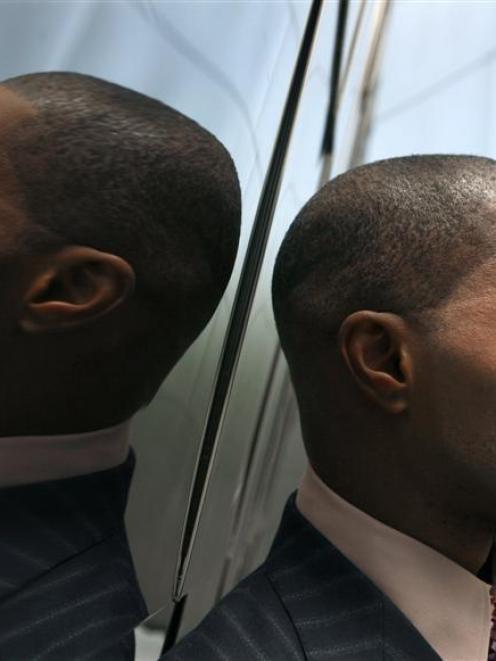 Getting inside the mind of a brilliant schizophrenic proved troubling for actor Jamie Foxx, reports Geoff Boucher, of the Los Angeles Times.
In nightclubs and strip joints across the United States, Jamie Foxx's song Blame It (On the Alcohol), a leering tale of bad boys, well, behaving badly, was on high rotation earlier this year. The hit inspired a few smirks in Hollywood, where Foxx has become a respected star but also has a reputation for playing as hard as he works.
So on the set of The Soloist, when there were whispers that the star was in a volatile place, many people assumed it was because he was having too much fun.
They could not have been more wrong, according to Foxx.
"I was in a bad place because I felt like I might be literally losing my mind," the Oscar-winning actor said of his immersion into the role of Nathaniel Ayers, a homeless man and former music prodigy lost in the mad muttering and slippery reality of schizophrenia.
The film explores the bond between the real-life Ayers and Los Angeles Times columnist Steve Lopez (portrayed by Robert Downey Jun) and shines a compassionate light on to the indigent street life in downtown Los Angeles.
But for Foxx, the subject matter became unsettling during the shoot because of very specific and personal resonance with his past.
"There's sort of a private thing for me, something I haven't really told many people about," Foxx said, sitting in a quiet corner of a Beverly Hills restaurant and talking fast.
"When I was 18, somebody slipped something in my drink. And it ripped me apart. I had to go to the hospital. I mean, I was gone. It was the kind of trip that . . . you know you're losing your mind. I kept thinking, 'I can't live like this.' It didn't go away, either - for 11 months, I had flashbacks."
Foxx looked rattled as he explained all of this, which is unusual considering his typical swagger and chiselled cool both on stage and in reputation.
The 41-year-old is one of the biggest stars in America if you add it all up: his film success, the surprisingly potent music career, his own satellite radio channel and his persistent reputation in comedy, much of it earned with a popular namesake television show before he moved on in 2001.
On screen, Foxx rarely has looked truly vulnerable, even in his role as the ferociously talented and bitterly addicted Ray Charles in 2004's Ray, which won him an Academy Award.
But in the The Soloist, there are points where an unsentimental camera lingers on his stricken face and the man on the screen seems very much like a person doubting the contents of his own brainpan. Now, if he is speaking without exaggeration, that is precisely what he brought to the role.
"I thought about just walking away from this movie," said Foxx, who suffered from panic attacks and bouts of paranoia during filming. Instead of bolting, he visited psychiatrists, turned for help to the film's director, Joe Wright (Atonement, Pride & Prejudice), and educated himself on the mental-health realities versus the vaporous fears he felt as he studied Ayers in his element.
"I had gone and watched Nathaniel; I had a little bit of a disguise, and I spent time following him and studying him when he didn't know I was there, and as I was dissecting and downloading, I got really worried. I felt all these things," Foxx said.
"I went to a psychiatrist and I actually asked, 'Can I catch schizophrenia?' Now I know you can't, but I also knew I had this thing happen to me before, and it felt like it was going to happen again."
Actors are, by their nature, drawn to drama and all that goes with it, so a sceptic might wonder if Foxx is slipping a bit into the voice of a fabulist. (He also inspires a roll of the eyes when he says things such as, "Well, this one time I took too many energy pills," when asked about mistakes he has made or what he views as the public's misconceptions about his personal character.) But that's not the case, according to director Wright, who spoke in sombre tones about the wrenching ordeal he watched the actor endure.
"First of all, the Jamie that I got to know is completely opposite to the public perception of who Jamie Foxx is, which is based on an image in comedy and music that he has created," the British film-maker said.
"That's an alter ego created as protection, and its wall of artifice is six feet deep. He is much more fragile than his alter ego. In the making of this film, I felt I had a first priority to be a safety net for him. We all came to see the risk he was at - or the risk as he felt it. We weren't going to lose him into that dark hole."
Foxx said Wright and co-star Downey (who, of course, spent years sliding down the banisters of 12-step programmes) did their best to help as Foxx tried to navigate choppy waters. But it soon became clear to Foxx that the problems he was having weren't a secret as filming began in early 2008.
The actor acknowledged that Steven Spielberg, who had a vested interest in The Soloist through DreamWorks SKG, approached Foxx at a party with the careful diction of a hostage negotiator. The film-maker and mogul told Foxx that movies about the mind can take an unexpected toll and that the actor shouldn't be afraid to seek help.
All Foxx could think about was the symptoms that gave him away: "Does it show? People can tell?".
It may be an indelicate analogy considering the grim mental-health issues raised by The Soloist, but Foxx's career has a split personality.
The man who asked for a psychiatrist to be on call while he plumbed the depths of a scabby, heart-wrenching film role is also the same guy who infamously used his satellite comedy show for a cringe-inducing attack on young Miley Cyrus in which he suggested she smoke crack, make a sex tape with her father and "catch chlamydia from a bicycle seat". (He later apologised to Cyrus during a Tonight Show appearance.)
The star shrugged when asked which of his fans are getting the real Foxx. "Who I am depends on where you see me."
If it's hard to pin down Foxx, it's because the man is a master imitator of others.
"He is a brilliant mimic," Wright said. "That may be his most obvious talent. But if he wasn't also a gifted actor, it would just be empty imitation, no performance underneath."
Foxx was born Eric Marlon Bishop in December 1967 in Linden, Texas, and although his specific career path was a vague and ever-changing one, it was clear he was going to be someone whom others cheered.
He was a football star in high school and an accomplished musician before that, but later he came to realise that deep down he longed most for the approval of his birth parents, who gave him away before his first birthday.
Raised by his maternal grandmother, he scored touchdowns on Friday nights, sang in a Baptist church on Sundays and played the role of restless young buck in between.
A few years ago, when talking about his youth, Foxx said he had no regrets that his birth parents were around but, because of their lifestyles and the family physics, were not truly invested in his day-to-day life; his doting grandmother was so influential and supportive in his life that he said it was easy to shrug off the missing-in-action parents. Now he says he has learned that you can ignore wounds but that doesn't help them heal.
"My dad lived 28 miles away, and I was quarterback of my high school team, and this is in Texas where football matters, and he never came to a game," Foxx said. Later he added, "I always had everything going tight - why wouldn't anybody want somebody like me?"
A scholarship took him west to California. Foxx hinted that there was some history in the family of mental illness, but he also insisted that it was some mystery psychotropic drug dropped into a cocktail that sent him skittering along the edge of his psyche.
"After what happened when I was 18, when I was at music school, at International University in San Diego, I had a roommate named Mark, a white kid from Nebraska. He would have to talk me to sleep because I would have all of these crazy thoughts," Foxx said.
"I would go down to the pianos in room FA-300, and I would just play music for hours on end just to keep my mind from the crazy stuff... The parallel between me and Nathaniel was amazing. And it was scary for me."
In The Soloist, Ayers is presented as a street scavenger whose background as a music prodigy is slowly pieced together by a newspaper journalist who is at a crossroads in his own life professionally and personally. The crux of the story is the question: "Am I my brother's keeper?" And if so, on whose terms?
Wright joined Foxx in visits to the University of California, Los Angeles, where a psychiatrist was a mental-health guide for the actor but also a source of material for shaping an authentic on-screen version of Ayers.
"He told me schizophrenia is the single scariest thing that can happen to you," Foxx recounted while staring down at the palms of his hands.
"It's one thing to go crazy and not know it, but if you feel yourself slipping in," Foxx said, "then it's like drowning, going down. That's how I felt as a teenager, and just getting close to it again, I could feel the sweat coming, and I felt like I had to run out of there."
In his 20s, Foxx said, the voices on the edge of his mind grew quiet and he assumed that what happened to him was both fleeting and perhaps exaggerated in his memory.
One night he wandered into a San Diego comedy club and there, at a friend's dare, he ended up on stage. He lit up the place and found a circuitous path to fame. The comedy led to TV, which then led to movies and, finally, his biggest passion, music.
"I didn't want to be in comedy; I didn't plan on being in movies - I wanted to be Lionel Ritchie," he said. "That was the goal."
Foxx says the Academy Award for Ray has given him a chance to pursue meaningful roles, and that, after some action-film missteps (Miami Vice and Stealth), he will be more selective. "I've asked my agent to find me beautiful-character movies," he said. "That's where we flourish."
After working with directors including Michael Mann and Oliver Stone, Foxx said, he was eager to work with Wright because "he knows that it's about the characters and getting them right, not just the shot."
Still, the actor groaned a bit when Wright insisted this movie had to have a social message behind it and that to deliver the message, his stars would need to educate themselves with the broader homeless situation in Los Angeles.
"He wanted the movie to do good things," Foxx said. "So I went down with this real flippant attitude thinking I knew something about these people and who they are and how they got there. I knew downtown; I had lived not far from there. I knew it was drug dealers and people trying to put over on you and criminals. I thought that was it. And I was just wrong."
Foxx became immersed in Barack Obama's victory and found himself in Washington, feeling the wind of history blowing across his face.
He says he doesn't expect his portrayal of Ayers to resonate with audiences in the same way that Ray did because of the movie's challenging subject matter, but he also knows that this role and his experiences preparing for it will remain with him.
"There was this one kid I met who was blind and he loved music, and the next thing I know I'm dancing with this kid," Foxx said. "I mean for me to do that ... well, sometimes I feel like I'm on such a conveyor-belt life. Actor, musician, radio show - and then something will happen. I end up dancing with these homeless people and feeling like I understand something new. What does it all mean? For me, it meant a lot. And I don't care if that sounds crazy."