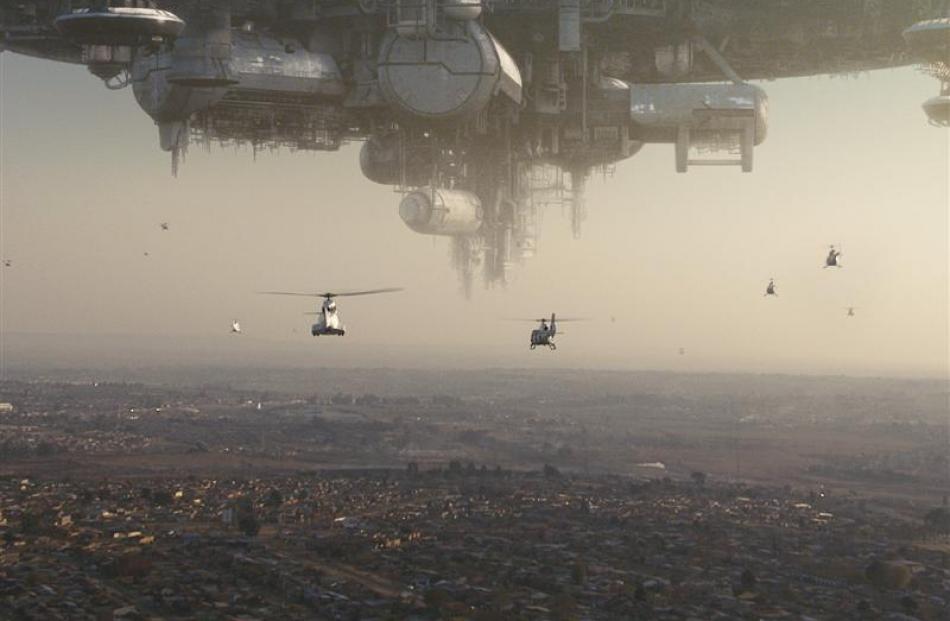 Shackled by the racist system of apartheid, the South Africa of 20 years ago was an international pariah. Now it has the world's attention for very different reasons, reports Reed Johnson, of the Los Angeles Times.
Just 20 years ago, South Africa was commonly perceived as one of the most polarised, ill-starred places on the planet. Shackled by the racist system of apartheid, or legally enforced segregation, it was a nation divided against itself and shunned by the rest of the world as a pariah state.
Today the world is looking at South Africa for very different reasons. This coming summer the country will become the first African nation to host the World Cup football tournament.
As one of the most politically stable, democratic and relatively prosperous countries on a troubled continent, South Africa is regarded as a model by many of its neighbours.
Another influential outside party is taking a renewed interest in South Africa these days: Hollywood.
A century after D. W. Griffith filmed his 13-minute black-and-white silent fable The Zulu's Heart, South Africa and the United States film industry appear to be entering a new phase in their complex, sometimes tortuous relationship.
This year, at least three films with one type of Hollywood connection or another to South Africa, have opened or will be opening in theatres. Like a great many of the films made by South Africans in recent decades, they not surprisingly, are preoccupied with race and class relations, either as text or subtext.
The most unconventional is the recent hit District 9, directed and co-written by Neill Blomkamp, a native South African now based in Vancouver, British Columbia. Produced by Peter Jackson, it's a science-fiction tale about persecuted space aliens that's also a thinly veiled allegory of South Africa under apartheid.
A different film, Steve Jacobs' Disgrace was adapted from Nobel Prize-winning author J. M. Coetzee's tough novel. It stars John Malkovich as a middle-aged Cape Town professor who becomes exiled within his own country as he adjusts to the challenges of post-apartheid's topsy-turvy social realities. The movie received substantial financing from government sources in Australia, where Coetzee now lives.
Anna-Maria Monticelli, the screenwriter and producer of Disgrace (and wife of its director), said she believes that the film speaks to issues of tolerance, reconciliation and socio-economic justice that resonate both within and outside South Africa.
"It is for smart people, this film," she said.
"It's pushing you to go places where you've not necessarily been before and to understand."
Opening soon is Clint Eastwood's Invictus, a historical drama about the upset win by South Africa in the 1995 Rugby World Cup, which helped unite blacks and whites during the crucial early months of Nelson Mandela's presidency. It stars Morgan Freeman as Mandela and Matt Damon as Francois Pienaar, the team captain.
In an interview, one of the film's producers, Lori McCreary, who also co-produced the 1993 South Africa-set film Bopha! - which her Revelations Entertainment production company partner Freeman directed - called the country "a great place to make films."
Among the factors she cited were a favourable currency exchange rate, a variety of arresting shooting locations and one of Africa's deepest pools of talent. More than 200 of the 240 crew members and 62 of 70 actors who worked on Invictus were South African, she added.
"The US is more interested in South Africa than at any point probably since the '94 election," McCreary said.
"The world is looking at South Africa."
As for the coincidences of timing and subject matter between Invictus and this summer's World Cup, she said, "I wish I could say it was planned. I think it's fortuitous for us."
A fourth film, Anthony Fabian's Skin, a British-South African production that recently opened in US theatres, relates the improbable-but-true story of Sandra Laing, a South African woman whose mixed-race ancestry wreaked havoc on her sense of personal identity and her family relations. It stars Sophie Okonedo and Sam Neill as the girl's conflicted father.
These foreign and semi-foreign films join a growing number of home-grown South African movies grappling with the country's painful race-relations legacy, including Gavin Hood's Tsotsi (2005), shot in Johannesburg and a Soweto township, about the enduring hardships and disillusionments of the post-apartheid era. Adapted from a novel by playwright Athol Fugard, it won the Academy Award for best foreign language film.
South Africa appears eager to attract more Hollywood and foreign production. Cape Town Film Studios, billed as the first Hollywood-quality production studio to be built in southern Africa, is under construction and expects to produce its first movie next year.
Hollywood's attention toward South Africa has waxed and waned in the century since Griffith shot his short film, which the independent filmmaker Peter Davis in his 1996 book In Darkest Hollywood: Exploring the Jungles of Cinema's South Africa named as the first Western-made movie about South Africa.
The movie is a caricatured story of a "good" Zulu, a noble savage who rescues a Boer mother and daughter from being killed by a band of barbaric "bad" Zulus.
Given Griffith's own chequered reputation as a racist and Ku Klux Klan sympathiser, it was perhaps inevitable that his film about South Africa would set an uneven tone for the country's relationship with Hollywood.
---
A number of problematic Hollywood film genres, notably the black-white "buddy" movie such as In the Heat of the Night with Sidney Poitier (1967) have cropped up in films dealing with South Africa.
In The Wilby Conspiracy (1975), Poitier was paired as a South African revolutionary who teams with a white Englishman (Michael Caine) to thwart a racist Afrikaner cop.
This black-white friendship trope resurfaced during the end-of-apartheid period in such films as Richard Attenborough's fact-based Cry Freedom (1987), which focuses on the relationship between the white journalist Donald Woods (Kevin Kline) and the slain black activist Steve Biko (Denzel Washington); and Euzhan Palcy's A Dry White Season (1989), about the call to conscience of a white schoolteacher (Donald Sutherland).
Critics and scholars differ over whether such parallels point to an inventive repackaging of familiar genres or a myopic Hollywood projection of one country's social reality on to that of another.
Critics have argued that friendships and social contact between blacks and whites during the apartheid epoch were almost unknown and these relationships are misleading and anachronistic. And since these movies were made almost entirely by white and non-South African directors, the argument continues, blacks had no opportunity to offer an alternative cinematic vision of race relations.
Perhaps no movie suggests the difficulties of representing South Africa in film, let alone of predicting how global audiences will respond to those depictions, better than The Gods Must Be Crazy (1980).
Jamie Uys' film, shot in Botswana and South Africa, about an isolated bushman's picaresque journey to get rid of a Coca-Cola bottle that's been dropped from an aeroplane, was an international smash that spawned several sequels.
Yet the debate goes on over whether the film panders to an image of black Africans as childlike and naive or whether the movie offers a smartly satiric and prescient view of African racial politics and creeping globalisation.
During the transition from apartheid, at least one South African director, Darrell Roodt, turned out a number of movies that skilfully applied a white native son's liberal social conscience to an increasingly Hollywood-friendly template.
Roodt's output includes A Place of Weeping (1986), Jobman (1990), the musical Sarafina! (1992), with Whoopi Goldberg, and a remake of Cry, the Beloved Country (1995), based on Alan Paton's classic novel, with Richard Harris and James Earl Jones. More recently, with Zimbabwe (2008), Roodt turned his camera on the story of a young Aids orphan struggling to survive with her brother in South Africa's imploding next-door neighbour.
Meanwhile, well-regarded contemporary South African (or partly South African) films such as Tsotsi, Oliver Schmitz's Hijack Stories (2000), which raises questions about how US gangster films influence African black male identity, and Ralph Ziman's Jerusalema (2008), based on the story of an underworld kingpin, usually struggle to elbow their way into the crowded, costly US and European markets.
---
INVICTUS
Out of the night that covers me,
Black as the pit from pole to pole,
I thank whatever gods may be
For my unconquerable soul.
In the fell clutch of circumstance
I have not winced nor cried aloud,
Under the bludgeonings of chance
My head is bloody, but unbowed.
Beyond this place of wrath and tears
Looms but the horror of the shade,
And yet the menace of the years
Finds, and shall find me, unafraid.
It matters not how strait the gate,
How charged with punishments the scroll,
I am the master of my fate:
I am the captain of my soul.
- William Earnest Henley (1875)
---