Actor Trubie-Dylan Smith has returned to Dunedin to join his friends in the production of The Bald Soprano. Smith and director Alex Wilson tell Rebecca Fox about tackling the absurd.
Trubie-Dylan Smith secretly loves being nasty - on stage, at least.
Which is just as well, given his latest role as Mr Smith in The Bald Soprano, by avant-garde, Romanian-French playwright Eugene Ionesco, requires him to exercise his angry, frustrated and nasty side.
''I find him vain, egocentric. He loves being right and convincing everyone else in the room he's right. He has to have the loudest voice.
''I find him to be a little bit mean sometimes, but he's fun to play,'' Smith admits, a tad guiltily.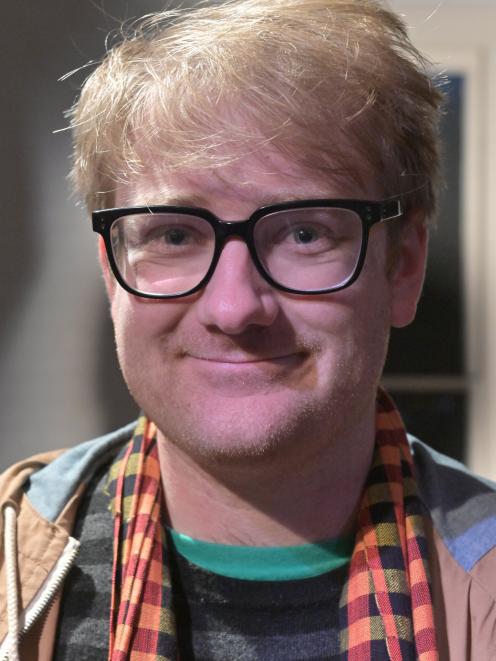 But he says as all the cast are good friends and actors they are aware he is just playing a character.
''We can let our characters loose and know everyone knows the words are made by the characters, not ourselves.
''We can explore those feelings, but at the end of the day still hug each other and smile.''
Smith says ever since he began acting he has been drawn to the villain roles.
''Not that he's the villain in this story.''
The 1950s play is about the Smiths, a traditional couple from London who have invited another couple, the Martins, over for a visit. They are joined later by the Smiths' maid, Mary, and the local fire chief, who is also Mary's lover. The two families engage in meaningless banter, telling stories and relating nonsensical poems.
''It all starts civilly but you know from the start of the performance there is another face to these people - you are waiting for that face to come off.''
Director Alex Wilson says the piece is described as an ''anti-play'' which challenges conventional theatre.
''It's very funny, absurd but it does have a relevancy in our current climate of culture wars and this sense of the world being divided into two camps where it is hard to discern the truth.
''It is less about the argument and more about having an argument.''
Thanks to support from the Dunedin Professional Theatre Fund established in the wake of the Fortune Theatre's closure, Arcade Theatre has been able to pay the emerging artists taking part a small ''stipend''.
The cast also includes Abby Howells (Harlequeen), Catherine Wright, Rebecca Thompson, Sofian Scott and Alex Martyn, while Kate Schrader is producer and Amy Wright stage manager.
Arcade has engaged emerging set designer Simon Anderson to create a mirrored backdrop to give the feeling of an optical illusion to the production, which is being held in a new theatre space in Bond St.
An Otago Fashion School graduate, Ross Heath, is designing the costumes and also on board is emerging lighting designer Anna van den Boschet.
''Last season we were striving for professional quality but everyone was voluntary. This season we're in a place to reimburse people. We want it to be more polished.''
Last season Arcade's productions sold out, so this year it has extended each show's run from four nights to eight.
''There's more financial risk but we hope people will come out.''
Smith could not have been more happy to come back to Dunedin for the show.
The Otago University linguistics graduate who lived in Dunedin for 10 years, spent last year touring with New Zealand Playhouse Theatre around New Zealand and Australia.
Playhouse takes theatre productions to schools and Smith says performing for young people certainly tests your skills.
''You can't sleep on them. Young people are very intuitive and can smell a crock of s*** straight away.''
But that made the experience even more fun, he said.
''It was wonderful. I loved it.''
Then over the summer he performed in Christchurch's Anthony Harper Summer Theatre production of King Arthur.
''The core of all of these productions and this one is the entertainment value for the audience. They make you laugh and there are some joyful surprises and a few shocks.''
He describes Dunedin as his ''heart home'', but says his mail gets addressed elsewhere these days as he travels so much for his work.
''It's a very special place to learn performance and your theatre craft. You can blaze your own trail.''
The Bald Soprano
Written by Romanian-French playwright Eugene Ionesco
Premiered on May 11, 1950 at the Theatre des Noctambules, Paris
Since 1957 it has been in permanent showing at the Theatre de la Huchette
The Bald Soprano holds the world record for the play that has been staged continuously in the same theatre for the longest time
It is one of the most performed plays in France
To see
The Bald Soprano, by Arcade Theatre Company, 82 Bond St, Dunedin, May 24-June 1.