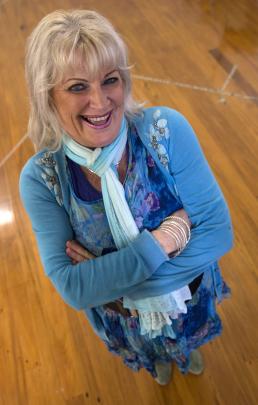 She may have given up the bright lights for the ''granny nanny thing'', but stage veteran Lynda Milligan has discovered she still has what it takes. She tells Rebecca Fox about her return to the stage in Menopause the Musical.
Lynda Milligan likes to make people laugh.
Add in a challenge: having to sing pop songs - she is a musical theatre veteran, so Les Miserables, Cabaret, The Mikado is more her usual speed - and she could not turn down an opportunity to get up on stage and sing and dance about the taboo topic of menopause.
''It took a bit to get my head around that and my voice around that. It's a different way of singing and it challenged me.''
The prospect of working with producer Ben McDonald also appealed as she had done multiple tours of Grumpy Old Women with him.
''I'd done nothing for a while and thought it was time I did something for myself and I'd heard this is very funny and I like to make people laugh.''
While Milligan is a well-known member of the Christchurch Court Theatre acting fraternity, having appeared in 80 productions, she gave it all up to follow her family to Motueka.
''After a year or so I missed my little granddaughters so I decided to do the granny nanny thing and go up and look after them as their parents work in Nelson.''
She had turned down three offers of work since she moved there, not wanting to leave her family in the lurch but the agreement had always been if something came along she wanted to do, she could do it.
''I love it in Motueka. It's a beautiful place. I'm very lucky to live in such a wonderful place.''
The move had not been completed without a few twinges of nostalgia.
''I do miss my Court Theatre family but my blood family is more important. My granddaughters are important to me and having a day-to-day connection with them.''
Milligan has always sung: ''My parents told me I was singing before I could talk.
''I'd be in my cot singing to songs on the radio and my parents would be sitting at the table looking at each other, thinking, 'Am I hearing what I'm hearing?''.
She began singing in public when she was 3 years old.
''It was musical theatre that I adored.''
So she started out with the Christchurch operatic society in the chorus before graduating to lead roles and then on to professional theatre at the Court.
While she had some time off when she had her children, she mostly worked through, ''coping the best I could''.
Over the years, she has played Maria in Sound of Music and Nancy in Oliver, Mable in Mac and Mable and Mrs Lovett in Sweeney Todd, to name a few.
''Those sort of leading roles. I've done so many it's hard to pinpoint a particular one.''
But she does have a soft spot for Madame Thenardier in Les Miserables which she played in the early 1990s.
''I could have played that for the rest of my life.''
When not on stage, she was often in front of a camera. She was in Close to Home in the 1980s and did a lot of children's television, such as What Now and the Son of a Gun Show.
In the early days, when working with puppets, they had to do the voice as well as make the puppet stand on its head but as technology improved, the voices were recorded earlier.
''I spent a lot of time with my hand up a puppet crawling around the floor. It was not the easiest way to earn a living but it was great fun.''
Over the years, she has also appeared on Dunedin's Fortune Theatre stage including in Calendar Girls and as Grandma (Kath) in all three of the New Zealand productions of You can always hand them back.
Looking back, she could see the creative industry had changed a lot. In the early days, actors played small roles as well a big, whatever was needed of them.
''We were brought up on a lot of discipline at the Court Theatre ... but the young ones who come out of acting academy think they are the best things since sliced bread.''
Playing a variety of roles adds to an actor's experience and learning.
''You can learn valuable lessons from small roles and from the people you work with.''
As an older actor, she liked to think younger actors looked up to her and she liked to set an example.
''Us older ones setting an example is a good way to do it. People think it's a glamorous business prancing about there on stage.''
However, it was not that easy. It required stamina and looking after yourself especially when touring for any length of time.
''You have to learn the music and your lines and turn up on time.''
She knew that for this tour she would need to look after her voice because she was using it in a different way.
''You need to sleep well and eat well. Actors who don't, who drink and smoke, don't last, they can't hack the pace. It's not glamorous at all.''
Now in her late 60s, she knew she had to be extra disciplined.
''At my age, while I can still do it, I will, although I'm not as flexible as I used to be.''
For all that, the singing and dancing in Menopause, which featured popular tunes from the 1960s to the 1980s, was keeping her moving and keeping her young.
The musical was also a chance to keep on airing what was a taboo subject for many, she said.
''All of a sudden it's proof a woman is getting older and some women deny it, are ashamed of it.''
In the show, Milligan plays ''earth mother'' alongside Georgia Duder-Wood (the career professional), Yvette Parsons (the housewife) and Debbie Penney (the soap star) as they are in a department store trying to buy the same black bra.
''It allows you to laugh at yourself, at the symptoms, the hot flushes, the mind blanks, the mood swings. You see us up there going through all those things in a comical way.''
It was an easy show for people to see themselves or their partners in.
''It is a difficult period in our lives. Luckily, I had a very easy menopause ... I was very lucky.''
She hoped the show might also help people recognise and admit to symptoms and seek assistance for them rather than be miserable and in denial.
At the end of the day, Milligan could not think of a better thing to be doing.
''To allow people to forget their problems for a while, to have a bit of a laugh and enjoy themselves.''
Theatre was a kind of ''disease'', she believed, having tried to do other things.
''For a few years I didn't do it. I got a proper job but then the monster rears its ugly head and you have to get back.''
To see
Menopause the Musical, Regent Theatre, Dunedin, tonight.