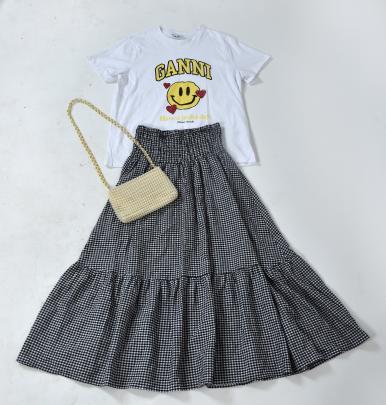 Instagram fashion influencer and Fashion Fix radio host Alyxandra Lunn speaks to Katie Day about her take on fashion, body positivity and summer style.
Fashion is a powerful tool of creative self-expression, exemplified by fashion enthusiast, radio host and Instagram influencer Alyxandra Lunn.
Belief in the positive possibilities of fashion radiate to a vast range of followers through her Instagram account, The Work Wardrobe Chronicles. The account was created to celebrate fashion and mana wahine everywhere, and displays an expressive array of style shots by Lunn, alongside features that capture and celebrate local stories of women's life and style.
Lunn's early fashion formation was influenced by "the women in my life, my auntie and my mother particularly and I've always had my nose in a magazine".
"My mum is an incredible dresser, she always has been. I took a lot of styling tips from her, then I've always been quite a creative so it's been a creative outlet for me right from a young age, really playing around with pattern and colour."
Raised in Dunedin, foreign shores beckoned and Lunn expanded her style influences, living in Melbourne and then East London. Lunn's style "evolved when I was in London, because people are so free and it was incredible and I watched that through Melbourne as well".
Colour, pattern and accessories all play an important part in Lunn's style.
"I used to just wear black all the time, it's just the Dunedin uniform, it was really good to see how much colour influenced other people and how you can build that in and wear patterns and accessories, so London really set the foundation for me, for how I dress."
After returning to New Zealand, Lunn established The Work Wardrobe Chronicles Instagram account, not only to share a celebration of self-expression and confidence through style, but also to share the importance of representation in the New Zealand fashion industry.
"What's really important to me, and why I have continued with Work Wardrobe is because there was no-one that looked like me in fashion, there's a good Pacific Island and Maori creative community now, however, when I was growing up, no-one was doing that.
"My main driver for doing Work Wardrobe is that I wish I would have seen women that looked like me, not only body-wise but also ethnicity-wise in magazines."
Underpinning The Work Wardrobe Chronicles' ethos is a value for empowering confidence in the community.
"With Work Wardrobe, apart from making sure there is representation out there in fashion, it's also a really good space to celebrate women. I do a segment every Sunday called Work Wardrobe Wahine, so I highlight Dunedin women in the community. There's so many people out there, you don't have to be a superstar, people are out there, working really hard and they should be celebrated for that.
"I absolutely love doing Work Wardrobe because it's got really good insight for me and for other people who follow that page on what women are doing out there, in the community, whether they work at the grocery store or whether they're a lawyer, it doesn't matter, they're contributing something to this."
Fashion and the body are intricately linked and with her values of confidence, community and self-expression, Lunn conveys a body-positive message through her contributions to fashion.
"You've got a body, that's your body, embrace it, your body is good and it does so many good things for you on a daily basis.
"My favourite thing about fashion is that it's that true creative outlet, I'm such an avid follower of fashion and one thing that I'm really starting to enjoy now is seeing there be so much more body positivity in fashion, particularly in New Zealand."
A seasoned influencer and communicator, Lunn also shares her thoughts on all things fashion and beauty on a weekly basis through her Fashion Fix radio segment on The Hits every Wednesday morning.
"I've found that a really good creative source and it's good to mainly inspire women, I think women can be so scared of fashion and it's not a scary thing at all and you don't have to spend millions of dollars to look good. We've got such amazing op-shops here and so much of my wardrobe is vintage and op-shop."
The familiar idiom "practice makes perfect" is the secret to Lunn's op-shopping success.
"I go all the time, I probably go nearly every Saturday, if I can.
"The stuff I have got in Dunedin is insane, at the new Hospice shop on Vogel St, I found an Yves Saint Laurent blazer for $50 ... you just have to be attuned for what you're looking for."
Style can be generated and expressed anywhere through perspective and play, yet at the heart of style lies confidence, Lunn says.
"It's such a personal journey because it's self-expression of who you are, but the bottom line is confidence."
STYLE TIPS
With sweet summer weather teasing us  about the long warm days ahead, Lunn  shares her top style tips. 
CONFIDENCE
"Remember that no-one else is looking at  you. If you want to go to the beach and  wear a two piece or a one piece, wear it.
"You do not get these years back, get out  there! Shake off those shackles of your  own oppression and society's oppression,  get that bikini on and get in there."
COTTAGECORE

Cottagecore is an aesthetic inspired by a  romanticised ideal of countryside living.  Cottagecore clothing designs feature plenty  of gingham, plaid and soft floral printed  fabrics forming billowy sleeved dresses or tiered skirts. 
Also expect to see smocked  bodices with ruffled features. Channel a  romantic countryside daydream.
"I see that cottagecore is very big at the  moment and I'm really liking it, I love that  whimsical look, everything is so feminine  and beautiful!"
PLAY
"My tip is to go and have fun, play around,  get in your wardrobe and mix things  together. Take photos, get accessories, get scarves, go into Finders Keepers, it's so good in there, it's a treasure trove of amazing stuff, and play around!"