Two-time WOW winner, artist and Otago Polytechnic graduate Tatyanna Meharry talks to Brittany Pooley about life, ceramics and her journey through a world of wearable art.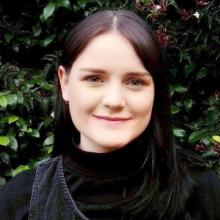 Tatyanna Meharry is one half of the Supreme Award winning duo at the 2018 World of Wearable Arts Awards show (WOW).
Meharry, a Christchurch-based ceramics artist, also uses her creative bent to create wearable art.
Under the brand name, The Busy Finch, Meharry creates, teaches, sells and exhibits her art to share powerful stories with New Zealand.
Meharry's creativity is rooted deep in her childhood when she was surrounded by creativity.
''I grew up in a really creative family and I was lucky to live next door to my grandmother, artist Doris Lusk, who along with my mum encouraged and nurtured all sorts of artistic projects.''
Lusk, is a well known New Zealand artist. Meharry takes after her in her artistic endeavours, teaching pursuits and love for pottery.
Both artists studied in Dunedin; Meharry received a master of fine arts degree from the Dunedin School of Art in 2005.
She has been inspired to create and exhibit ever since.
''What inspires me as a maker is the materiality and exploration of different themes that I get to do every day in my studio.''
Meharry's pieces are made with purpose, creating connections between her and her customers.
''The challenge of creating purposefully always drives me, whether it is a cup that has just the perfect comfortable thumbprint in it, dipped in slip with your perfect beach sand through it, to grind your morning coffee or making sparkly glass-studded wall-hung ice creams that make you giggle with a sense of sneaky calorie-free indulgence - it is pretty cool to give a little purpose and sneak into people's everyday rituals.''
Under her brand The Busy Finch, she creates domestic ware pots. Each ceramic pot is made by hand, using local materials in a variety of different forms and functions.
A demand to replace treasures that were lost in the Canterbury earthquakes led to this six-year venture.
''People wanted to replace special items that they lost with another precious item that meant something, which is why I call it treasure, not trash,'' Meharry says.
Most of the time, Meharry can be found working in her studio, in the heart of Christchurch City. But it was a lack of access to this studio that led her to WOW.
''When the earthquakes happened in Christchurch my newly-opened creative school was stuck in the middle of the red zone, which left me with a bit of time on my hands. A good friend of mine approached me and suggested that we enter together.''
Meharry drew inspiration from her own experience with the Canterbury Earthquakes, telling her story through wearable art.
''I was inspired by driving down to try and rescue my mum from flooded Brighton during one of the earthquakes when I saw a kotuku standing strikingly out in the middle of the Bexley Wetlands; it seemed like it was there for us.''
Meharry and friend Bronwyn Knutson went on to make a piece titled Kotuku: Broken Requiem to memorialise all the lives that had been lost.
''We made hundreds of white ceramic feathers and sewed long cream silk organza pockets to hold them in to symbolise the way that in Maori mythology the kotuku traverses between the land of the living and the dead to bear up the spirits of the departed.''
She loved the process of creating the piece and experiencing her art being brought to life on stage at the 2012 World of Wearable Art Awards in Wellington.
In 2013, Meharry entered a WOW partnership with her sister Natasha English and they won their first Supreme Award.
Over the years, the sisters' partnership evolved, with better critiques and communication strengthening their collaborations.
''Working with my sister is always a privilege'' says Meharry.
''I never laugh as hard as I do with her - laughing headaches are quite common!''
The sisters' wearable art pieces are often made from recycled materials.
They are known for elevating these materials through a high level of technical skill and using a range of artistic techniques.
''Natasha and I are techno junkies, which means that we love to experiment with all kinds of techniques. From flocking, metalwork, glitter bombing, resin casting, ceramics to stitch ... we like to try it all,'' Meharry says.
''Over the years we have learnt to respect each other's fortes.''
Meharry and English's wearable art garments have been well received by audiences. Meharry puts this down to their collective voice.
''We often have quite different perspectives on the conceptual side of things and I think that this means that eventually, we have a more rounded storyline that is stronger for having an extra voice.''
The sisters' 2018 WOW submission, War Story, was created to memorialise New Zealand's participation in World War 1 for the 100th commemoration this year.
The supreme award-winning piece was five years in the making.
''Our pieces embody a strong conceptual narrative first that we then build by using the materials and forms that we choose because it resonates and reinforces the concept.
''In my opinion, WW1 shaped New Zealand into a country with its own unique emerging identity and voice; it sent us down a path to become who we are today.''
The research came in part from Meharry's previous work on several exhibitions commemorating the war.
War Story went on to impress WOW panel judges, Dame Suzie, Sam Gao and Richard Taylor, of Weta Workshop, Nathalie Bouchard, of Cirque du Soleil, international guest judge Mary Wing To and Dunedin's own Margarita Robertson, of NOM*d.
The work was considered for attention to detail and how the piece would perform on stage.
Meharry credits WOW for its efforts towards the appearance of the show and innovative presentations of her work.
''One of the great things about WOW is that you create a work of art that you imagine might behave a certain way but when it gets to the WOW team they do things that you didn't even think of ... it's quite impressive.''
The pair say the win is humbling given the talent they share a stage with.
''We have been blown away with the reception from all our supporters and loved ones, other competitors and complete strangers who shout you a glass of bubbles.''
When asked about her future with WOW, Meharry says she is considering taking time off.
''At this stage, we are both too stunned to see into the future but I am thinking a wee break might be good, our families also need a break.''
Meharry's work can be found on her website www.thebusyfinch.co.nz. As well, you can experience her teaching through lessons with the Risingholme Community Centre and Otago Polytechnic's diploma in ceramic arts satellite programme.