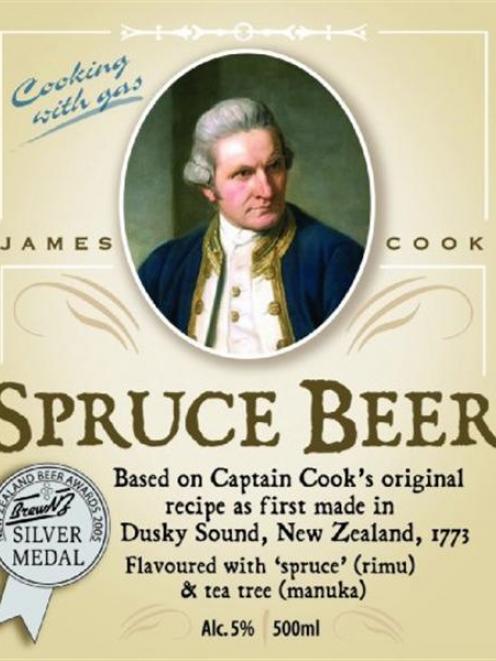 During a visit to Dusky Sound in Fiordland I found the creek from which Captain James Cook's crew drew the water for the first beer made in New Zealand shortly after the
Resolution
sailed into the sound early in 1773.
His ships set out from England with beer on board to combat scurvy, a disease killing about a quarter of a crew on long voyages, which was brought on by a lack of fresh vegetables (and therefore vitamin C) during the months at sea.
In the 1750s a Scottish naval surgeon, James Lind, linked such deaths to a dietary deficiency. So beer was tried for its barley content and seemed to work.
On his first voyage here on Endeavour in 1769, for example, Cook set out from England with 5500 litres of it.
His concoction at Dusky Sound during his second trip on the Resolution was molasses (to start the fermentation) and the leaves of a tree (rimu) which, in one ship's journal entry, he said resembled the American black spruce.
More leaves from a tea plant (manuka) was added.
Why this history lesson? Well, Christchurch-based Wigram Brewing produces a spruce beer (5%), which is flavoured with rimu and manuka.
It is a nice malty drop with a slightly smoky character.
Cook's brew was based on a recipe provided by the secretary of the victualling office, a Mr Pelman, who provided Cook with the molasses to start the fermentation.
That recipe was based on one early settlers to North America in the 1600s found the Indians using: green tips of birch and spruce trees.
General George Washington, who was to become president of the United States, ordered spruce beer to be made for his troops in 1775.
Cook's New Zealand version was laid down on April 1 and let loose on the men four days later.
The ship's journal records that the beer was "exceeding palatable" and esteemed by everyone on board.
One crewman, who mixed rum and brown sugar with it, said it was a pleasant, refreshing and healthy drink; it bubbled and tasted rather like Champagne.
However, it was not as acceptable, one would think, as the stronger grog (rum) that was always part of a ship's inventory in those days to numb the rigours of sea-going life.
Cook had 7300 litres of that aboard on his first voyage. He took a supply of the leaves away with him from Dusky Sound to make spruce beer during the rest of his voyage.
His beer was thus not only the first in New Zealand but the first to be exported.
It was also the first to be awarded a gold medal, because the Royal Society awarded one to him, on his return, for a report on brewing to preserve his crew's health.
(Cook also fermented a wine from dogwood berries during a stop in Alaska in 1778.)

Fellow British explorer Captain George Vancouver called into Dusky Sound in 1791 on the Chatham and recorded in his journal: "Our spruce beer, which was made under the directions made by Captain Cook, proved excellent and was served to the ship's company in lieu of spirits".
I recall that during the mid-1980s Lion Breweries also faithfully followed Cook's recipe at its Auckland brewery.
The result was variously described as awful and revolting.
Lion's brewery in Auckland is on the site of the Captain Cook Inn, which was turned into a brewery called the Captain Cook in 1862.
In 1882, a statue of the explorer - still, it is thought, the largest one-piece marble statue in the southern hemisphere - was erected. It is still there.
Lion has sold the site and will relocate to east Auckland in 2011.
Wigram's beers are difficult to find down here (although I saw the spruce beer in New World in Alexandra recently) but try www.wigrambrewing.co.nz
-Ric Gram