Marty Cancilla, from Canada, shows us how to make poutine with vegetarian gravy.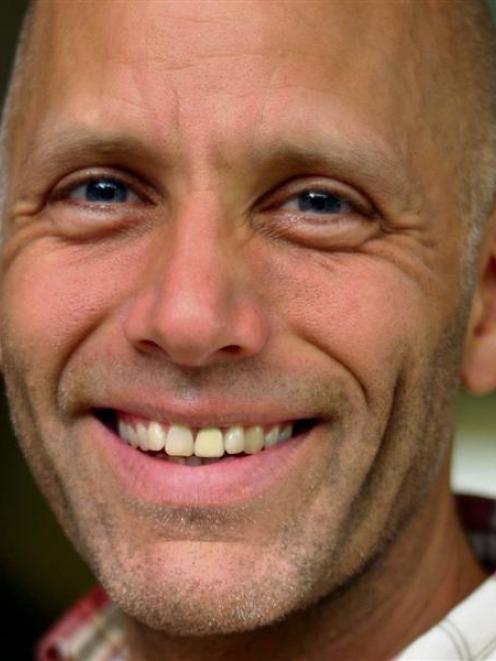 Marty Cancilla is quick to point out his chosen dish is not one for the calorie-conscious.
''It's definitely not a diet food.''
Poutine is basically French fries, cheese curds and gravy, all piled up together on a plate.
''The gravy melts the cheese curds on to the chips.''
The dish originated in rural Quebec, Canada, in the late 1950s, but had become more popular since the 1980s as a fast food.
Mr Cancilla is from the small skiing town of Rossland in British Columbia and this dish was a favourite treat for his family after a day on the slopes.
He came to New Zealand with his family two years ago in search of adventure and a new lifestyle and now works for the North East Valley Community Development Project.
For a Kiwi twist on the dish he liked to use frozen kumara chips instead of French fries to create ''poutine a la Kiwi''.
It was fine to use everyday cheese instead of the cheese curds but it was important to put it together quickly while everything was hot, he said.
---
Poutine with vegetarian gravy
Ingredients
For the fries (if not using frozen ready-made fries)
four potatoes, cut into frying-sized pieces
Vegetarian gravy
3 Tbsp butter
1 large onion very finely diced
3-4 cloves garlic very finely diced (or as much as you like)
½ tsp each sage, rosemary and thyme, finely chopped and bruised
1 tsp parsley, finely chopped
salt to taste
¼ tsp ground black pepper (or to taste)
2 Tbsp flour
2 Tbsp nutritional yeast
3 Tbsp of a mix of Worcestershire sauce and Bragg's Liquid Aminos sauce to taste (optional)
water to thicken to desired consistency
To serve
Grated cheese (any kind) or cheese curds
Method
Fries
If not using frozen ready-made fries, peel and chop four potatoes into frying-sized pieces and parboil in a pot of boiling water for about 10 minutes until tender but not cooked through.
Spread in a single layer on a baking tray and coat in a small amount of vegetable oil. Bake at 225degC for 30 minutes or until brown and crunchy. Turn once during cooking.
Vegetarian gravy
In a saucepan or frying pan saute finely diced onions and garlic in butter until translucent. Add herbs, salt and pepper.
Sprinkle with flour and nutritional yeast and mix well to form a paste (roux). Add water a little at a time and mix well to form a gravy and let it simmer for 10 minutes to combine flavours.
To serve
Sprinkle cheese on the French fries as soon as they come out of the oven and douse it all with hot gravy. Serve immediately. Feel your arteries becoming clogged!
Bon appetit!
---
Feeling creative?
You can experiment with different herbs and spices to form all types of vegetarian gravy using this basic method.
---
• Thanks to Afife Harris and Centre City New World. 
---