Flavours of home is a series of recipes from around the world cooked by people at home in Otago. This week, Suad Mohammed , from Iraq, shows us how to make turkish delight.
Suad Mohammed and Mahmud Fathalla, originally from Iraq, came to New Zealand in 1996 escaping the troubles in their home country and joining their sons who were doing postgraduate study in Christchurch.
Mahmud, now retired, had a job teaching veterinary medicine at Massey University and Suad taught Arabic and Middle Eastern cooking in evening classes.
They had lived in the United States and Canada, where Mahmud studied in the 1960s, before returning to Iraq.
When they came to New Zealand, they had to leave their belongings behind as they could bring only a small bag.
One of their sons and his Kiwi wife live in Auckland, and the other lives in Switzerland with his Swiss wife, Mahmud says.
According to Suad, one of the caliphs asked a chef in his palace to make a new sweet for his favourite wife, and that was how Turkish delight was invented.
---
Suad's Turkish delight
Makes 25-30 pieces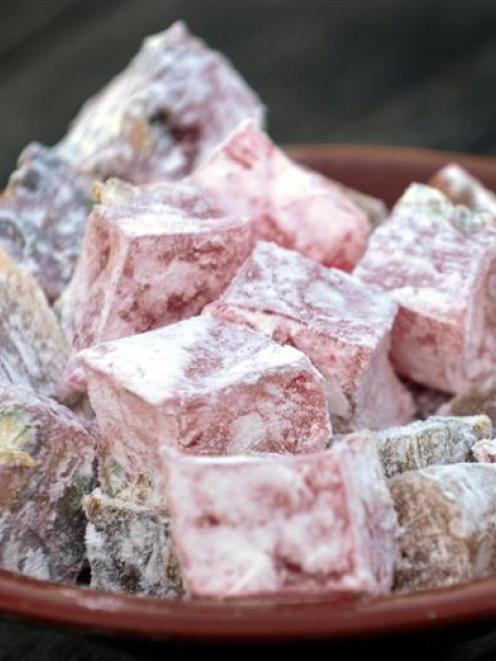 Ingredients
6 Tbsp gelatine powder
2 Tbsp cornflour
3 cups sugar
½ tsp citric acid powder
1½ Tbsp rosewater or other flavouring
1 cup water
a few drops red food colouring (optional)
¼ cup pistachios
1½ Tbsp icing sugar
1½ Tbsp cornflour
Method
Mix the gelatine, sugar, citric acid and cornflour in a pot. Add the cup of water and the rosewater or other flavouring. Stir over medium heat until it comes to a simmer. Leave on a low heat to simmer for 20 minutes without stirring.
Cover the pistachios with water and bring to a simmer for a few minutes. Drain and set aside. Remove the pan from the heat and allow to cool for 10 minutes.
Line a 20cm square tin with waxed paper and wipe it with oil to stop it sticking. Stir in the food colouring and the pistachios and pour the mixture into the prepared tin. Leave to set in the fridge overnight or for several hours.
Mix equal amounts of icing sugar and cornflour on a board.
When the Turkish delight has set firmly, turn it out on to the cornflour and icing sugar mixture on the board, peel off the paper and dust all sides with the mixture. Cut into squares, rolling each piece in the mixture.
---
Tips
• You can use raw pistachios but Suad says they taste better cooked.
• You can use any colour and flavouring essence you like - green mint-flavoured, or orange or lemon flavoured Turkish delight are some of her favourites.
---
• Thanks to Afife Harris and Centre City New World.

---