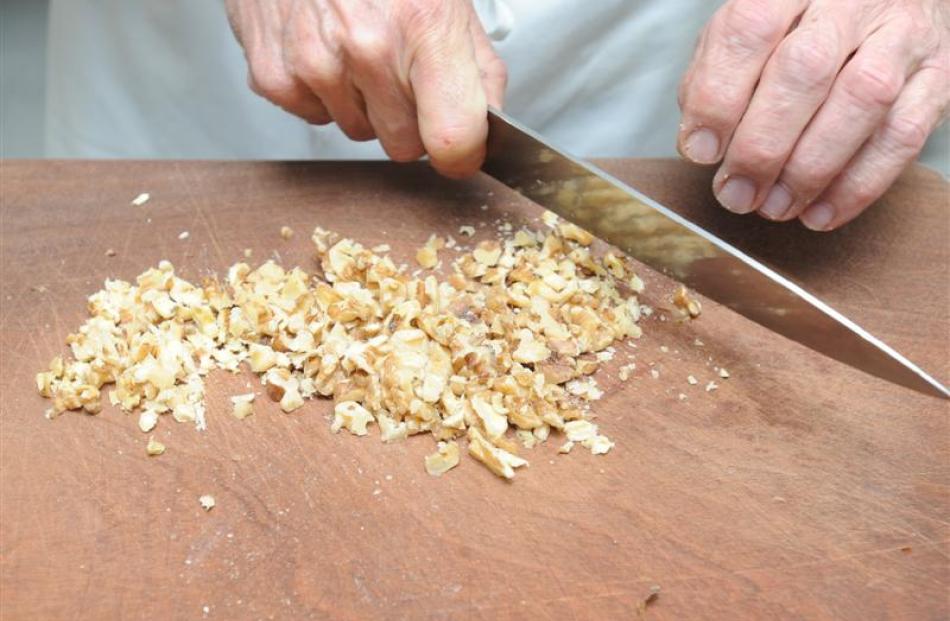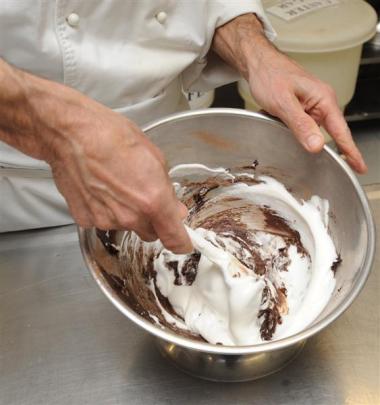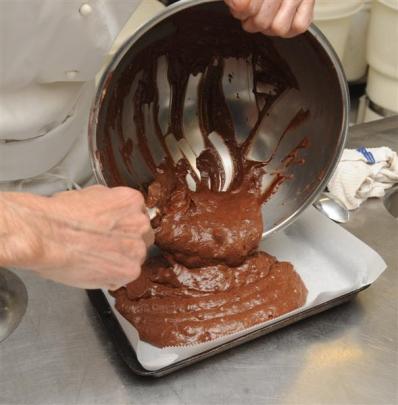 Daniel Pfyl, hospitality management lecturer at Otago Polytechnic, shares some professional techniques to make your cooking easier. This month he demonstrates healthy chocolate brownies.
These brownies are moist and give you a chocolate hit without all the usual fat. 
Healthy chocolate brownies 
Ingredients
4 Tbsp plain flour
½ cup cocoa
½ tsp salt
1 cup sugar
4 Tbsp wholemeal flour
6 Tbsp apple puree (140g tub)
60g polyunsaturated margarine, melted, or rice bran oil
½ cup finely chopped walnuts or pecans
6 egg whites
2 Tbsp vanilla
Method
1. Spray a slice tin and line with baking paper. The spray stops the paper sliding in the tin.
2. Preheat the oven to 170degC fan bake. Sieve the plain flour, cocoa and salt into a bowl, then add the wholemeal flour. This adds fibre and nutrients.
3. Stir in half the sugar and add the apple puree and melted margarine or oil.
4. Stir to combine, but don't overmix. The apple puree replaces most of the fat that would usually be used.
You can make your own apple puree if you prefer, by cooking peeled and sliced apples in a little water and mashing them when cooked.
5. Chop the walnuts or pecans finely but not evenly. Stir them into the cocoa mixture.
6. Separate the eggs. Make sure there is no yolk in the egg white or they won't whisk properly.
Reserve the yolks for another recipe.
7. Add a pinch of salt to the egg whites as it helps the eggs froth. Whisk until they reach a soft peak. Little by little sprinkle on the rest of the sugar while whisking. Add the vanilla and whisk it in.
8. Take a third of the egg whites and stir into the cocoa mixture to lighten the texture, making sure you incorporate all the mixture from the bottom of the bowl.
9. Then add the rest of the egg white and gently fold into chocolate mixture, stirring and lifting, trying not to lose too much volume.
10. Pour the mixture into the prepared tin and spread into the corners.
11. Bake at 170degC fan bake for 20-22 minutes.
12. To check if the slice is cooked, press the top gently. It should be slightly bouncy and a skewer poked into the middle should come out clean.
13. Don't overbake as the brownies should be moist and slightly fudgey inside.
When cool, remove from tin and cut into 8 large squares.
14. Cut each square diagonally to make 16 large slices. You can cut each triangle again to make 32 smaller slices if you wish.
---
• If you would like to request a particular technique we haven't already shown, please let us know. Write to Cooking 101, Editorial Features, Otago Daily Times, PO Box 181, Dunedin or email odt.features@odt.co.nz with cooking 101 in the subject line.
To check earlier Cooking 101 columns visit: www.odt.co.nz and search for ''cooking 101''. More information on cooking from Otago Polytechnic can be found on www.otagocookeryl4.blogspot.com
---