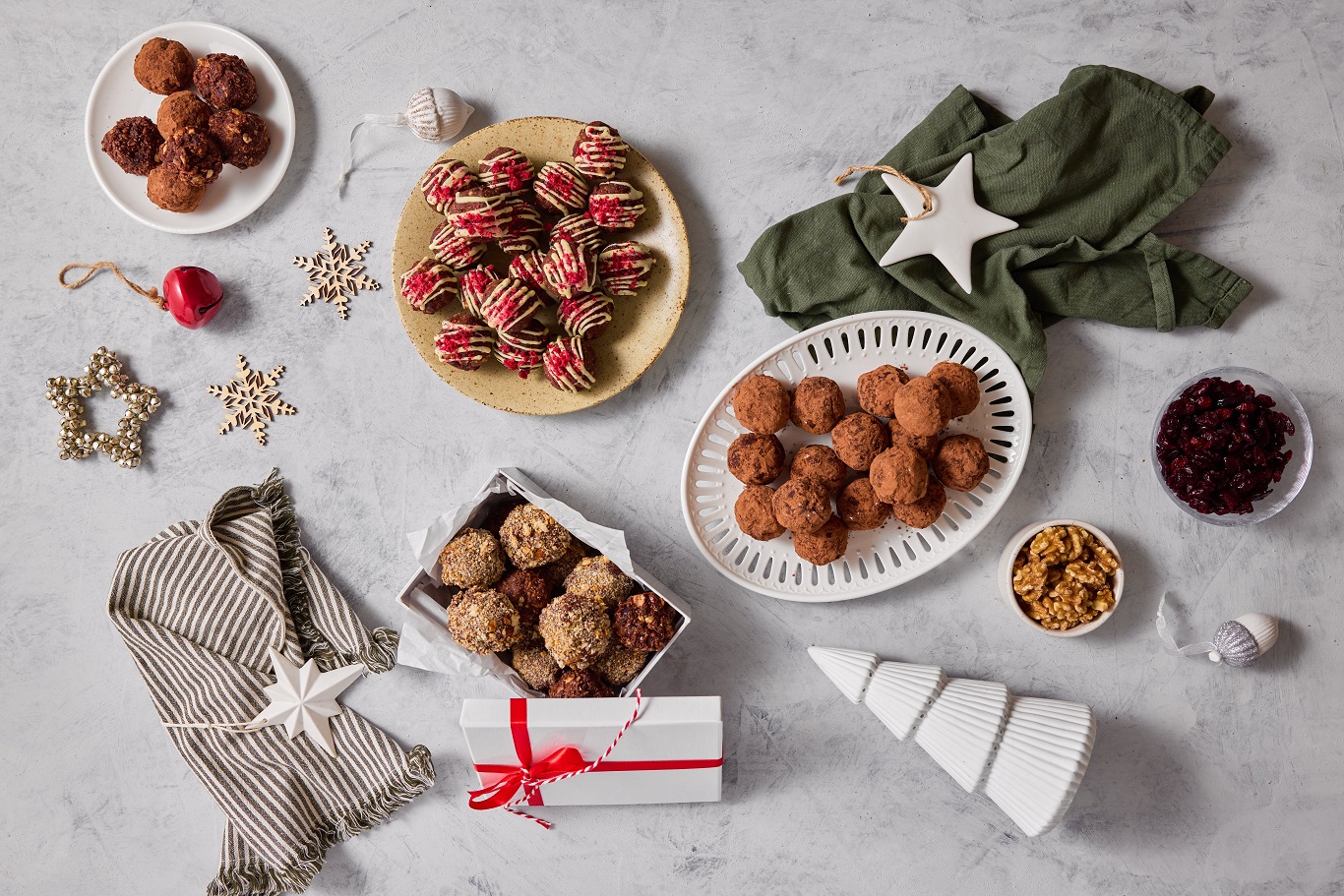 Savour the season with homemade edible christmas gifts that reduce food waste, recommend the folks at Love Food Hate Waste.
The holiday season is a time of celebrations, togetherness, and the exchange of gifts. It's also a season of abundance, with delicious feasts and sweet treats that can sometimes lead to additional food waste. But what if we could combine the spirit of giving with the goal of reducing food waste?
This Christmas, consider creating homemade edible gifts that delight the taste buds and help combat food waste by getting creative. Here are some ideas to get you started:
ZERO-WASTE BLISS BALLS
Check out Love Food Hate Waste NZ's recipe to turn those bread crusts and ends or those buns and half-cut loaves sitting in the fridge or freezer into delicious bites! This is also a great make-ahead recipe, ready to bring out to treat surprise visitors, take to a morning tea, or when you need a quick snack (just keep them in the freezer).
CEREALLY GOOD
Make the most of cereals, find that half-eaten packet of cereal in the pantry and if it's gone stale, toast it in the oven briefly to crisp it up before using it to make treats such as cornflake cookies, Christmas tree crackle using rice bubbles, and chocolate slice using any crispy cereal.
SPICE IT UP
Most of us have pantries that are full of spices that have only been used once or twice. A great way to use them up is to mix them all together to make spice mixes, such as spice rubs, popcorn seasoning, spiced sugar, dukkah, and chai mix.
PICKLED VEGETABLES
If you have an excess of vegetables, consider making pickles. Pickling not only preserves the veges but also adds a delightful tang to your holiday gift. Create a variety of pickled vegetables, from cucumbers to red onions, and pack them in decorative jars.
FRUIT JAM OR CHUTNEY
Fruit that's a bit past its prime is perfect for making homemade jams or chutneys. Get creative by mixing different fruits, spices, and sweeteners to create unique flavour combinations.
HERB-INFUSED OILS AND VINEGARS
Fresh herbs can wilt quickly, so use this opportunity to make herb-infused oils and vinegars. Fill attractive bottles with olive oil infused with rosemary, thyme, or basil. These can be used for cooking or as salad dressings.
CANDIED CITRUS PEEL
Instead of tossing citrus peels, give them a second life by candying them. These sweet, chewy treats can be enjoyed on their own, in baking, or used as a garnish for cakes and desserts.
HERB-INFUSED SEA SALT
Combine sea salt with fresh herbs such as rosemary, sage, or thyme to create a fragrant and flavourful herb-infused salt. Sprinkle it on roasted vegetables or grilled meats for an extra burst of taste.
You don't need fancy packaging to make these treats look special. Save your empty jars, soak them to remove the label then fill them with your treats. Otherwise, you can make little parcels for baked treats using baking or wax paper, which can be tied with twine (the baking paper can be used by the recipient).
Bread bliss balls
These homemade edible Christmas gifts not only offer a unique and personal touch but also help reduce food waste by making use of ingredients that might otherwise be thrown out. This Christmas, let your gifts be a reminder of the importance of cherishing every ingredient and making the most of what the holiday season has to offer.
Ingredients
200g stale bread (crusts, ends, slices etc.)
¼ cup cocoa powder
130g butter or coconut oil, softened
2 Tbsp sugar
1 tsp vanilla extract
½ cup walnuts, roughly chopped
1 cup dried cranberries, roughly chopped
Coating options
1 cup dark chocolate melted with 1 Tbsp butter or coconut oil
1 cup white chocolate, melted
Cocoa powder and icing sugar
Optional toppings
Freeze-dried fruit
Desiccated coconut
Finely chopped nuts
Golden toasted breadcrumbs
Method
1. Whiz bread, cocoa powder, butter, sugar, and vanilla in a food processor to combine.
2. Transfer mixture into a bowl and stir through chopped walnuts and cranberries.
3. Press and shape into small balls, and if coating use two forks to coat in the chocolate or roll around in cocoa powder and icing sugar then place on a greased tray or plate.
4. Coat with optional topping if desired.
5. Place in the fridge to set overnight or for at least 8 hours then transfer into a container.
Tips
Don't have a food processor? Check out our other methods for making breadcrumbs.
Swap out the nuts and dried fruit in the recipe to use your favourites or what you already have.
Sweeten with condensed milk, maple syrup, treacle, golden syrup, or other sweeteners, if preferred.
To make other flavoured bliss balls, omit the cocoa powder and flavour with 1 Tbsp ground coffee, sherry, brandy, fruit juice, or rosewater. Or œ cup nut butter and 90g butter or coconut oil.
OTHER METHODS FOR MAKING BREADCRUMBS
Rolling pin
Tear the bread into pieces and toast in the oven until it becomes crisp, leave to cool completely. Transfer into a reusable bag and crush the bread using a rolling pin or the back of a heavy pan. Or place toasted bread in a mortar and pestle and crush into crumbs. Note: If using this method, increase the butter or coconut oil quantities so the mixture binds better, use 170g butter or 190g coconut oil, softened.
Stick blender
Place small amounts of the bread pieces at a time in a bowl and blend to make coarse breadcrumbs.
For more
 - For more recipe ideas and inspiration to savour the season visit www.lovefoodhatewaste.co.nz or find us on Facebook and Instagram @lovefoodhatewastenz