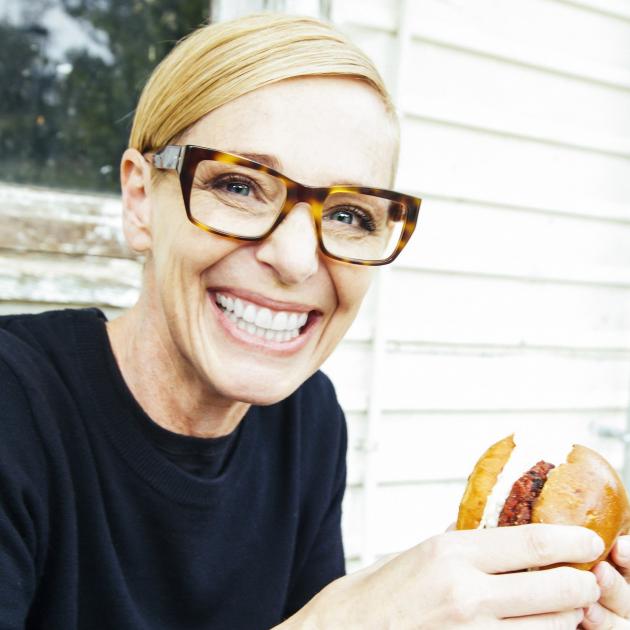 This book is a startlingly honest ode to surviving empty-nest syndrome and the end of a marriage. Hence its title, Coming Un Stuck.
With the help of friends, counselling, yoga and long walks, Sarah Tuck began to move on from ''crappiest time of her life'' and returned to doing what she has always done to show her love for the people she cares about - cooking.
The author of the ''fromthekitchen'' blog, Tuck decided to share some of her favourite recipes in a book, with a chapter called
''sad-arsed dinners for one''. It also has sections on ''nibbly bits'', ''sweet stuff'', ''bit on the side'' and ''mother's little helpers''.
The book begins with a foreword by Nadia Lim, who refers to Tuck as a ''triple threat'', as she takes amazing photographs, is a ''bloody good'' cook and knows how to put food together.
In her introduction, Tuck says ''life is too short to linger in the bad bits'', and at the start of each chapter she shares a little bit of her journey with tips and advice on topics such as getting friends together for cosy dinners - style and flavour over complicated processes and multiple dishes.
''It doesn't have to be complicated to share the love - in fact, I often find the simplest things are best.''
Smoked fish pie
I like using a mix of smoked fish in this recipe - even including a little hot smoked salmon when I'm feeling flash. This can also be made in individual dishes to serve.
Serves 8

Ingredients
2 Tbsp olive oil
50g butter
1 small brown onion, diced
2 sticks celery, diced
1 small carrot, finely chopped
sea salt and freshly ground pepper
2 small leeks, cleaned, trimmed and cut into 1cm rounds
¾ cup cream (heavy cream)
1 bay leaf
1 cup frozen peas
450g firm white fish cut into big chunks
650g smoked fish, flaked into chunks and checked for bones
pinch of cayenne pepper
grated zest of 1 lemon
¼ cup finely chopped at-leaf parsley
3 soft-boiled eggs, optional
4 slices sourdough, crusts removed
Bechamel sauce
2 Tbsp butter
5 Tbsp plain flour
1¾ cups whole milk
¼ cup white wine
pinch of freshly grated nutmeg
1 tsp Dijon mustard
sea salt and freshly ground pepper
½ cup grated parmesan
mashed potato to top (made with 1 kilo potatoes)
Method
Heat oil and 20g butter in a large casserole dish over medium heat and cook onion, celery, carrot, salt and pepper for 8 minutes.
Add leeks, cream and bay leaf and cook for 20 minutes until leeks are silky and soft. Add peas and fresh fish and gently cook for 5 minutes until fish is just cooked through.
Add smoked fish, cayenne, lemon zest and parsley. Remove from the heat and very gently fold to combine.
Heat the bechamel sauce butter in a pot until just melted. Stir in the flour with a wooden spoon. Add the milk and wine in three lots, stirring continuously, until well incorporated. Add nutmeg, mustard, salt and pepper.
Use a wire whisk to whisk while cooking until the sauce is thickened and smooth. Add the parmesan and stir to combine. Leave to cool slightly then gently fold into fish mixture.
Peel and slice the boiled eggs into wedges (if using) and fold through, being careful not to break up the chunks of fish.
Preheat the oven to 180degC and transfer the fish pie mix to a 32cm x 26cm oven proof dish (or individual dishes). Spoon the mash on top and spread to cover.
Butter the sourdough with remaining 30g butter and cut into cubes. Dot on mash and sprinkle with remaining parmesan. Bake for 35-40 minutes until golden, crunchy and bubbling.
Potager salad
This was developed with the fantasy in mind of having my own potager garden one day ... watch this space.
Serves 6
Ingredients
Veges
10 small baby beetroot
¼ cup olive oil
1 tsp balsamic vinegar
2 tsp runny honey
sea salt and freshly ground pepper
2 small or 1 medium purple or orange kumara
12 baby carrots, tops trimmed, gently scrubbed
1 tsp cumin seeds
Lentils
1 cup green lentils
1 bay leaf
2 garlic cloves, smashed/ squashed with the back of a knife
sprig of thyme
2 tsp olive oil
½ tsp balsamic vinegar
salt and freshly ground pepper
To serve
2 cups baby watercress
1 cup hummus
herb and feta dressing (see below)
2 Tbsp roasted sun flower seeds (or your favourite seeds)
Herb and feta dressing
Makes about 1 cup
¼ cup natural Greek-style yoghurt
½ cup roughly chopped curly-leaf parsley
½ cup basil (or coriander) leaves
finely grated zest of 1 lemon
½ clove garlic, crushed
50g feta, crumbled
sea salt and freshly ground pepper
Method
Preheat oven to 180degC. Line a small roasting dish with tinfoil. Add beetroot, vinegar, half the oil and drizzle with half the honey.
Season well with sea salt and black pepper. Bring up the sides of the tinfoil to make a sealed parcel. Roast 45-50 minutes until tender.
Leave to cool before slipping the skins off by rubbing firmly with your thumbs - a small sharp knife comes in handy, too. And rubber gloves!
Meanwhile, peel your kumara if they're big and tough - if not, just scrub. Slice into 2cm-thick rounds, then, if large, cut into half moons.
Put carrots and kumara in a roasting tray, drizzle with remaining oil and honey and sprinkle with cumin seeds and sea salt. Roast for 20 minutes until just tender then leave to cool.
Rinse lentils then bring a pot of 5 cups of water to the boil. Add lentils, bay, garlic and thyme. Reduce to a simmer and cook for 20 minutes or until just tender.
Rinse then stir through oil and vinegar and season well with sea salt and freshly ground pepper.
Once you have all of your components completed it is really just a matter of creative assembly. I like to start with watercress and lentils, with a big smear of hummus, topped by the carrots, kumara and beetroot.
Drizzle with dressing and serve sprinkled with roasted seeds of your choice.
Herb and feta dressing
Whizz all of the ingredients together with 2-4 tablespoons water (or more or less, depending on how thick you want the dressing).
Season to taste and store covered in the fridge.
Classic lemon tart
Of all the sweet stuff I make, this is what I am best known for - and what I'm most often asked to bring as dessert to a dinner party. It's extra lemony and incredibly popular.
Serves 8-10
Ingredients
Sweet short pastry
110g cold butter, chopped
1⅓ cups plain flour (plus 1 Tbsp to dust bench)
⅓ cup icing (powdered) sugar
finely grated zest of 1 lemon
1 egg yolk plus 2 egg yolks (reserve 1 egg white and lightly whisk)
1 tsp iced water
baking spray
4 eggs
¾ cup caster sugar (1 cup for super sweet tooths)
200ml cream
250ml freshly squeezed lemon juice
To serve
fresh raspberries and vanilla bean ice cream
Method
Put the butter in a food processor and add our, icing sugar and lemon zest. Pulse to combine then add 1 egg yolk and the iced water.
Pulse until the mixture forms big clumpy breadcrumbs and starts coming together. Tip out onto a clean bench and press and squash together into a round disc.
Wrap in plastic wrap and put in the fridge for half an hour. Preheat the oven to 180degC and remove the pastry from the fridge. Let it sit for 5 minutes then roll out on a lightly floured surface until it is 5cm bigger than a 25cm loose-bottomed tart tin.
Spray the tin very lightly with baking spray and use a paper towel to wipe off any excess. Use a fish slice (or thin metal pizza paddle if you have one) to slip pastry off the bench and into the tin. Press firmly into the base and sides, patching up tears as you go.
Prick the base lightly with the tines of a fork and pop in the freezer for 10 minutes. Cut a circle of baking paper 5cm bigger than the tart tin, place in the tin and fill with either baking beans or raw rice.
Bake for 12 minutes, then remove the baking paper and beans/rice and brush the base with a little reserved egg white. Bake a further 10 minutes.
Gently whisk eggs with remaining yolks, sugar and cream. Don't whisk it too hard or you will make it foamy and bubbly - gently does it. Stir in lemon juice. Put the tart base on a baking tray and place back in the oven.
Pour the filling through a sieve into a jug then carefully pour straight into the base in the oven. Reduce oven temperature to 150degC and bake 25-30 minutes until the filling is just set, but still with a bit of a wobble in the middle.
Cool in the tin before removing to serve with raspberries and vanilla bean ice cream to your very lucky guests.