I am still using my stash of New Zealand lemons and this take on a classic has been a real hit.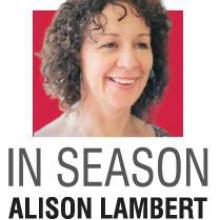 I made them gluten and dairy free so we can all enjoy these delicious delights.
Makes 24
Sponge
4 good-quality eggs,
at room temperature
150g caster sugar
½ tsp vanilla extract
50g cornflour (maize)
90g gluten-free flour
1 tsp baking powder (gluten-free)
Lemon curd
zest 2 lemons
125ml lemon juice
320g caster sugar
5 egg yolks
115g dairy-free (butter) spread
Lemon icing
½ cup lemon curd
240g icing sugar
80ml lemon juice
125ml boiling water
250g shredded coconut (approx)
Method
Heat the oven to 180degC.
Lightly grease and line a 25cm x 30cm cake tin.
Begin by making the sponge. Separate the eggs and place the whites in the clean bowl of an electric mixer. Set the yolks aside for later.
Whisk the whites until stiff peaks form, gradually add the sugar and whisk until silky smooth and you can feel no sugar granules.
Add the egg yolks and vanilla, and whisk until well combined.
Sift the cornflour, gluten-free flour and baking powder together.
Fold the dry ingredients into the egg mixture until combined.
Spread into prepared tin and bake for 20-25 minutes or until the sponge bounces back when gently touched. Remove and cool for 10 minutes before removing from the tin. Leave to cool completely.
To make the curd
Place the sugar and lemon zest in a food processor and blend the zest into the sugar. Add the lemon juice and mix. Add the egg yolks and dairy-free butter and process until combined.
Pour the contents into a bowl and place over barely simmering water. Stir constantly until the curd thickens and coats the back of the spoon (this can take 5-10 minutes as you do not want to hurry it or it can cook the eggs).
Pour into a clean container and leave to cool.
To make the lemon icing
Add the lemon curd, icing sugar, lemon juice and boiling water and whisk to combine.
To assemble
When the sponge is completely cold, divide it into evenly-sized squares.
Get a bowl or tray and put a third of the coconut in it. Keep the remainder close by for topping up - this can get messy!
Dip a square of sponge into the lemon icing to lightly coat all sides, drain off excess and carefully coat all sides in coconut.
Place on baking paper sprinkled with a little coconut. Continue until all the sponge is covered with coconut.
Enjoy.