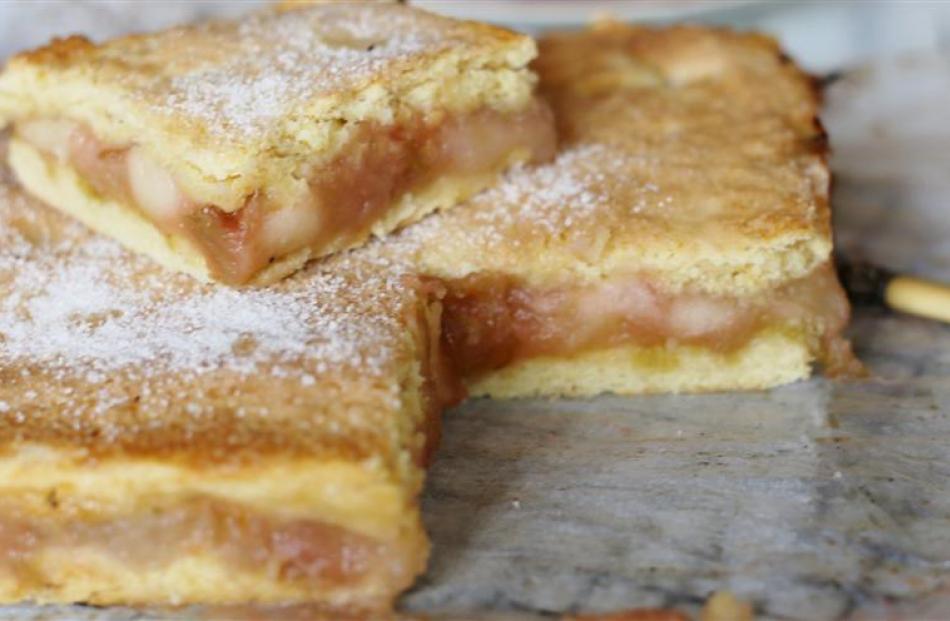 I always remember my mother's shortcake, with its light and airy pastry and juicy, tart filling. I added some rhubarb to this classic and it married together perfectly.
Rhubarb and apple shortcake
Makes 12-16 squares
Pastry
2 cups flour
1 tsp baking powder
125g cold butter
¼ cup sugar, plus 1 Tbsp for sprinkling
1 egg, lightly beaten
1-2 Tbsp milk, extra for glazing
Filling
1 Tbsp butter
4 Granny Smith apples, peeled, cored, sliced
¼ cup sugar
1 Tbsp water
1 orange, juice and zest
6 sticks rhubarb, sliced into 1 cm pieces
Pastry
Add the dry ingredients into a large bowl, rub in the cold butter until coarse breadcrumbs appear.
Add the egg and mix through. If too dry add 1 tablespoon of milk at a time and mix until dough comes together. Do not overmix as this will toughen your dough. Cover in plastic wrap and chill.
Filling
Combine the apples, sugar, water, butter and orange juice and zest. Cook gently for 10 minutes, add the rhubarb and continue to cook until the apples and rhubarb are soft and pulpy. If your mixture is extra juicy drain it off as this will make your shortcake too wet.
Preheat oven to 180degC.
Line a 20cmx20cm or so cake tin (I use a square fruitcake tin for mine).
Roll the pastry out so it will fit your tin twice in length and it should be about 0.5cm thick. Cut the pastry in half and line the base of the tin.
Spread evenly with the apple and rhubarb filling.
Place the other half of the pastry on top. Brush with milk and sprinkle remaining sugar on top.
Bake in preheated oven for 20-30 minutes or until the pastry is golden and firm.
Remove from the oven and allow to cool a little before cutting. This shortcake works beautifully warm or cold.
---
• Alison Lambert is one of the demonstrators at the Otago Farmers Market in Dunedin on Saturday mornings.