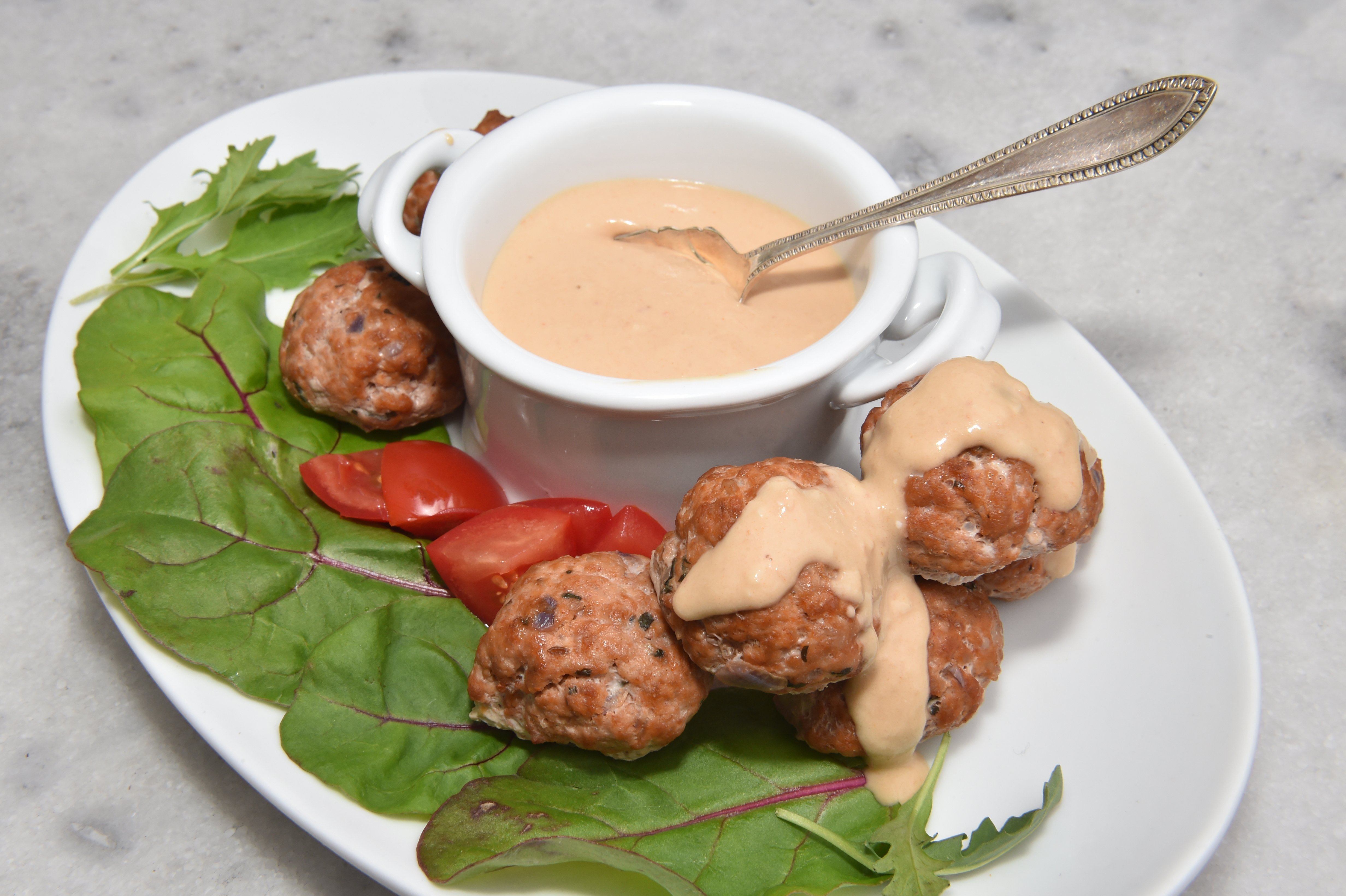 These little pork balls are very good. I like them best drizzled with the peanut sauce.
Gently spiced they have a bit of a kick - the chilli gives oomph while the smoked paprika and maple syrup add a pleasing smoky, sweetness.
The other plus is that they are so simple to make - hardly any work at all - just a quick slice, chop, stir and roll, then into the oven for a brief cook.
Baking meatballs in the oven is so easy. No extra oil is needed, no tending required plus they are all ready at the same time. It all feels so quick and easy, but then it is.
Makes about 26 balls
Ingredients
800g quality pork mince
⅓ cup red onion, finely chopped
¼ cup tomato paste
3 Tbsp fresh mint leaves chopped
2 tsp sweet smoked paprika
2 tsp ground cumin
¼ tsp chilli powder
2 Tbsp lemon juice
2 Tbsp maple syrup
Method
Combine all the ingredients in a large bowl and gently mix together. I usually use my hands to mix it all together.
If time permits, cover and leave to marinate overnight in the fridge.
When ready to cook pre-heat the oven to 200degC. Line a lipped baking tray with non-stick baking paper.
With damp hands form the mixture into balls about the size of golf balls. Arrange on the baking tray, not touching and bake in the pre-heated oven for 18-20 minutes until cooked.
Pour off excess liquid and pat dry with paper towels.
Serve with chilli peanut sauce.
Chilli peanut sauce
Delectable with barbecued meats, fish, chicken and vegetables and such an irresistible sauce to have on hand in the fridge. Of course it makes a fabulous dip and is invaluable for vegetarians.
Makes about 1 cup
Ingredients
200ml coconut milk (I use light)
⅓ cup smooth peanut butter
½ tsp red curry paste
1 tsp root ginger chopped
1 tsp garlic chopped
2 tsp soy sauce
2 tsp sweet chilli sauce
2 Tbsp lemon juice
Method
Combine the coconut milk, peanut butter, red curry paste, ginger and garlic in a small saucepan.
Over low heat, stirring constantly with a wooden spoon bring the mixture to a gentle simmer.
Stir in the soy sauce and the sweet chilli sauce and simmer 3-4 minutes more. Remove from the heat and cool.
When cool add the lemon juice and stir.
Cover and store in the fridge until needed.
I serve this at room temperature.