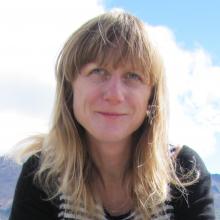 "You won't live as long as the fairies," a 6-year-old friend tells Liz Breslin.
"But you can live until you are 500 if you eat the right things and," she paused, looked me up and down, considering, "don't have any fights when you're a granny."
To be fair, we had been discussing whether you could get dead in fights. We went on to talk about how come the tooth fairy had been alive when I was little and how Santa must be really old, like 500 at least as well, and very good at his job. I love listening to the blend of logic, certainty and hope that goes into an interesting, interested child's reasoning. Away with the fairies in a very good way.
I think I might believe in fairies. I've got an Irish book of fairy stories that is an actual, serious, illustrated history. It's a fine line between longevity and immortality that they walk, but the way I see it, humanity is hoping to edge more and more that way. The fairy-dust of transhumanism. Telomerase magic, with cellular spells that are dense and difficult to understand, let alone cast. Cloning, computational memory banking, cryogenics. Reincarnation, metempsychosis, the hope of evolutionary immortality. You don't need all these long busy words when you're 6 and life is forever.
And who wants to live forever? Or at least as long as Santa? When you think about it, we're all quite a bit preoccupied with extended lifetimes and legacies and this business has ancient roots. The Bible says Methuselah lived for 969 years. Or did he? I'm willing to accept that a fair portion of the Old Testament might be metaphor and could possibly be occasionally mistranslated: if lunar months were mistaken for solar years, Methuselah would have been a much more reasonable 78 years old when he died. It's important to note the half years whether you're 6 or 78. They're all made up of precious days.
The age of 117 could sort of be the equivalent of the "27 club" for supercentenarians (people over the age of 110). Violet Mosse-Brown, of Jamaica was, until September this year, officially the oldest living person on record. You can't count Li Ching-Yung, who allegedly lived to 256 in the 1600s, Barnum's discredited 161-year-old Joice Heth or the chain-smoking supposedly 146-year-old Mbah Ghoto, who died earlier this year. The records don't show they're properly themselves. Like the Cottingley Fairies.
Back to Violet. A (presumably retired) cane farmer, a Christian and the last living person who was queened by Queen Victoria, she said her lifestyle involved eating "everything except pork and chicken, and I don't drink rum and them things". She didn't mention if she had been a fighting granny. Before Violet, Emma Morano, an Italian factory worker who'd fought her abusive husband, wore the oldest person fairy crown, on a diet of raw eggs and biscuits. Nabi Tajima of Japan now takes the honour. She has more than 140 descendants. Go the girls. And go the advice of all the supercentenarians, who (according to a Business Insider article in 2016) variously attribute their longevity to bacon, coffee with a shot of whiskey, sucking on chocolate and drinking semi-sweet wine. Good things.
It all sounds a lot more appetising than Herodotus's observations of the peoples who ate bread made with dung or boiled meat and lived to a ripe old age. With ripe old breath on that diet, I'd imagine. His tales of the Fountain of Youth sound a lot more alluring: violet-smelling (the flower, not the supercentenarian) water that leaves you refreshed and oiled. Almost as rejuvenating as a daily dip in Lake Hawea. Or a conversation with a 6-year-old about the longness of life.