Babies have a lot to learn in a short amount of time, parenting columnist Ian Munro writes.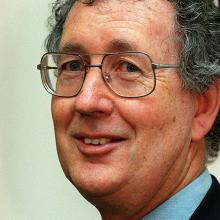 The young parents I've talked about from time to time recently were quite astounded to hear that something like 85% to 90% of brain development happens in the first three years of a child's life.
They knew all about teenagers' brains still developing and assumed that the development was spread pretty evenly over the 16 or so years.
Initially, there certainly doesn't seem like much is happening. Eating, excreting, sleeping seem to be what that the newborn is all about. They added crying to that list.
However, in every waking moment babies are soaking in everything they smell, taste, feel and hear and, as they begin to focus, also what they see.
For a start vision is limited to around 15cm to 20cm.  However, as sight develops over the next few weeks it's this sense through which most of the major learning will take place.
First off though, it's baby's hearing that's more developed than sight. This means that babies are hearing from the moment they're born and, in fact, even before that.
Without overdoing the stimulation, it's good to provide baby with a variety of background music. See what they best react to and, in particular, what soothes them.
Enjoy singing? Then sing to baby knowing that you're assisting the brain's development.
But most of all talk. The language part of the brain is developing from the moment they hear voices.
Talk to baby when you are feeding, changing, dressing and cuddling. Talk as you walk.
I know some new parents feel quite self-conscious about this but you soon get over it and the long-term rewards for baby are great. 
Nor is it stupid to read to baby children's poetry that has rhythm or sing-song nursery rhymes. No, they won't understand the words but, boy, are they taking it all in. 
Very soon baby will begin making a variety of sounds. Listen carefully to them and repeat them. That makes a connection and soon you can have little conversations. Doing this means you will immediately notice little changes and the sounds they're starting to pick up.
Imitation and repetition are the keys to language development. And alongside all of this is movement.
Movement is essential in assisting the brain in making the connections. It's what pulls together much of what is going on inside that little head. 
However, the newborn isn't doing too much of that. But you are.
All the different positions their body finds itself in are recorded in the brain and the movement from position to position when swinging, rocking or movement in a sling against your body, for example, stimulate development.
Some movement will excite, some will comfort, and some will relax. Experiment.