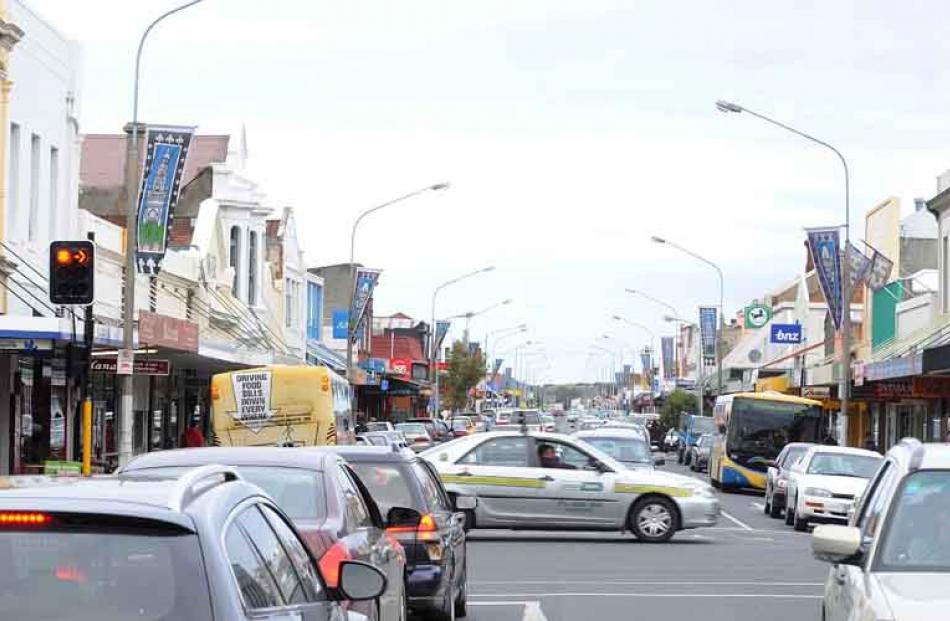 Collapsed buildings, landslips and disrupted services would face Dunedin people in a large earthquake.
That's the picture painted by those preparing for such an event and by a "lifelines" report which identified potential weaknesses in the city's utility services.
A 7.1 magnitude earthquake in Dunedin would have similar outcomes to the Canterbury one, though the patterns could be different because we have more hills, says Dunedin City Council civil defence manager Neil Brown.
Some hill areas are "not particularly stable at the best of times" and an earthquake could trigger landslips.
Reclaimed land around the harbour edges and South Dunedin, with its soft soils and high water table, could be prone to liquefaction (when soils transform from a solid to a liquefied state).
However, the risk of a locally-generated tsunami is low.
Fittingly, the Dunedin City "Lifelines" report opened with a quote by philosopher and historian Will Durant: "Civilisation exists by geological consent, subject to change without notice."
Most of the major work identified as needing to be done in the study has been addressed in the decade since it was completed and risk management is now part of normal business for most asset owners, Mr Brown says.
For example, the Mt Grand raw water storage facility used to hold about 10 days supply of water but that capacity has now doubled.
The "Lifelines" report found large earthquakes could trigger movement on existing landslides or generate new ones, with the Silverpeaks area, the Kilmog and southwest Dunedin, including Abbotsford, being some areas that could be prone.
The chance of major failures would increase if the earthquake were to happen in late winter or early spring when groundwater levels are generally highest.
The report also noted that an earthquake could cause extensive problems on State Highway 1 north of the city, see the highway through the city being blocked by building collapse and landslip, and potentially close State Highway 88, the only route for heavy vehicles to access Port Chalmers.
The main trunk railway line would suffer from distortion and settlement.
However, Mr Brown is confident Dunedin would not be entirely cut off, given the "diversity" of roads motorists can use to get in and out of the city and says in Canterbury railway lines were quickly assessed and repaired.
"In terms of telecommunications, electricity and water, the speed at which Canterbury got those networks back in operation by world standards was pretty excellent. And we'd expect a similar capability here to get things going again."
One area of concern are the Deep Creek and Deep Stream pipelines that deliver about 60% of Dunedin's water.
Both cross the same bridge across the Taieri River and would be destroyed if the bridge failed in an earthquake.
Dunedin City Council manager of water and waste services John Mackie says while the council is "beefing up security", putting in a bailey bridge would take weeks or months rather than days: "We have other sources of water and could limp along for a period of time but there would be severe water shortages."
Power failures would put pumping stations out of action.
Businesses would need to plan for water either being out or being unfit for use in food processing.
And breaks in water mains and wastewater pipes could lead to cross-contamination, a health hazard that was experienced in Christchurch.
Many of the city's stormwater pumps are in low-lying areas so prolonged wet weather or damage to pumping stations could result in flooding, Mr Mackie adds.
"A lot of our infrastructure is parked on hills ... so assets will be not just cracked but missing - pipes, pumps, reservoirs and transport routes."
"We might get a bit of liquefaction on the flat but a bigger issue is unstable land failing in an earthquake ...
"If an earthquake damages a water pipe, the water that leaks out of that pipe only exacerbates the problem, increasing the risk of slipping."
Having enough spare parts and skilled labour to carry out repairs is another issue.
However, Mr Mackie says the industry body, Water New Zealand, quickly co-ordinated support for Canterbury after the earthquake and would do the same for Dunedin.
Dunedin's civil defence emergency operations centre, below the council's Moray Pl carpark, could be fully operational in 45 minutes to an hour, Mr Brown says.
Advisers from key disciplines would gather there and they in turn would set up their own teams elsewhere.
The assessment or reconnaissance phase was the most important because people then knew what they were dealing with.
"But of course, there are priority buildings such as the hospital, police stations, fire stations and any sites we want to use as welfare centres."
Those welfare centres could be places such as schools, the Edgar Centre, the Forsyth Barr Stadium and the new events centre in Waikouaiti.
Getting information to the public is something that is often criticised in an emergency, Mr Brown says, adding the operations centre has facilities that allow it to broadcast simultaneously over the six main radio stations in Dunedin and as audio only on Channel 9.
Information could also be disseminated via newspapers, the council website, welfare centres, community boards, neighbourhood support co-ordinators and social networking sites.
The city's large numbers of students were probably less vulnerable than most as not being homeowners, they were more mobile and being young, they were possibly capable of living in "more restricted circumstances".
As the Canterbury earthquake showed, they could also be a huge resource in helping the community.
Evidence shows that the New Zealand public are very good at looking after themselves and each other in an emergency, he says, and the idea of people "sitting in a daze or tearing around in panicked circles is a Hollywood myth".
And that self-sufficiency could well pay off. Overseas research shows that in the first hours and days after a major disaster, more than 85% of people have to look after themselves because there are not enough resources to go around.