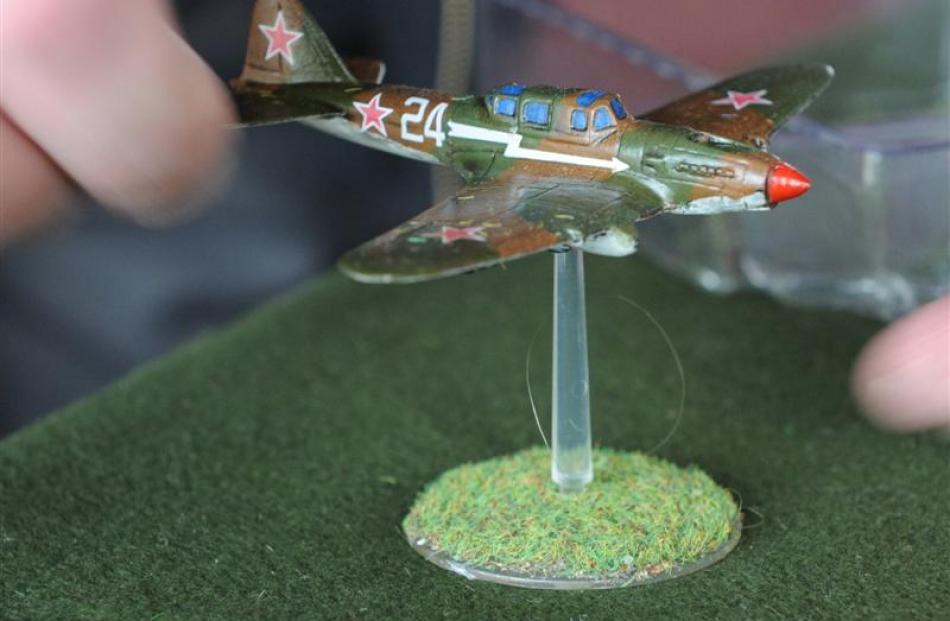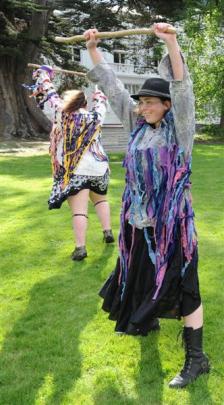 Having time on your hands can lead to all sorts of vices suggests Henry VIII. John Lewis investigates some of the more quirky pastimes that keep Dunedin residents out of trouble.
Henry VIII once said those without hobbies were prone to unhealthy vices.
The statement is a little ironic, coming from a man who loved women and food so much.
But alas, it's true.
When people are at a loose end, they will often find themselves getting into mischief of some kind, which is usually avoided by people who are working hard.
You know - the Devil makes work for idle hands, and all that stuff.
Many think Dunedin is quite a conservative society. But behind the historic architecture, the educated minds and the ''more popular'' sporting clubs, there are groups of people carving out their own clubs in pursuit of their own interests.
They may seem peculiar to much of society because few have heard of them but, like rugby, netball, tramping, chess or even kapa haka groups, they keep all sorts of personalities out of trouble.
Like the Otago Miniature Tacticians' Society, where club members build nations of armies and play war games. To the uninitiated, it may seem like a club where you can freely exercise your dictatorship desires.
To the club's 14 members, it's an opportunity to express their artistic side and learn a lot about the world's history of conflict, president Bill Kearney says.
''There's a very artistic side to it - a lot of research goes into it.
''We don't run around a paddock with a ball, but we still consider it to be a competitive hobby.
''There are competitions all over the world.''
Mr Kearney says the games are based on a set of rules, established by author H.G. Wells in the early 1900s, that are similar to those of chess - only more complicated.
''Some soldiers are built as small as 2mm tall. You can hardly see them, but they are easy to paint. Often, you can see us wearing magnifying glasses.
''They can be built as big as 54mm tall.''
Club members do not just build armies of World War 2 soldiers. They build armies of fantasy, sci-fi, American Civil War, steampunk and old-fashioned sailing ship crews, as well as scenery and vehicles to accompany them, he says.
And it's not a cheap hobby. It can cost more than $2000 to create an army of about 200 soldiers (plus vehicles and set) and most members have multiple armies.
''It's a hell of a lot of work to have it eaten by your dog - which has happened to a few club members.''
The club was established in 1970 and has members aged between 16 and the late-60s, from many different backgrounds.
Retaining club members, especially the younger ones, is not easy, he says.
''We do lose members when they get girlfriends. It's not everyone's cup of tea, but that's life.''
For those with slightly more homicidal tendencies, the KAOS club in Dunedin may be a relaxing way to keep hidden issues ... well, hidden.
Members ''have fun, kill people and drink with them after''.
Essentially, the KAOS club runs assassin games, laser tag, staged battles, road trips, pranks and reportedly ''the best parties you can have without setting a couch on fire''.
If your life is a little more joyful, and you have a skip in your step, perhaps you could join the Jack Frost Morris club - the world's southernmost performing Morris dancing club.
''Learn entertaining, energetic and rowdy English dances! Whack your fellow dancers with sticks! Absolutely NO hanky dances!'' the internet advertisement says.
Why wouldn't you join? Club president Ana Clarke says the Dunedin club has about a dozen members who meet weekly.
''Dancing is good for the health - and it's a great social event.
''It's made fun of a lot. We even laugh at ourselves. But it's good fun.''
No dancing experience is required but a sense of humour is essential, she warns.
On a more serious side, many people look for something that will bring meaning, purpose and empowerment to their lives.
Some find it at the Dunedin Shamanic Circle, which enables personal spiritual connection, healing and growth.
Shamanism involves a practitioner reaching altered states of consciousness in order to encounter and interact with the spirit world.
A shaman is a person regarded as having access to, and influence in, the world of benevolent and malevolent spirits who typically enters into a trance state during a ritual and practises divination and healing.
Members of the circle meet regularly around a candle-lit sacred space where they participate in a shamanic journey and share their thoughts and experiences.
Remember your mum making vegetable soup on a cold winter's day when you were a child?Well, now there's a club in Dunedin that does just that.
Yes, it's called Food Not Bombs.
Club member Francisco Hernandez says it has about 20 members, all with humanitarian interests in common.
The club gets together on Thursdays to make vegetable soup and then gives it away to University of Otago students, all with a simple message in mind: ''There's too much military spending in the world while people starve.
''Who would think it's a weird club? Everyone loves food - especially students.''
If you like warm and cosy, perhaps Dunedin's Orchard Sun Naturist Club is not for you.
Clubs where people can wander around in their birthday suits have existed in Dunedin for decades, but the OSC was formed in 1974 when its members wished to own their own grounds.
They found land in Green Island and spent many months establishing games courts and a swimming pool.
Unfortunately, the Abbotsford slip wiped out all their hard work, and the members had to begin again. They re-established much of what they had before, only to have vandals destroy buildings and facilities.
So in 1988, the club bought land near Middlemarch, where you can now find it - if you want to.
Other clubs and societies offering something a little different or outside the square are the Renaissance Rapier Club (the noble art of rapier fencing as practised in Renaissance Europe), Unihoc (an exciting indoor hockey game with Scandinavian origins), the Fire and Circus Club, where you can learn to juggle, hula, stilt walk, do fire tricks or ride a unicycle (even do some or all at once), and the Society of Atheists, Rationalists and Skeptics (which is dedicated to advancing rational, scientific thought and challenging outdated concepts of religion and pseudo-science).
Although New Zealand society may deem these clubs ''slightly peculiar'', they really are quite conservative when you compare them with others around the world. Frankly, there are some that are just plain weird.
There's a John Smith Club for all those who share that name, antique poison bottle clubs for all those who may emulate Lucrezia Borgia's technique for solving issues with relatives, and there's even a toilet-lovers club, which speaks for itself.
---
Eight of the ''best'' from around the globe
The Beefsteak Club - also known as the Sublime Society of Beefsteak - is a 300-year-old British club with only 24 members. Rumour has it the club is so exclusive that even King George IV had to wait until someone died before he could become a member.
Members get together, eat steak, talk about how great steak is, sing a song about steak, and even wear a badge proclaiming Beef and Liberty. Pictured is the President's Chair.
Some club membership is not limited by money, background, or a cap on the number of members allowed in.
The Giga Society has just six members - two in the United States and four in Europe. Why? Because to become a member, you have to score more than 195 on one of their accepted intelligence quotient tests. In theory, that means only one in a billion individuals can qualify.
Here's a club people are jumping out of their seats to join: The Ejection Tie Club.
All you have to do to become a member is survive being fired out of a military plane by ejection seat. It seems ironic you have to be thrown out to get in ...
The Thrill the World Club in Ottawa, Canada, is dedicated entirely to Michael Jackson's Thriller. The club's activities include moonwalking, thriller (zombie) flashmobs and eating the occasional brain.
The Obedient Wives Club is a group of Malaysian women who claim they can cure social problems such as prostitution and divorce by simply teaching women to be submissive and how to keep men happy in the bedroom.
The Association of Dead People was founded in 1976 by Indian man Lal Bihari, who applied for a bank loan but was turned down because he was dead. Despite his repeated cries to the contrary, he had been declared deceased by his uncle, who wanted his nephew's land. Discovering about 100 people in the same boat as himself, he founded the Association of Dead People to campaign for an easier process of reversing a death certificate.
Apparently, Kigus are all the rage again, and someone at the University of York in England has started KiguSoc.(In case you missed it, Kigus are Japanese onesies that look like children's animal costumes.) Their mission statement says: ''We believe there is no occasion or activity that is not improved by a Kigu.''
Dinner parties, graduations, weddings, receiving your knighthood from the Queen - who could argue with that?
Well, I'm guessing Dunedin's Orchard Sun Naturist Club may disagree.
Over the past few months, some Dunedin residents have been upset by the local authorities' failure to provide seats in bus shelters. It turns out, anger about this has spread as far as Italy. A story in the Otago Daily Times about the city's shelters, ended up in the hands of Marco Parisi, an Italian technical surveyor specialising in installation and maintenance management of bus shelters in Tuscany.
He confesses: ''I'm mostly a bus shelter lover'', and there is a worldwide group called Bus Shelter Lovers on Linkedin where people like him share everything about bus shelters.
Whether your pastime is wholesome and family oriented, or slightly outside the square that society calls ''normal'', good old Henry VIII says it doesn't matter. The text of his song Pastime With Good Company provides a moral justification for all this merriment: company is preferable to idleness, for the latter breeds vice. If there is one thing that all of these clubs and societies have in common, it is that their members genuinely believe their hobbies are normal.
---