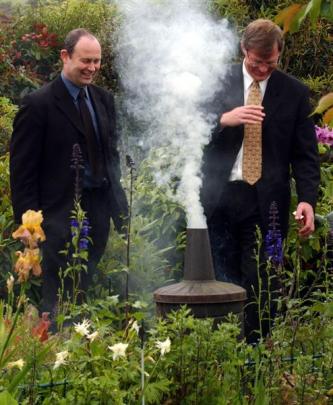 Graeme Martin has been described as everything from a compassionate, principled, visionary genius to an inflexible, stubborn, demanding taskmaster. Bruce Munro examines pieces of the puzzle that make up the influential, complex and soon to retire chief executive of the Otago Regional Council.
"I shan't forget a very large fist waved very close to my face" Graeme Martin says.
He is sitting in a comfortable chair in a corner office with city, harbour and peninsula views.
Three hundred and sixty kilometres and 45 years separate him from what happened that day in the Addington railway workshops.
But there is no denying the edge to his voice.
"A fist waved in my face because I was working too hard."
It was an important lesson for the young man, but more of that later.
When Mr Martin closes the office door behind him on November 2, he will be six months shy of 20 years as chief executive of the Otago Regional Council (ORC) and the second-longest serving regional council chief executive in New Zealand. He'll also be a week shy of 64.
Regional councils nationwide were in their infancy when he took up the role in the first quarter of 1993. Since then, the ORC has grown to become an organisation with assets worth $430 million, including the $271 million Port Otago, and an annual budget of more than $32 million.
Its 10 elected councillors plus a chairman and 130 staff and the chief executive oversee policies and regulations that affect such fundamental aspects of life for Otago's 201,700 residents as air quality, water quality and allocation, land use, coastal activities, land transport, pest management, and natural hazards such as floods, droughts and soil erosion.
During the past two decades Mr Martin has taken a leading role advising on ORC policy and ensuring its implementation across the full gamut of Otago's varied and significant natural and physical resources.
On his watch, the ORC was the second regional council to establish a fully operative water plan and the first to have a full suite of statutory plans covering water, air, region and coast.
Among myriad projects and programmes, Port Otago's property holdings were established as Chalmers Property, which has invested in Auckland and Hamilton property worth more than $60 million; an insulation and clean-heating subsidy programme has run in towns with air pollution problems; databases have been created to aid the region's economic development; public transport has begun in the Wakatipu basin; and management of water resources is being devolved to communities.
Ministerial appointments have seen Mr Martin reviewing roading funding, advising on pest management and heading the South Island high country land tenure review.
Nationwide local government roles have included developing a management strategy for varroa mite, and being the spokesman for the RCD (rabbit calicivirus disease) Applicant Group.
In all of this, Mr Martin has earned staunch supporters, vehement opponents and more than one convert.
When ORC chairman Stephen Woodhead was a newbie at the council table in 2004 he thought Mr Martin was "inflexible and too hard at times".
But through working closely with him, particularly when Mr Woodhead became deputy chairman in 2007 and then chairman in 2010, he gained a rather different take on his chief executive.
"I now understand that he puts an enormous amount of time into research and thought when dealing with issues," Mr Woodhead said.
"He's a magnificent ... strategic thinker and innovative problem-solver who understands the long-term drivers of communities."
That thinking and those solutions are always strongly expressed, Wellington-based Murray Sherwin says.
Mr Sherwin is now chairman of the New Zealand Productivity Commission. But as the chief executive of what was then the Ministry of Agriculture and Forestry, he used to meet quarterly with Mr Martin and other regional council chief executives to thresh out resource management issues.
"Graeme consistently demonstrated a deep knowledge of, and strong commitment to, issues of water and soil conservation, and their place in the promotion of sustainable economic growth in the region," Mr Sherwin said.
"We could count on him to have a view - strong-minded and independent, forcefully and effectively expressed - but also ready with a pragmatic solution to the problem of the day."
Farmer and long-term Maniototo Irrigation Scheme chairman Geoff Crutchley's first contact with Mr Martin was in the early 1980s when the latter was head of the Ministry of Work's regional water and soil division. It did not begin well.
The government scheme to irrigate the Maniototo had collapsed, abandoned 40% complete, Mr Crutchley said.
"We were pretty grumpy and he was in the hot seat. We did have some arguments ... It was a difficult time," Mr Crutchley said.
But then, when a truncated irrigation scheme ran into more difficulties a couple of years later, Mr Crutchley said he found Mr Martin "very helpful".
Their interactions continued.
The farmer now rates the chief executive "second to none" on water issues.
"He's done a hell of a good job ... I think they [the ORC] are further down the right track than any other regional council," he said.
It is not that the man himself has changed, former Port Otago chairman John Gilks says.
Mr Martin always resisted pressure from councillors for him to be appointed to the port company's board - which would have blurred lines between council ownership and management of Port Otago - and always had a clear appreciation of the need for the port to be operated as a successful business, Mr Gilks, who was Port Otago chairman for 11 years from 1999, said.
"In many ways he was an ideal person for the role - intelligent, willing to work with the detail of the legislative framework, but also a pragmatic commercial person," Mr Gilks said.
"No. The Graeme I was introduced to was the same Graeme who spoke at my farewell."
ORC councillor Gretchen Robertson, however, points to a sea-change moment several years ago.
In 2005 it was reported former employees blamed Mr Martin's authoritarian management style for the council's high staff turnover at that time.
Mrs Robertson, who had been a council employee in 2001 and was elected to council in 2004, said Mr Martin responded by apologising to staff.
"Graeme spoke openly to staff in the tea room ... [and] apologised for coming across too strongly, for being too demanding," Mrs Robertson said.
"I respect anyone in a position of power who is willing to take a close look at themselves and say 'I could do this better', then goes on to prove they indeed can."
She also says in apparent contradiction to his "very strong leadership style" and "intimidating" persona he has been "a pillar of strength and support" to staff and councillors facing personal crises.
"When health issues entered our family's life Graeme was there, an arm around the shoulder, offering any support he could give."
It is a congenial and reflective Mr Martin who sits in his corner office of the ORC building in Stafford St, Dunedin one afternoon, less than a month before his retirement.
He has been recounting growing up in beautiful rural Nelson in the 1950s and '60s.
The second of four children, whose father was an orchard worker, he recalls as a young "hard science" scholar being given an appreciation of physical geography by his fifth-form geography teacher, Mr Bulett.
At 16 he was inclined to leave school and take up an auto-electrical apprenticeship, but his grades were good enough to see him off to the University of Canterbury on a New Zealand Railways scholarship to study mechanical engineering. And so he comes to the end of his first year at university, three weeks into a summer of work at the railway workshops, when he was intimidated by a threatened worker.
"It was the hardest thing - to look busy while I wasn't," he recalls.
It was a defining experience.
He switched to a bachelor of science degree, majoring in physics. Efficiency, effectiveness and efficacy became a guiding mantra.
After graduating, he was employed by the Ministry of Works and Development as a hydrologist.
And while many other issues have occupied him during a 15-year career with the ministry in the 1970s and 1980s, followed by roles as chief executive of Nelson-Marlborough Regional Council and Plunket in the early 1990s, ministerial appointments at various times and his 19 years with ORC, it is his work with water that repeatedly bubbles to the surface of conversation.
His position with ORC has in fact been three jobs, he says.
"I wouldn't still be here, if it hadn't been."
The first was getting the fledgling organisation "seriously established and moving ahead".
The next job was implementing the new laws, such as the Resource Management Act, in an Otago context.
"And the third, which is the only reason for the first two, is to enable futures".
Take, for example, water, he says.
In his opinion Otago, almost more than anywhere in the world, had turned its back on water.
"In the goldrush era water served a utilitarian role, rather than an aesthetic and valued role.
"A lot of water law came out of gold mining and continued that way for almost a century"Now it is cherished ... It's required a big mind shift to get to where we are today."
That turnaround, like all the council's achievements, has entailed opposition and conflict, he says.
The council's Otago sesquicentennial and millennium projects to link people to water - such as Dunedin's Customhouse Quay, the Arrowtown walkway and Alexandra to Clyde trail - were all opposed before becoming "runaway successes".
"That's why you have to be philosophy and values-driven. A lot of things have been opposed which people wouldn't be without now."
And the aim of it all is to create a better tomorrow, he says.
The council's water plan, and recent changes to it, are designed to let communities manage their own water resources in a sustainable, flexible way that facilitates economic growth.
"It is different to where others have gone," he says.
"It is important we do what is good for Otago, and do it Otago's way.
"Rules and regulations normally lock people into a straitjacket. We want the direction clear and the detail open to allow tomorrow to happen, because we don't know the detail of tomorrow today."
Basil Chamberlain has known Mr Martin for more than 30 years. The chief executive of the Taranaki Regional Council since its inception in 1989, agrees Mr Martin is a complex character and says "he is not a simple man to get to know".
But the man he has come to know is a principled, highly intelligent, strong advocate for Otago.
"I don't think Otago people might appreciate how staunch he has been for Otago," Mr Chamberlain said.
"He played some pretty hard D [defence] for local decision-making and for frameworks that best serve Otago."
In the face of opposition he had always had the courage "to take things forward".
"Time will tell whether some of those decisions are right," Mr Chamberlain said.
"In a lot of things there isn't a right and wrong. But having made a considered decision you have to make it work."
Characteristically, Mr Martin sees it a bit differently.
"There is nothing we've needed to recant or withdraw. To me that's the success," he says.
"For staff and councillors it's not easy. The hard thing is to do what is right for our community."
And what has it been like as chief executive walking that path?
"It's been an enjoyable challenge. At times it can hurt, and it can hurt a lot."
He dismisses any talk of a legacy.
"I don't want a legacy. There are regional council achievements of which Graeme Martin is pleased to have been a part of the team.
"I've thoroughly enjoyed the privilege of working with this council which is open to such a visionary, parochial approach."
Mr Martin says he has willingly given the job 110%.
"In our marriage I am the bigamist. Velma married me, I married her and my job. It's not necessarily the best way."
So once he hands over the reins to New Zealand Seafood Industry Council former chief executive Peter Bodeker on Friday, Mr Martin plans to be "110% out of here".
There is a tendency in all of us to return to our roots, he says.
For Mr Martin that means retiring to 5ha of land at Earnscleugh where he has been planting an orchard.
"It's just to entertain me. There will be plenty of fruit to give away to friends. The birds and the bees can have the rest."
But it does not mean stagnating. He also plans to travel and to dust off the golf clubs, kayak and fishing rod.
"I'm looking forward to retiring - to Velma and I doing a few more things together.
"Time still has to be in short supply. Just what you do with it is different."
---
A brief work history
1969 to 1986 - Ministry of Works and Development water and soil research and management in Christchurch, Whangarei, Wellington, and Dunedin.
1987 to 1989 - Otago Catchment Board general manager.
1989 to 1992 - Nelson-Marlborough Regional Council chief executive 1991 to 1992 - Ministerial Review of Roading Funding chairman 1992 to 1993 - Royal New Zealand Plunket Society chief executive 1993 to 1994 - Ministerial Review of the Sustainability of New Zealand's South Island High Country chairman.
1993 to 2012 - Otago Regional Council chief executive 1994 to 1996 - South Island Sustainable Land Management Research Advisory Committee chairman.
1997 to 2003 - New Zealand Pest Management Strategy Advisory Committee member.