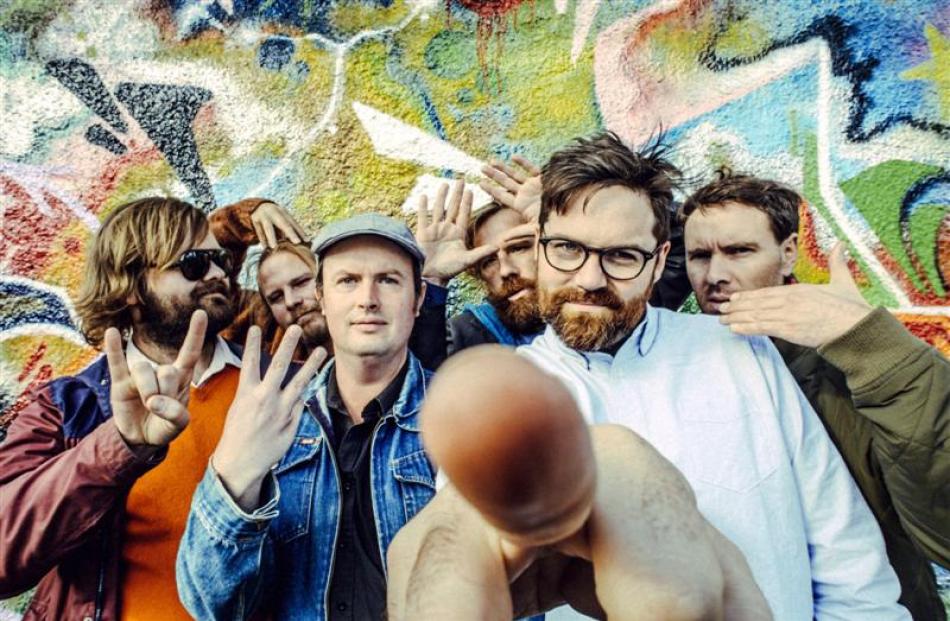 Don't judge an album by its cover. The Phoenix Foundation's sixth studio effort is a defiant statement of intent from New Zealand's enduring sonic voyagers, writes Shane Gilchrist.
Luke Buda has just downed two strong coffees in quick succession.
And though he concedes (via the phone from Wellington) that such consumption might prompt him to ''digress a wee bit'' on the issue of exactly why he and his Phoenix Foundation band-mates named their latest record Give Up Your Dreams, he manages to stick to the topic rather ably.
''There's never been so much angst in the band about naming something,'' Buda discloses.
''People were scared, saying `what if others think it's the end of the band?'.
''We had a few names floating about and, of course, we had the song Give Up Your Dreams and we were joking about it. Then there was just a moment when I thought, `f*** we've just got to call the album this'.''
Buda likens the band's internal debate to a form of self-help.
The result has been a clarity of sorts or, as he puts it, a fresh perspective at least.
He is referring to musical dreams not so much shattered as, perhaps, shelved.
''The honest truth is [2010 album] Buffalo did really well for us in the United Kingdom and I'd be lying if I didn't say we thought we'd set ourselves up for the next level.
''By that, I don't mean Wembley; just playing some slightly bigger shows and festivals and, instead of paying money to get to the UK, perhaps coming back with some money.
''But Fandango came out and didn't do anything over there. It was the first time in our career that the latest thing we'd done was less successful than the previous.
''Up until that point, things had been building,'' Buda says in reference to a hectic few years following Buffalo, which earned the Phoenix Foundation a Recording Industry Association of New Zealand (Tui) award for best group in 2010.
On Buffalo's release, the group signed to UK label Memphis Industries and toured Britain and Europe regularly, including appearing at the 2011 Glastonbury Festival, and performing in influential television show Later With Jools Holland the same year.
''We ended up selling about 17,000 copies of Buffalo in the UK, which is a minor commercial success.
''But, with Fandango, we lost ground.''
Buda laments.
''When it didn't make it on to any playlists, that was when I thought, oh ...
''I was 34, had two kids, and went through a bit of a dry patch in terms of other work, including soundtracks so, suddenly, it was really hard to pay the rent.
''I went into a bit of a dark place.
''Fellow Kiwi musician Lawrence Arabia [aka James Milne] was on tour with us in the UK at the time and said, 'hey guys, I gave up my aspirations ages ago and it's really liberating'. In a way, that's what the album is about: accept what you've got and be happy with it.
''Of course, that's kind of a lie, because I still have aspirations.''
Ah, retrospect ...
Fandango, the Wellington-based outfit's 2013 release, might have contained more than a few echoes of the mixture of prog-rock, psychedelia, melancholic folk and ethereal pop found on 2003 full-length debut Horsepower, 2005's Pegasus, 2007 effort Happy Ending and 2010's Buffalo, yet it was a double album stretching almost 80 minutes, including an 18-minute-long closing song (about six times longer than the pop standard).
And pushing the boundaries of song length is unlikely to prompt interest from radio programmers, particularly in the UK.
''While each album has had its own sound and identity, most have been what critics might describe as a 'slow-burner', in that they need repeated listenings before they open up. This time around, I just wanted to do something that bursts out of the speakers and says `hello, here I am','' Buda says.
''Of course, we're never going to get commercial radio success. Listen to commercial radio and the sound is getting narrower and narrower. It's a results-based philosophy, which seems to run across every facet of human existence these days.''
Buda pauses.
''Can you hear the disgust in my voice?'' he asks, although it is more statement than question.
''There's less and less room for anything interesting in mainstream culture. I think we've embraced the idea of chasing interesting music rather than being some mature, alternative song band, if you know what I mean.''
It might not be a complete U-turn, but Give Up Your Dreams does offer more than a few contrasts with the Phoenix Foundation's previous releases.
''Because I seem to be the one who deals with disappointment in the most visceral way, I was desperate to have this album sound different,'' Buda explains.
''And the best way to do that is to shake up the process of songwriting.
''There is a deliberate attempt to make something different to what we've done before. There are many reasons for that, one being that this is our sixth album.''
Thus Buda, fellow key songwriter and singer Samuel Flynn Scott and Conrad Wedde (keyboards, guitar) took their lead from Chris O'Connor (drums), who plays in a range of other bands, ''including some really far-out stuff such as improv-jazz'', and Tom Callwood (bass,vocals), who performs in Wellington's experimental scene.
''Chris has an incredible ability but is just so interested in other aspects of music. If you ask him to just hit the hi-hat at the beginning of the bar for 10 minutes as an experiment, then that's what he'll do.''
• Whereas Fandango was recorded in no fewer than four studios, the Phoenix Foundation used just one for Give Up Your Dreams.
It was their own Wellington base, dubbed the Car Club HQ Jam-vibe.
Still, the clock was ticking.
''Everyone in the band has other projects. We all do whatever we can to remain full-time musicians,'' Buda says.
''Because we are all so busy, we have realised that time and energy are not inexhaustible.
''As we all approach 40, with no financial security, in a way we'd be silly not to think about that stuff. It's not the driving force, but you do have to think about the ramifications of what we are creating. My main measure of success is continuing to do what we do.''
The result is a collection of lean, cyclical rhythms a la kraut-rock, driven by a methodology clearly less interested in traditional pop-rock song structures.
Instead of verse-chorus-bridge arrangements, many of the shifts within songs come in the form of modulation.
The title track is a good example, Buda and company transposing the verse for a few bars before dropping back to the original key.
And in doing this, they don't sacrifice the feeling of sparseness.
''I'd always started with chords and a melody. But this time, my manifesto was to not do it the way I'd done it before. It wasn't so much a case of 'no acoustic guitars'; it was more to do with the fact I didn't use an acoustic to write the songs.''
In the absence of acoustic guitars (a la 2007 single Bright Grey), there are cool, clean electric guitar phrases, staccato synthesisers and restrained washes of vocals. It is an interesting mix of space and syncopate clutter.
All of which begs the question: has Buda been listening to much Brian Eno or Thomas Dolby of late?
He laughs.
''Of course. I always put Brian Eno on around bedtime to calm myself and the kids down.
''I suppose it's the done thing for a lot of musos these days, but I do listen to a lot of '70s German stuff. That stuff is so timeless, because they existed in their own bubble and were trying to make the most interesting music.
''Listen to Kraftwerk. It still sounds so potent. That's very inspiring.
''The thing about building things up from a groove or a motif, versus having a bunch of chords, is that you have to keep a certain sound in mind. The song might be about the relentless synthesisers and is therefore mixed around those.''
So, what next? Any big tours planned? Is Europe on the agenda once again?
''I don't know,'' Buda says.
''I think we'll just try to wipe the slate clean and have no expectations at all.''
That said, he has been buoyed by initial reaction to Give Up Your Dreams.
''I suppose because we have tried something new ... and all the songs are fairly short in comparison to Fandango.
''We are definitely going to Aussie, because we haven't really looked after that aspect much. Europe is pencilled in, but we'll have to see because it is really expensive. It would be a bummer if it didn't happen as the band is playing really well.''
Buda says New Zealand fans can expect a tour next month, ''because Sam's second child is due around the time of the album release''.
For the record, that was yesterday, his/her imminent arrival likely to add yet another element to the Phoenix Foundation members' evolving sense of perspective.
In the meantime, another gestation process has been under way. Buda and Scott have been putting the final touches to a new album (scheduled for release early next year) by New Zealand veteran troubadour Dave Dobbyn.
''We've produced it in the old-school sense. We've done a little bit of songwriter stuff with him, played on it and I think it's sounding great. But I would say that. Still, he seems pretty happy.''
Post-Fandango disappointment aside, Buda has actually had quite a good year: there has been the project with Dobbyn, a film soundtrack collaboration (with Wedde and Scott) and enough other work to keep the bank at bay.
''It's been a nice surprise, thankfully. But I now know that I can't count on it.
''That's the thing about this industry. You just don't know what's going to happen.''
---
The album
• The Phoenix Foundation's sixth album, Give Up Your Dreams, is out now.
• The band plays Sammy's, Dunedin, on September 25 and The Sherwood, Queenstown, on September 26. 
---