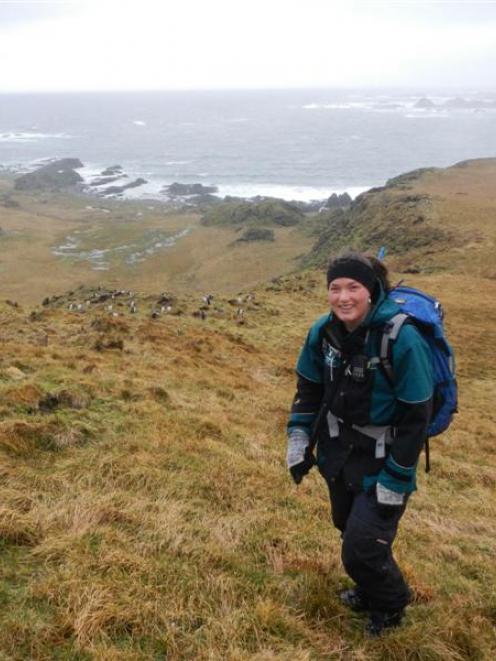 Former Class Act recipient Kelly Smith has traded Central Otago for a remote windswept island in the Southern Ocean. Kim Dungey reports.
Northern giant petrels are nesting, the royal penguins have shown up and the first elephant seal pup of the season has just been born. It's little wonder Kelly Smith sometimes feels like she is "living in a documentary".
The former Otago Daily Times Class Act recipient is a hunter on Macquarie Island, a remote and windswept speck of land in the vast Southern Ocean.
Located halfway between Australia and the Antarctic, the island has World Heritage status and is the only place on Earth where rocks from the earth's mantle are actively exposed above sea level.
Macquarie supports large congregations of wildlife, but rabbits and rodents have caused major problems, so the hunters are there to shoot and trap any which might have survived aerial baiting.
Smith and her fiance (also a hunter) are employed by the Tasmanian Parks and Wildlife Service.
In an email from the station buildings, Smith says they remain vigilant despite seeing no sign of pests in the past year.
Walking about 15km a day, the teams include dogs that have been trained to detect rabbits.
GPS equipment logs the hunters' tracks and thermal imaging allows them to inspect the most inaccessible slopes.
"The plateau is like walking on exposed mountain tops ... and around the edge of the island is a mix of rocky beach, boulders, tall tussock ... and an area we call feather bed, which is like a floating layer of vegetation and very soggy," she says.
Staying in standard huts and converted water tanks, the hunters spend their evenings playing cribbage and 500, knitting socks and hats, and engaging in "VHF radio banter between the Kiwis and Aussies", the former Cromwell College pupil says.
Although there is no fresh food, they are creative with their cooking, and bake bread.
Showers consist of a "bucket wash, with wind chill".
But there is plenty of warm water, which is especially welcome if she has had a "close encounter with a seal wallow or a sloppy penguin colony".
A boat due soon will bring a few Christmas presents and a few more scientists for the summer.
The 25-year-old will return to New Zealand and look for work in conservation when her year on Macquarie is up in March but is enjoying the island experience.
"Being isolated, living and working in windy, wet weather every day and not having fresh food a lot of the time is a challenge.
"But the wildlife here is amazing and the aurora [southern lights] are absolutely incredible."