It can pay to dwell on the not-so-positive if you want to get things done, says Liz Breslin.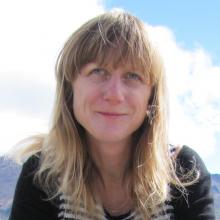 I am grateful for ... I am grateful to ... Fill in the gaps and breathe out wellbeing.
Gratitude is good for you. It's true. I read it on at least three websites just now, with pictures of serene beings stretching their faces sunwards, smiling. Of course they're smiling.
Someone scientific somewhere reckons that grateful people live more positive lives and sleep better and all that good-for-you stuff.
But sometimes gratitude is like kale. Like so what if it's the superest thing ever? Sometimes you just don't want kale.
One of my favourite films of recent years is Inside Out.
Set inside the brain of a 12-year-old, it's a balancing act between Joy, Sadness, Fear, Anger and Disgust.
Joy has to learn she doesn't rule the emotional roost, because, so goes the moral of the story, happy happy joy joy is not, on its own, all that sustainable.
Gratitude is not the only fruit. Sadness gets to tint memories a comforting shade of blue. Fear and Disgust are suitably anxious and condescending. But it's Anger who really gets stuff done.
The same people who've done the rainbow kale gratitude surveys also have surveys that show that Anger shouldn't be standing with Fear and Disgust as representatives of negative emotion. 
Anger, it seems, can give positive results. It's a motivating force when it's not being a destructive one.
Studies by Neus Herrero at the University of Valencia in which his team "made 30 men angry through the use of 50 first-person phrases" (I know so many people who would enjoy that job) showed that the angry men got all left-hemisphere-lit in their brains. 
They were wired towards action, towards the thing that made them angry, towards a solution. Their cortisol/stress levels also reduced.
See. Be grateful for anger, men. It makes you less stressed, as well as tough and leader-like. 
Women, not so much.
A 2015 study in the United States, using a set-up hung-jury scenario, showed that angry women are often labelled, and dismissed, as emotional and irrational. Better off with gratitude and kale.
Man, I am grateful for these people and their surveys.
Sport is supposed to be a great outlet for anger.
And I am so grateful, so very grateful, this month, for the opportunity to watch people doing  lots of sporting things with balls, or wheels, or sails, or just their body parts.
I am grateful that all this money is put into aspirational sport so that me and my family can sit around and watch loads more television than we usually do and think about being inspired to try all the ball, wheel, sail and body-part things if we had the resources and when we've stopped ad-break channel surfing.
Oh no, wait, I am angry. I'm angry about the Olympics.
Why the whole world stands marvelling at someone running very fast for a very short time while Fear and Disgust lurk outside.  Why don't we gasp at the tear-gassing and poverty? For that matter, why don't we watch important things? Stop and crowd around screens for an important Bill reading in Parliament? (No, better we just let them watch us, clearly.)
It's OK. It's all good. I'm letting Anger drive for a while.
More and more women are, apparently. With no obvious outlet, despite all the sport on offer. Interesting times.
Breathe, breathe. Back to the calming facts: people who keep gratitude diaries eat about a quarter less fat. And get about a quarter less stressed. And are probably a quarter more privileged. At least. Because they have time for diarised gratitude. And I'm angry about that too.
The gratitude attitude can so easily tip into smug self-satisfaction, known, in our family, as "I'm all right Jack". 
Pulling up the ladder and revelling is all well and good for life's minor annoyances, but even if our gratitude is pure as a pristine athlete's drug test, the state of the world today requires much more than collective mindfulness to tilt it right. Humming along, blase and grateful, can leave us more and more out of touch with some pretty scary realities. We need to be down with our mad selves, get connected, get creative.
Get angry, go on.