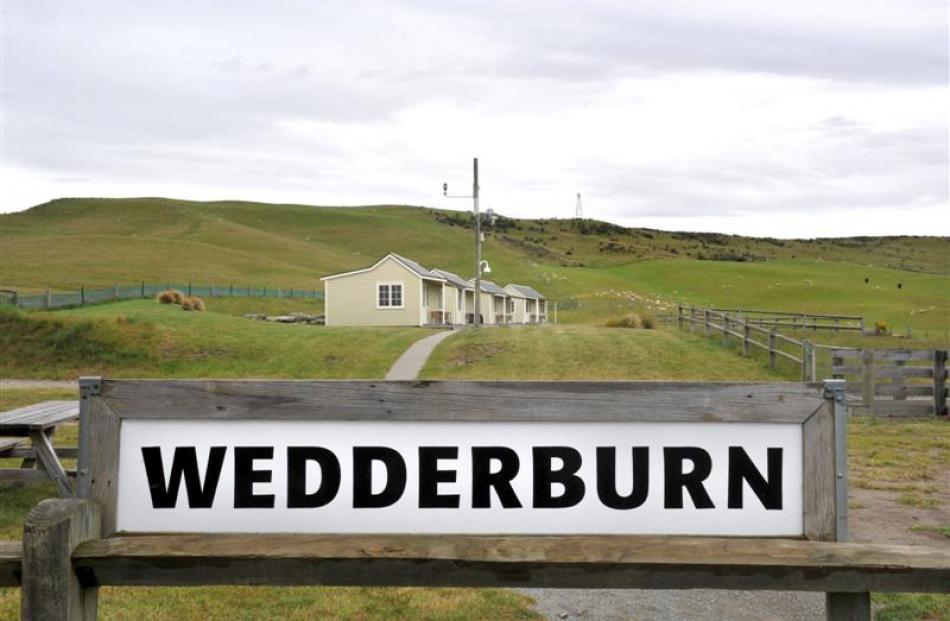 An enterprising Central Otago farming family has diversified to successfully add tourism to its busy business operation, as Sally Rae reports.
Life is just busy enough at Penvose Farms.
Ask Stu and Lorraine Duncan how they balance a wide-ranging farming operation in the Maniototo with a successful tourism venture, family life and even civic duties, and the answer comes quick.
''Bloody hard at times,'' says Mrs Duncan, a calm and capable woman who appears the perfect foil for her dry-witted and ever-thinking husband.
Stu Duncan is a fourth-generation farmer on the block at Wedderburn that was taken up by his forebears in 1894.
Additional land has since been bought and the enterprise now encompasses 2000ha, running sheep, deer and beef cattle, including an Angus stud.
Penvose Farms is home to both Mr and Mrs Duncan, and their three children, Ellie (14), Mitchell (12) and Todd (9), and Mr Duncan's parents Graeme and Alison, who remain an integral part of the operation.
''We'd be buggered without them,'' Mrs Duncan said simply.
The couple also instigated an ownership group for a Maniototo dairy farm, milking 1150 cows, in which they were equity partners.
Not content with just farming, the family has a successful and busy accommodation business, Wedderburn Cottages, the largest accommodation provider on the Otago Central Rail Trail.
It has grown to be ''massive''; the equivalent business of an average-sized farm on the Maniototo and its potential was still huge.
But along with that, came a lot of work and managing, Mr Duncan said.
Last year, Mr Duncan was elected to the Central Otago District Council, representing the Maniototo ward, after an earlier stint representing the community's interests on the Maniototo Community Board.
Not shy of voicing his opinions, he preferred his involvement with the council ''because you can make real decisions at council'', he said.
So when it came to juggling all the different balls the family has in the air, Mr Duncan said it was all about having systems in place.
Laconically describing them as being ''half-pie organised'', they took a ''whole herd'' approach to farming and had very simple systems.
''We're not as probably finickity about farming things as we should be. I don't sweat the wee stuff. If I don't get the last sheep out of the corner of a block, I don't throw the toys out.
''A lot of farmers over-farm. That might sound like I'm lazy. At the end of the day, it is what it is.
"It's all about growing grass. If you grow grass and grow crop, it's much easier to farm than without it,'' he said.
The work involved in farming was a lot easier now than it used to be; sheep could be vaccinated for 100 days, they could be put through a dip to get rid of fly strike, and machinery was big.
They had replaced their labour intensive K-line irrigation with pivots, they got contract lamb markers in, they had their own machinery and could ''move quite quickly'', and their stud cattle were run as a commercial mob.
Modern communication methods also meant that ''everyone knows what everyone's doing'' on the farm, Mr Duncan said.
''This place only needs to be secure for droughts and winter and it will function. You've got to isolate yourself from adversity, you've got to make sure the financial knocks aren't going to hurt you for too long. You've got to spread that risk out,'' he said.
He was not a details man but what he was big on was ''is this going to work or not?'' He has always had a ''have a go'' approach and embraced ''modern stuff'', which included looking at the likes of grazing lupins.
In fact, his wife reckoned he never stopped thinking; ''and he talks in his sleep'', she said ruefully.
A talented athlete in his youth, Mr Duncan was New Zealand secondary schools' hurdles champion and New Zealand junior men's champion.
He was in the development squad for the Commonwealth Games in Auckland in 1990, but was not selected.
After the Games, he headed to the United Kingdom on his OE, returning when the family farm had virtually doubled in size with the acquisition of more land.
When the Wedderburn property, on which the accommodation business is sited, was bought, the rail trail had not started.
Mr Duncan was enthusiastic about the potential of the initiative when it was mooted, having seen rail trails in England. In the historic town of Ludlow, where he was living, he would see people cycling ''all the time''.
It got him thinking about what it would mean for Central Otago, even if people just stopped for an ice cream or a bottle of water.
''To me, Central had everything - but people,'' he said.
They opened the 1928 homestead on the farm, now known as The Lodge, for accommodation and the bookings started to flow.
''It was nuts,'' Mrs Duncan said.
Business continued to grow and they had to learn to cater for their visitors.
Self-contained cottages were added to the site and, last year, they accommodated about 5000 people.
The business was diversifying from not only rail trailers, but also road traffic - agents and sales reps, people building pivots.
The winter market was also growing.
Finding staff for the business was difficult.
''The seasonal thing hasn't really kicked in here. It works good in Queenstown, but we're not Queenstown,'' Mrs Duncan said.
It worked well for women with children but then they ''all want to go to the same things'', she said.
But the rail trail meant they got to meet some ''amazing'' people and it had also been good for their children who realised that meeting people and selling something was ''quite a concept'', Mr Duncan said.
''I look back on it and it's quite funny. Not many people in farming will say you've done a good job.
"That's the difference in the rail trail now . . . every day you get told what an incredible job you're doing. It's a lot different to 'he's got poor hoggets','' he said.
With daughter Ellie now at boarding school at Columba College in Dunedin, Mrs Duncan thought it might make life a little less busy but that had proven wrong.
Ellie was an accomplished sportswoman, competing in the New Zealand secondary schools athletics championships.
She also made Columba College's 1st XI hockey team as a year 9 pupil.
The boys loved farming and both could drive a truck and tractor ''and they can do any job you want on the farm'', their father said.
Family succession, which had ''never been touched'' in some families, was something he talked about regularly and had been dealt with.
The family was good at communicating, he said.
Because he had spent time away, Mr Duncan said he had realised that home in the Maniototo was ''not a bad place to work''.
''I probably value it better than most,'' he said.
He relished the ability to head down to the local pub, have a beer and a yarn, and be able to make a good living.