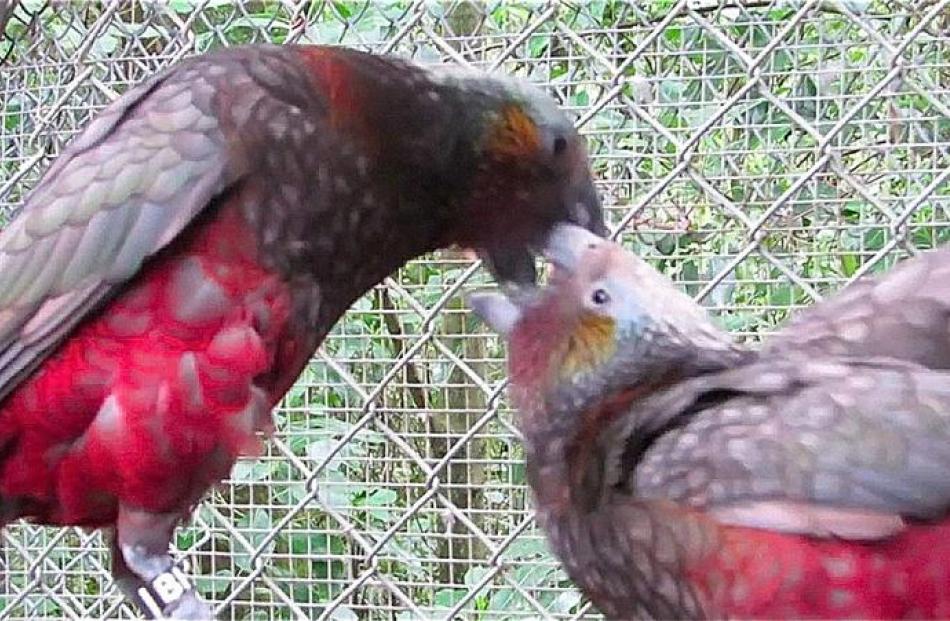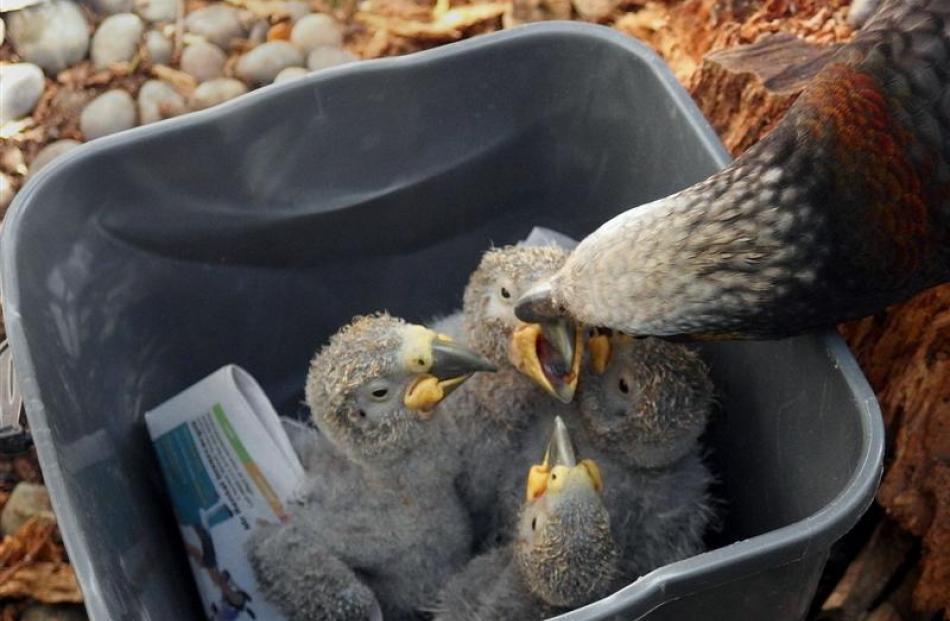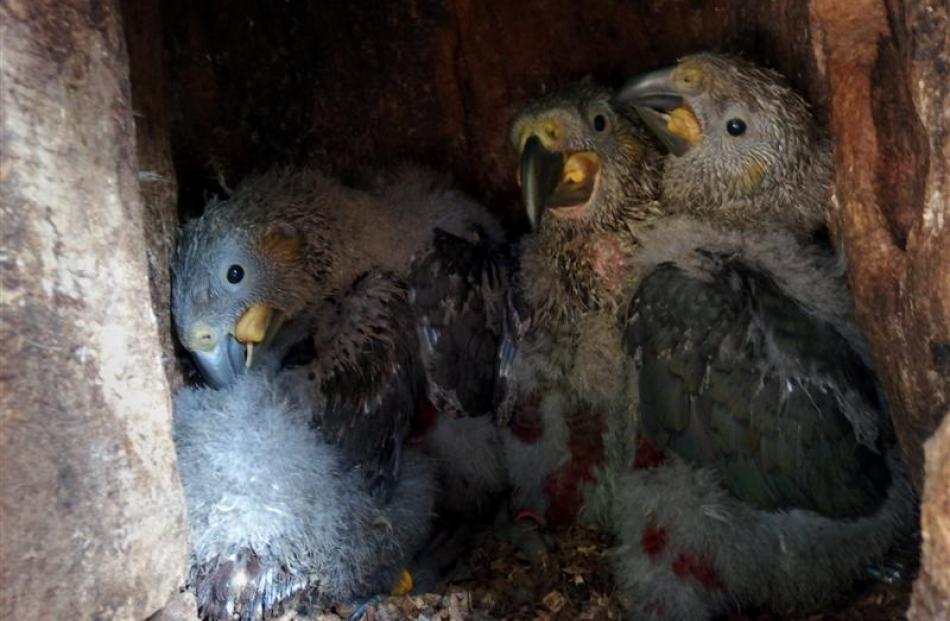 Alyth Grant recently visited Bush Haven, near Invercargill, a private aviary run by dedicated couple Russell and May Evans. In the past couple of years they have raised and forwarded to Orokonui Ecosanctuary four young kaka now living there in the wild. 
In a flurry of wings and the flashing of scarlet underparts, Casey the kaka male dives for the proffered food, eager to take it in as quickly as possible to prepare it for his impatient mate, who has left her four chicks in their nest to restock her own pantry.
They can hear her above them and are calling already for their next feed.
It is a ritual repeated throughout the kaka world at this time of year, but here there is a difference.
This kaka pair are in an aviary, their nest in a hollow log provided for them, and their food not garnered from the surrounding bush, but mixed for them by Russell Evans of Bush Haven, Otatara, near Invercargill.
He and his wife May have been breeding parrots for decades.
Included among them are native red-crowned and yellow-crowned kakariki, and kaka.
They are also often asked by the Department of Conservation to care for injured birds, most frequently kereru and tui.
Long experience has led to expertise, enhanced by that of their daughter Lisa, a qualified vet.
Among their success stories is a kaka named Lisa, which was able to be returned to the wild at Orokonui.
The Evans' laundry has been converted into a small hospital with individual cages for sick birds.
Russell's inventions ensure the birds' comfort and hygiene.
Under each cage is an electric frypan warming it, while temperature and humidity are monitored by an electronic weather station.
A feeding regime ranging from liquid food from a dropper, through puree to solids ensures that correct, strengthening nourishment supports the healing process.
Birds that have been rehabilitated and released often return to partake of the food Russell prepares.
On my arrival, 10 dishes were being filled, and a kereru was already waiting in the apple tree near the kitchen door.
But at present it is the hatching of four kaka chicks that is the primary cause for excitement.
A sibling pair, the offspring of rehabilitated birds housed in the Queen's Park aviary in Invercargill had lived at Bush Haven for seven years.
When one died of natural causes the other was clearly so lonely, always calling for her sister, that Russell and May asked Doc if there were another bird available.
There was, but it was male.
They could have it provided that they extended the aviary, a daunting and expensive task.
But help came unexpectedly from Fonterra, which took it on as an employee team-building exercise.
So the new bird arrived to a palatial home and within just a few weeks the two birds began breeding.
In 2014 one chick, named Rusty, hatched, then in 2015 a clutch of three.
Rusty, and the two males from the second clutch were all sent to Orokonui for release, in the interests of restoring a gender balance to the Orokonui population, which had more females than males.
But what of the new chicks?
Yes, I got to see them, funny, scrawny little things still, so young that nobody knew whether they would all survive.
Casey and Hannah are good parents, however, with the help of friend Russell's nourishing food mix, which contains peas, corn, rock melon, pears, apples, grapes, bread soaked in ''Tui-mix'', sultanas, dates, sunflower, safflower and canary seed and oats!
During kaka breeding the female is fed by her mate, both during incubation and after the clutch has hatched.
This is not a process that humans would normally get to see, but to my delight here it was, an open performance.
Casey launched himself at the food dish with great excitement, while Hannah snatched a bit on the side when she could.
It takes a little time for the food the male ingests to be ready to pass over to the female, but that process soon began, on a flat wooden slab above the nest.
From there Hannah returned to pass on the food to her chicks, safe at the bottom of the hollow log.
The success of the combined bird and human care is evident in the latest pictures of four healthy chicks!
• Alyth Grant is a volunteer at Orokonui Ecosanctuary who has had the joy of feeding Bush Haven birds and seeing them released for life in the wild. Thanks to May and Russell Evans of Bush Haven for all their information and hospitality.