Orokonui is on high alert, preparing for the imminent arrival of its famous guest, Sirocco the kakapo. Bronwyn Jeynes, of the Kakapo Recovery team, tells the back-story of how he came to be the survivor and remarkable personality he is. 
Sirocco is a name well known around the world. Sirocco was launched to stardom following his appearance on BBC documentary Last Chance to See when he mated with zoologist and presenter Mark Carwardine's head. The clip went viral on YouTube in 2009.
In 2010, he became the official spokesbird for conservation, he has over 200,000 followers on social media, and he is the face behind the popular ``Party Parrot'' meme. However, Sirocco's true character and life story is a lot less glamorous and is, at its heart, the story of a species on the brink of extinction and the people desperate to save them before it is too late.
At the time Sirocco was hatched in March 1997, the entire kakapo population numbered just 54, and the Kakapo Recovery Programme was still in its infancy. At just three weeks old, Sirocco was found to be having difficulty breathing and carers faced a difficult decision: leave Sirocco in the nest with a potentially deadly illness, or bring him back to base for veterinary treatment and attempt to hand-rear the young chick. While one kakapo, Hoki, had been successfully hand-reared before, it wasn't a decision made lightly.
A call was made and it paid off - Sirocco spent time in intensive care, but recovered and grew into a healthy and beautiful adult bird. Hand-rearing him was also a huge learning curve for the team. As well as learning lots about what kakapo eat and how they grow, perhaps most importantly through Sirocco we learnt that a kakapo chick reared alone imprints on people.
While Sirocco remains a wild bird, and has no trouble at all fending for himself on a remote island, he is drawn to people and wants to interact with them. He doesn't interact normally with the other kakapo; instead, after his release he remained determined to socialise with people, no matter how many times he was moved, or how far away. This vital learning step has allowed us to make sure that all hand-reared chicks since Sirocco have been reared in groups, and emphasises the importance of making sure that we keep as many chicks in the nest as possible so that they learn how to be kakapo from the best examples possible: their mother!
Since then, the kakapo population has almost tripled to just under 150 birds. Every individual kakapo has a name, and a known history. While Sirocco may be the most famous, each bird has their own unique personality and stories. If you ever get to ask a kakapo ranger about their favourite story, it's well worth the time and effort.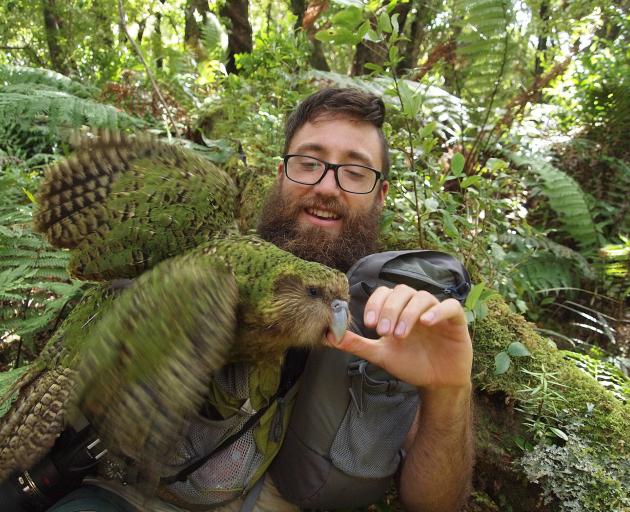 In late 2016, Sirocco's transmitter failed (all kakapo wear a small transmitter on their back which allows rangers to track and locate each individual bird, which is essential to monitoring and managing the small population) and rangers were unable to locate him on his remote Fiordland island home. The transmitters also monitor the activity of the birds, with their signal changing tone if a kakapo hasn't moved for 24 hours. This can indicate that the transmitter has fallen off, or that the bird has died. During breeding seasons the transmitters record if a male has mated, with whom and for how long. These smart transmitters also monitor the female's activity level to detect nesting.
Despite several dedicated searches, Sirocco wasn't seen for almost two years. Then, earlier this year, a search by two kakapo rangers was successful. Sirocco was in good health and keen to see people once again.
Sirocco's attraction to people has made him the perfect advocacy bird. He's the only kakapo comfortable in captivity, and enjoys these opportunities to interact with people, especially children.
Over the past 12 years he's been seen by tens of thousands of people, allowing them the opportunity to see these incredibly rare birds.
See him
Sirocco returns to Orokonui this month to meet his fans. It is his first tour since 2015. Tickets are available from Orokonui's website and are limited. 
Bronwyn Jeynes is a ranger with Kaitiaki, Kakapo Advocacy and Logistics, Department of Conservation - Te Papa Atawhai.