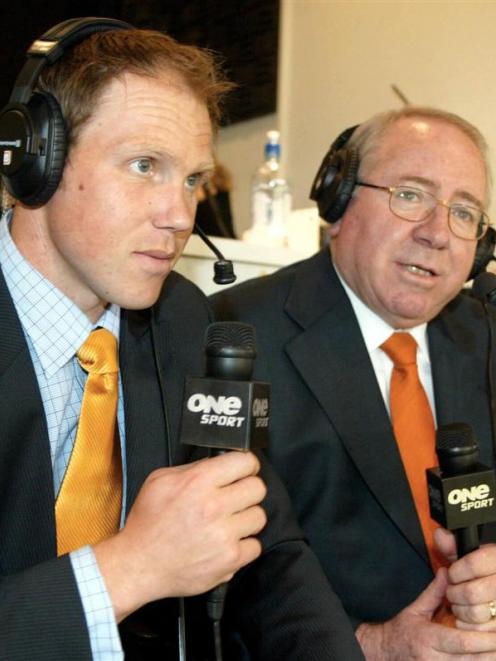 Whether they are in the terraced houses of Manchester, the log cabins of Ontario or the draughty villas of Opoho, the eyes of the rugby world will fall on Dunedin tonight. Millions of television viewers will get to see inside the city's new covered stadium for the first time while, no doubt, a commentator remarks on how cold it is outside. Mark Price takes a look at those who will be responsible for presenting Dunedin and the Rugby World Cup to the world.
There will be two clashes at Dunedin's rugby stadium at 8pm tonight.
One will be between the rugby players from England and Argentina.
The other will be between the television commentary teams of New Zealand - Te Arahi Maipi, Kees Meeuws and Gavin Hastings for Maori TV; Tony Johnson, Justin Marshall and Jon Preston for Sky One and Sky's Rugby Channel; Hamish McKay, Andrew Mehrtens and Richard Loe for TV3; Andrew Saville and Jeff Wilson for TV1; and Hemana Waaka, Te Whetu McCorkindale and Peeni Henare for Te Reo TV.
That is 14 commentators across six New Zealand television channels for just one of the Rugby World Cup's 48 games.
Over the six weeks of the tournament, more than 60 New Zealand television rugby "hosts" and commentators will be used.
Some are broadcasting legends, some are rugby legends, one is a woman (Melodie Robinson), one is a rugby league fan (Maipi) and one is a broadcasting doyen (Keith Quinn).
As "one of a cast of thousands", the veteran Quinn will make cameo appearances in the commentary box for Maori Television, although not in Dunedin and not at the final.
Speaking to the Otago Daily Times last week on the road between rugby engagements, Quinn said that at the final of the 1987 tournament, there were just John McBeth and himself.
"John did radio and I did TV.
"Now they have to get about four busloads to get [the commentators] out to Eden Park."
The way television coverage of the tournament is set up, host broadcaster SkyTV provides everyone here and overseas with just a single feed of television pictures from each game.
With few opportunities for competing television channels to have a visual "point of difference" during the game, picking the right commentary team becomes all-important.
Mediaworks (TV3) publicity manager Rachel Lorimer believes that, as a result, rugby fans will be "spoilt for choice".
"They will gravitate towards the people they want to listen to the most and I guess we probably feel that Andrew Mehrtens is a real sort of secret weapon for us."
Fans who disagree with her will be free to gravitate away from TV3's "dream team" to other channels offering "stellar" line-ups. The styles will range from the heavily technical to the lightly humorous.
In the early stages, the channels with live broadcasts will have an advantage over those showing delayed coverage, but come the business end of the tournament, all six channels will be live and head-to-head - pretty much the only difference being their hosts and commentators.
On those days, all the power will be in the hand of the fan with the remote control.
And, judging by a brief survey of rugby fans, choosing the right commentator for the final is second in importance only to choosing a wife or a husband.
Otago Supporters Club chairman Fred Cross, for example, says he is a viewer who is "not really" into statistics and does not like too much talking.
"Some have a tendency to talk too much through the commentary and they talk about things that aren't relevant and sometimes you wonder if they are watching the same game as you."
He is a Quinn fan.
"He's very, very passionate about rugby. He does do his background work and he knows what he is talking about."
According to Quinn, a common commentary formula has developed over the years with a "play-by-play" broadcaster, such as himself, assisted by former test players offering expert opinion.
"The best total commentary is one where each side of that description doesn't cross over into the other territory.
"And they shouldn't talk over each other is a basic fundamental."
He considers there is one thing in particular that makes for a smooth commentary.
"It helps if you like the bloke you are working with.
"I was lucky in that regard when I was commentating.
"I liked the blokes who I was commentating with because they were pretty much the same sort of person as me - interested in the game and interested in yarning about it."
The commentary teams that will get the most exposure around the world will be those of host broadcaster Sky.
Their voices will be attached to the television feed and will effectively be the default setting for channels that do not provide their own commentary.
Sky's commentators at the final will be Grant Nisbet, Grant Fox and Ian Smith.
Their boss is Sky's host broadcast project director Kevin Cameron, who also worked on Television New Zealand's coverage of the 1987 final.
Despite his years of experience, he still regards a question about the attributes required of a commentator as "tricky".
"Obviously, the knowledge of the game is a key factor.
"The ability to put that knowledge into words, often in a very short space of time, is the big challenge and it takes a lot of getting used to.
"We've tried several [commentators] over the years.
"Some have worked really well.
"Some have struggled and moved on.
"But essentially, the ability to read the game is the key point and the ability to express that reading, quite often within a short period of time, is probably the key thing that we are looking for, particularly from the expert comments people."
Cameron believes his host broadcast team of about 420 people is in "pretty good shape" for the tournament.
He laughs when it is suggested Graham Henry has to worry about a telling off from only four million people if the All Blacks get things wrong, while he could upset hundreds of millions if the broadcast goes wrong.
"Yes, you could put it that way.
"But, a wee bit like Graham, I'm pretty confident that the teams we've got together are very good at what they do.
"I think one of the reasons we got the job in the first place is that virtually everyone who's involved in the coverage has grown up with rugby, so the cameramen know the game backwards and so they know what they are looking for."
Cameron says using six broadcast units to cover 48 games at 12 venues is a huge logistical challenge but he is confident, after two years of planning, that the host broadcaster can deal with pretty much any contingency.
Quinn too is ready for his Maori TV commentary role and for his other television commitments.
He has some sympathy for the commentators getting only a very short break between the end of the domestic ITM Cup and the biggest sporting event in New Zealand history.
"I can't speak on their behalf, mate, but I would say they'll be working pretty hard. They'll be the best prepared they can possibly be."
And, ever the diplomat, Quinn would not be drawn on which commentary team he favours to win the lion's share of the audience when they go head-to-head at the World Cup final.
"They're all my brothers; they're all my brothers. We are brothers together in this work."