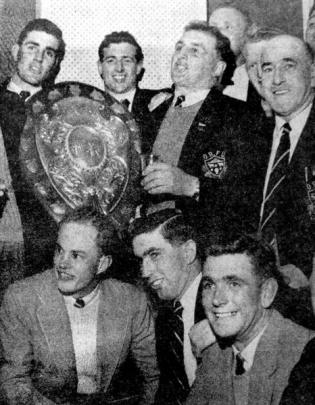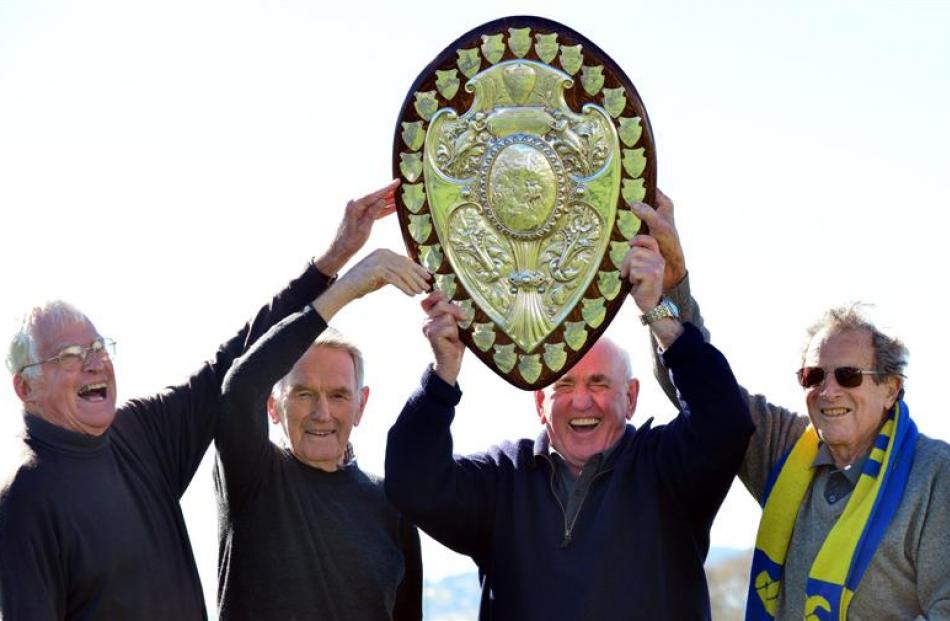 Otago rugby history is rich in players and personalities who have captured the public imagination through their deeds on the field and their contribution off it. Former Otago Daily Times sports editor Brent Edwards talks to Tuppy Diack, the province's first centurion.
Otago rugby legend Tuppy Diack was a one-test All Black but it could all have been so different, had fate been kinder.
Diack was the pin-up boy of Otago rugby in the 1950s and early 1960s, a strong-running wing who kicked goals, scored tries and whose modest demeanour made him a hero to hundreds of schoolboys.
He was the first Otago centurion and he held the points-scoring record for the province (746) until he was passed by Laurie Mains and Greg Cooper.
Diack (83) and his wife Margaret, who have three children, live quietly in retirement in St Clair. He looks much younger than his years and is still a regular, not only at Otago matches but at the practices, as well.
He has a fascinating collection of memorabilia from his playing days, but there were few perks back then. The most permanent physical reminders are four hip replacement operations and two knee replacements, though he is loathe to attribute them to rugby. He reckons the game has kept him young. He coached the University Gold colts side into his late 70s and was mentoring two University players, Stephen Fenemor and Guy Schwikkard, in kicking until 2012.
''I've always been involved with the University club and working with 18 to 20-year-olds keeps you on your toes,'' he said.
''You get all the bad publicity about students but I don't buy it.''
Diack made his first-class debut in 1951 but it seemed 1959 would finally be his year. When he scored all the points (including two tries) in New Zealand Universities' 25-13 loss to the British Lions and kicked 14 points in Otago's remarkable 26-8 win over the tourists' three days later, the public clamour for his inclusion could no longer be ignored.
But when his name was read out in the All Blacks over the radio in the time-honoured way that night, he hardly knew whether to laugh or cry.
He had injured his ankle earlier that day and, while he put on a brave face, he knew his immediate playing outlook was grim.
He had torn the ligaments in an ankle and found out later he broken some small bones when he was double-tackled and a Lions forward fell across his leg.
''I was usually able to run off an injury but this one got worse,'' he recalled. ''The pain was excruciating in the second spell. There were no replacements in those days. It was the only major injury of my career. It was a bit of a sad end to what had been a wonderful week.''
Diack duly joined the All Blacks when they assembled in Dunedin for the first test, hoping there might be a miracle cure. He hobbled through the first training run and posed in the team photograph but on Thursday morning he told the selectors he was not fit to play.
''It was one of my worst moments, because I'd been in All Black trials since 1953 and I'd been working towards that moment for a long time.''
A downcast Diack sat in the Carisbrook grandstand as the Lions were controversially beaten 18-17 by the boot of Don Clarke, his All Black jersey and a framed photograph the only tangible evidence of his selection.
He had intensive treatment on his ankle and was included in the All Blacks to play in the second test in Wellington a month later but, even then , there were complications. Diack was a specialist left wing. The only problem was that Ralph Caulton, the other wing, was, too.
''Jack Sullivan, the coach, came up to us and said 'what's up with you guys?' and I said 'we're both left wings'.''
It was eventually decided that Diack would play on the right wing which, for him, became a costly decision.
''All the play went to Ralph's wing and he scored two tries. It was one of those games. I was frustrated. I felt I hadn't done myself justice. Don Clarke wasn't kicking well and Wilson Whineray [captain] told me I would take the next one if Don missed again, but he kicked the next one and that was that. And, of course, Don scored the match-winning try.''
The All Blacks won 11-8 in another cliffhanger finish and Diack swapped jerseys with Lions centre Malcolm Price. He still has the jersey at home.
But Diack's ankle was still not right and he did not play in the third and fourth tests - ''it took a long, long time for it to come fully right again''.
He trained hard over the summer and was desperately disappointed to miss the 1960 tour of South Africa.
''I ran 10.1 seconds for the 100 yards at a meeting at Tuatapere on New Year's Day. I was really disappointed to miss out. I thought I could have made a difference on that tour.''
He was the top points-scorer in New Zealand first-class rugby in 1958, 1959 and 1960 and practised his goal-kicking six days a week.
Diack regards his most memorable match as the upset 22-15 win by New Zealand Universities' over South Africa in Wellington in 1956.
He marked Peter Johnstone and scored the game-clinching try when he came in from the blindside wing and burst through the defence.
Another special memory was Otago's 19-11 Ranfurly Shield victory over Wellington in 1957, which turned out to be the last time it would win the log of wood for 56 years. Diack scored a try and kicked two conversions and a penalty in the upset win.
''It was a special thrill,'' he recalled.
''We were just a young team. Des Grant, Laurie Kovaleski and I were the oldest. Wellington had a lot of experienced players and were captained by All Black Don McIntosh.
''Our forwards really ripped into it and the backs complemented them well but I never dreamed it would be so long before the shield returned to Dunedin.''
Diack was well aware of prestige of the shield because of his father, Charlie, who coached Southland when they held it in the 1930s.
Charlie was a goal-kicking winger in his playing days, too. He played for Southland and New Zealand Universities in 1923 and for Marlborough from 1931-34, before he became a prominent coach.
''I used to go along to the practices and, when we transferred to Dunedin, I remember Otago holding the shield through 1949, even though there were 11 players away with the All Blacks in South Africa.''
Diack became the first player to achieve the milestone of 100 games for Otago in the 6-3 win over Taranaki in New Plymouth in 1964, the Otago Rugby Football Union presenting him with a silver tea service as a memento.
He regards Lions Tony O'Reilly and Peter Jackson and Springbok Johnstone as the best international wings he opposed and Ron Jarden (Wellington), Ray Todd (Southland) and Ross Smith (Canterbury) as the leading wings he played against at provincial level.
Diack taught at John McGlashan College for 28 years, including 13 as deputy principal, and his involvement with rugby has been almost lifelong.
He was a New Zealand Universities selector for 13 years and coached a NZU team to Japan, while he retained a close association with the University club in Dunedin.
He is a life member of the ORFU, of which he was president in 2005, and patron of the Sassenachs club.
''I still go to Otago trainings pretty regularly to keep in touch,'' he said.
''I've got a seat in the stadium, and a car park, so I don't miss many matches there.''
He has mixed feelings about modern rugby, although his continued dedication indicates his heart is still very much in the game.
''It's different these days,'' he said.
''There are two distinct tiers, professional and amateur. The guys are much so much bigger and quicker.
''The forwards have developed their handling skills and athletic ability. But the backs are a lot more confrontational now, a lot like league, and a lot can't kick off either foot. There aren't the evasive, elusive runners there used to be.
''There is not so much space for backs these days and there is a lot of aimless kicking. I'm surprised they don't make more use of the blindside.''
Diack was christened Ernest Sinclair but he was known as Tuppy from an early age, just as his father, who was named Ernest Hunter, was known to all as Charlie.
The story goes that his father came home one day and said ''poor Tuppence hasn't got a name yet'' and it was from there that Tuppy originated.
It stuck, and Tuppy Diack became part of Otago rugby folklore. He has been one of the great contributors to the game in the province, on and off the field.